IC-R6
From The RadioReference Wiki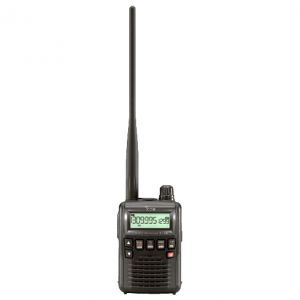 This page lists links, related pages and software support for the R-6 handheld receiver. The technical specifications can be viewed here (copied from Icom website).
General Specifications
100 kHz – 1309.995 MHz* wideband coverage
While the IC-R6 receives an ultra wideband frequency range, the radio provides superior sensitivity and reciever characteristics that is insusceptible to interference. Amateur stations, AM, FM, short wave broadcasts, TV* audio and a variety of utility communications can be caught and listened to. Frewuency range depends on version, the USA version includes the WX weather band option). *Analog TV audio only. Cannot decode digital TV audio.
100 channels per second high speed scan
The IC-R6 has 100 channels per second high speed scan capability*. This superior scanning power allows the utmost efficiency when search over 1300 MHz of spectrum! (*VFO mode scanning).
15 hours of continuous receive capability*
The IC-R6 is energy-efficient, designed to provide many hours of listening enjoyment on a single charge. With the supplied rechargeable Ni-MH cells (1400mAh × 2), the IC-R6 provides up to 15 hours of continuous receive capability at 50 mW output using external speaker.
1300 memory channels with 22 memory banks
With 1300 alphanumeric memory channels, 50 scan edges and 200 auto write memories, the IC-R6 gives you flexible scanning. Use the bank link scan feature to choose from and connect any of the 22 memory banks.
VSC (Voice Squelch Control)
The VSC opens the squelch only when a modulated signal is detected and ignores unmodulated beat noise. It is a handy feature for those listeners who are scanning for talk, news and music, but not data bursts or beacons.
Supplied With
Wrist strap
Belt clip
SMA flexible antenna.
Related Pages
Reviews
Supporting Software
YouTube and RadioReference
eBay Listings
Back to Icom Radios