Illinois State - Other Agencies (IL)
From The RadioReference Wiki
Central Management Services (CMS)
CMS is the operational engine working behind the scenes to enable the State's more than 80 agencies, boards, and commissions to deliver efficient, reliable services.
158.865 500 Mobile units (Springfield) KA75900
James R. Thompson Center (Chicago)
453.8 is a leaky coax repeater.
Illinois Secretary of State
21 departments employing approximately 4,000 people. Duties: maintain official state records and the state seal. However, law and tradition have assigned many additional responsibilities to the office, which has one of the largest and most diverse collections of responsibilities of any of its counterparts nationwide. From issuing driver's licenses and registering vehicles, to promoting organ/tissue donation awareness, overseeing the Illinois State Library and administering the state's literacy efforts, the Secretary of State's office directly touches the lives of nearly everyone in Illinois.
Secretary of State Police (ISSP)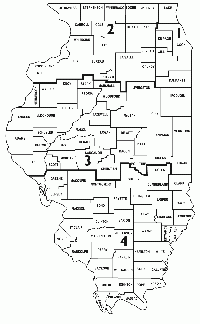 Uses STARCOM21 for operations, dispatch is by the local ISP agency.
151.76 15-5wt mobiles statewide (NFM Digital) for HazMat (Bomb Disposal Robot?) (Based in Springfield) [Hazardous Devices training unit] WQTD299
Investigators are trained in all aspects of law enforcement, with special expertise in auto theft investigations and vehicle-related consumer fraud. The department also maintains a Hazardous Device Unit (HDU)(Bomb Squad) that is used to recover and dispose of bombs. The Underwater Investigative Unit (UIU) conducts auto theft investigations with the waterways of the state, and investigators provide traffic safety training to other law enforcement agencies and the public. Also provides law enforcement for the State Capitol complex in Springfield.

Headquarters 110 E. Adams, Springfield

District 1 - 103 W. Roosevelt Rd., Villa Park (Salvage Vehicle Inspection Station #1)
Serving the Northeastern counties of Lake, Cook, DuPage, Kankakee and Will
District 2 - HQ at 595 S State, Elgin IL (formerly at 3214 Auburn St., Rockford)
Serving the Northwestern counties
District 3 - HQ at 421 E. Capitol Ave, Springfield
Serving the Central counties
Salvage Vehicle Inspection Station #3 and Support Services located at 3710 Winchester Rd, Springfield IL
District 4 - HQ at 220 S. 12th Street, Mt. Vernon
District 4 Subpost and Salvage Vehicle Inspection Station #4 - 400 W. Main St, Belleville
Serving the Southern counties
District 6 (6-JOHN-xx units) (appears to be State Capitol Complex Police, SOS Security, Governors Security ?) District 7 (7-JOHN-xx units) District 9 (9-JOHN-xx units)
Former VHF Frequencies
151.25000 159.42000 RM HF-5 (SOS) SOS South Repeater (HF-5/6)
151.44500 159.37500 KA2864 RM HF-5 (SOS) SOS North Repeater (tone varies)
155.92500 KTZ417 BM 218.1 PL HF-8 (SOS) Car/Car (also IL Capital Police and Capital Security-Springfield)
Illinois State Capitol (Springfield)
Illinois Department of Human Services
Statewide
453.875 210.7 PL is CH-3 DMH and CH-4 DMH Talk
453.875 186.2 PL is CH-5 Statewide and CH-6 Statewide Talk
Alton Mental Health and Development Center
Choate Mental Health Center (Anna-Union Co)
KBK257 - 453.35, 453.875 Repeaters, 2/13 add 453.6, 453.65 Repeaters
Illinois Veterans Home (Quincy-Adams)
McFarland Zone/Mental Health Center (Springfield)
453.4, Dispatch heard getting status' from Jefferson, Kennedy, South, North, Stephenson (wings?) [8:45 6/3/14]
(Units 334,335 to Operations giving 'Count")

453.225 TG-20 (RIDs 2030, 2080, 20810; TG=21 (RIDs 2120, 2130) (3/17)
Murray Developmental Center - Centralia
Rushville Treatment and Detention Facility
Rushville Correctional Center / Illinois Youth Center was built for IDOC and never opened. Instead in 2006 the Illinois Department of Human Services opened the facility as a Treatment and Detention Facility (Rushville TDF) for Illinois Sexually Violent Persons Program. The SVP Program had previously been at Joliet Correctional Center and Sheridan Correctional Center. Those facilities closed the SVP unit and all incarcerated Sexually Violent Persons were moved to Rushville in 2006.
Note: Low band and 800 Mhz are not in use and are not present at this facility. UHF is the only system in place.
Illinois Department of Human Services; Treatment and Detention Facility; RR1 Box 6A; Rushville, IL 62681
453.4 127.3 Repeater with MDC data heard in northern Schuyler County (8/11/14)
Illinois State Fire Marshal
In Normal and Champaign, heard David-Adam units communicate with the local State Police post over the regular car-to-base frequency when arriving or leaving a location. (In Normal it was 42.720 and in Champaign it was 154.695). The David-Adam unit was also talking to District 10 on the lowband freq of 42.54 yesterday while en route to Logan County. Apparently they monitor VHF hi/lo as that unit assisted ISP with a few accidents on the interstate. Petroleum & Chemical Safety (Van seen in Madison County 12/06)
Miscellaneous
Abraham Lincoln Presidential Library (Springfield)
Owned and operated by the state of Illinois
There were no problems carrying a scanner on the property but I tried to be very discrete
Illinois Department of Revenue
Main office at 101 W Jefferson - Springfield
Department of Agriculture
Illinois State Fairgrounds (Springfield)
2022 new frequency - KQW359 151.0025 Repeater with 154.92 input
Garbage pick-up by Waste Management (probably on TRS, have handhelds) Grandstand personnel have Motorola radios that say "TG-1" possible Talkgroup 1 on a TRS?
See ISP District 9 for additional Police radio info. ISP uses Starcom21 TG 13063 at the fair.
Midway/Carnival rides provided by Astro Amusement.
EMS provided by America (with Lifestar as back-up) EMS First Responders/Fire by SFD, uses TRS TG 586 "Fire4" for "Fairgrounds EMS"
155.0850 Agency; 155.8650 123.0 Fair Ops; 154.9500 DCI? Security, 155.22 / 155.205 Fairgrounds Hospital (no longer in operation)
Frequency Input     License Type Tone      Alpha Tag       Description                        Mode Tag 
155.0850 158.8650 KQW359  RM   123.0 PL  Fairground Ops    Receiving/Rest Room, 
                                                            Cleaning/Trash                    FMN  Public Works 
151.0025 154.9200 KQW359  RM   ?????     ?????             license modification 7/22          FMN  Public Works
464.9000                   M                               Maintenance                        FMN  Business 
151.8050                   M    100.0 PL                   mobile ops (Ice Cream? 2006)       FMN  Business 
151.8350                   M                               ops at fair - was ID'd
                                                             as PL tone (2006)                FMN  Business 
153.4700                   M     71.9 PL  Overhead Tram    Ops ??? (2007)                     FMN  Transportation 
154.6000                   M     67.0 PL  IllStateFair     unid ops (2006)                    FMN  Business 
460.4000                   M    192.8 PL                   Springfield Police Explorers:
                                                             Parking Ops (behind Grand Stand) FMN  Law Tac 
461.3000 466.3000 WPGH607 RM   241.8 PL  Tractor-Tram      Ops (Pickett, Ernest of Pawnee)
                                                             [Expired 5/05] (2006)            FMN  Transportation 
461.5250                   M    131.8 PL  food vendor      (ice cream, fudge, 2 locations:
                                                             front gate, ?) (2005-7)          FMN  Business 
462.5500                   M      754 DPL Vendors         vendor (2006)                      FMN  Tag This!
463.5250 468.5250         RM   203.5 PL  fair operations (maintenance?) (2006)              FMN  Data 
464.1750 469.1750         RM             Tuxhorn Towing  (confirmed 8/06) (was 463 DPL?
                                                             not valid tone)                  FMN  Business 
464.1750 469.1750         RM     263 DPL                 garbage company ? (2006)           FMN  Business 
464.5000                   M     67.0 PL  VENDOR          vendor (2007)                      FMN  Tag This!
464.5500                   M    100.0 PL  Fair OPS        casual talk                        FMN  Tag This!
467.8125                   M    156.7 PL                  vendor (2006) (K-Dot)              FMN  Business 
469.5375                   M              Food-o-rama     Vendor ? (572 DPL?)                FMN  Business 

Illinois State Fairgrounds (DuQuoin)