Indiana State Police (IN)
From The RadioReference Wiki
Regions
*As of 7/05/2011 Region 5 is dispatching for D51 full time*
Districts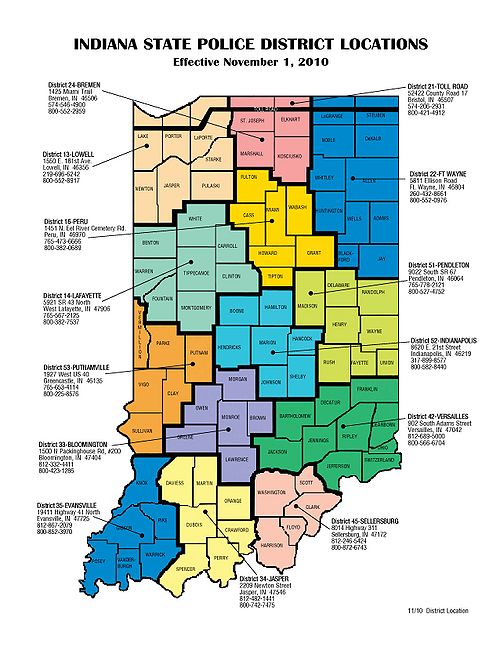 Indiana State Police Codes and Signals
10 Codes
State Police 10 Codes as a Microsoft Word file
10-0 Fatality
10-1 Unable To Copy
10-2 Signals Good
10-3 Stop Transmitting
10-4 Acknowledgment/Status OK
10-5 Relay
10-6 Busy, Stand By Unless Urgent
10-7 Out-Of-Service
10-8 In Service
10-9 Repeat
10-10 Fight In Progress
10-11 Dog Case
10-12 Stand By
10-13 Weather And Road Report
10-14 Report Of Prowler
10-15 Civil Disturbance
10-16 Domestic Trouble
10-17 Complainant
10-18 Urgent
10-19 Go to Station
10-20 Location
10-21 Call
10-22 Disregard
10-23 Arrived At Scene
10-24 Assignment Completed
10-25 Report to/Meet
10-26 Detaining Subject
10-27 Drivers License Information
10-28 Vehicle Registration Info.
10-29 Check Records For Wanted
10-30 Illegal Use Of Radio
10-31 Crime In Progress
10-32 Gun
10-33 Emergency - Stand By
10-34 Riot
10-35 Major Crime Alert
10-36 Correct Time
10-37 Investigate Suspicious Vehicle
10-38 Stopping Suspicious Vehicle
10-39 Urgent-Use Lights And Siren
10-40 Silent Run-No Lights Or Siren
10-41 Start of Shift
10-42 End of Shift
10-43 Information
10-44 Request Permission To Leave Patrol For____________
10-45 Animal Carcass In Road
10-46 Assist Motorist
10-47 Emergency Road Repair
10-48 Traffic Control
10-49 Traffic Signal Out
10-50 Accident F, PI, PD (F-Fatal, PI-Person Injured, PD-Property Damage)
10-51 Wrecker Needed
10-52 Ambulance needed
10-53 Road Blocked
10-54 Livestock on Roadway
10-55 Intoxicated Driver
10-56 Intoxicated Pedestrian
10-57 Hit & Run Accident
10-58 Direct Traffic
10-59 Convoy Or Escort
10-60 Squad in Vicinity
10-61 Personnel in Vicinity
10-62 Reply To Message
10-63 Prepare To Make Written Copy
10-64 Local Message
10-65 Net Message
10-66 Message Cancellation
10-67 Clear for Net Message
10-68 Dispatch Information
10-69 Message Received
10-70 Fire Alarm
10-71 Advise Nature of Fire
10-72 Report Alarm Progress
10-73 Smoke Report
10-74 Negative
10-75 In Contact With
10-76 En Route
10-77 ETA (estimated time of arrival)
10-78 Need Assistance
10-79 Notify Coroner
10-80 Alarm
10-81 Breathalyzer Report
10-82 Reserve Lodging
10-83 School Crossing Detail
10-84 E.T.A.
10-85 Arrival Delayed
10-86 Operator on Duty
10-87 Pick Up
10-88 Advise Telephone Number Of:
10-89 Bomb Threat
10-90 Bank Alarm
10-91 Pick up Subject
10-92 Illegally Parked Vehicle
10-93 Blockade
10-94 Drag Racing
10-95 Subject in Custody
10-96 Mental Subject
10-97 Test Signal
10-98 Prison Or Jail Break
10-99 Records Indicated Wanted
Signals
1 Call Office
2 Call HQ
3 Call the post
4 Report to HQ
5 Go to the post
6 Call....(person or agency)
7 Emergency
8 Meet __
9 Disregard
10 Rush (lights/siren)
11 Confidential Information
12 Reply by Phone
13 Army Convoy
14 Plain Clothes
15 Cannot Comment on Air
16 Aircraft Accident
17 Give Emergency Right of Way
18 Target Practice
19 Truck Check
20 Car Wash
21 Car Lube
22 Car Repair
23 Speeding Vehicle
24 Vehicle & Occupants Detained
25 Regular Post Meeting
26 Bringing Subjects to Court
27 Traffic Stop
28 Bank Detail
29 Post Meeting
30 Special Patrol Assignment
31 Traffic Congestion
32 Check all Records for this Subject
33 Know Burglar
34 Possible Mental Case
35 Post Inspection
36 Advise Work Schedule
37 Any Messages?
38 No Messages
39 Post Inspection
40 Subject/Item is Wanted
41 Is Lie Detector Available?
42 Is Breathalyzer Available?
43J1 Have Personnel
43J2 Have Property in Possession
43J3 Have Prisoner in Custody
43J4 Have Papers in Possession
44 Advise Traffic Conditions
45 Give FCC Call Sign
46 Pursuit in Progress
47 Escort
48 Visitors Present?
49 Platoon Standby Alert
50 Activate Riot Control Platoon
51 Running Radar in Area
52 HAZMAT Incident
54 Overtime
55 Activity Report
60 Drugs
61 Homicide
66 Requested Service is Unavailable
70 Sex Crime
80 Not on File/Not Wanted
88 Microphone keyed and no voice
89 Accidentally keyed the microphone
100 Emergency - Hold all but Emergency Traffic
ISP District/Unit Numbers
Area 1 Units (D13,14,16)
Area 2 Units (D21,22,24)
Area 3 Units (D33,34,35)
Area 4 Units (D42,45)
Area 5 Units (D51,52,53)
Unit 1 - Governor
Unit 2 - Lieutenant Governor
Car 1 - Superintendent
Car 2 - Colonel
Car 3 - Lt. Colonel
Car 4-16 - Commanders
X - Headquarters Units

Area units are prefixed with the area number. e.g., 1-80 would be the Area 1 investigations Captain. District units are prefixed with district number e.g., 45-1
13 Lowell
14 Lafayette
16 Peru
18 Communications Division Personnel
19 FBI
21 Toll Road
22 Fort Wayne
24 Bremen
33 Bloomington
34 Jasper
35 Evansville
42 Versailles
45 Sellersburg
50 US Fish & Wildlife (50-38 @ Muscatatuck reports to ISP D42 and to DNR SR as Five-Zero-Three-Eight)
51 Pendleton
52 Indianapolis
53 Putnamville
56 Alcohol Beverage Excise Police
57
58 Maintenance and Quartermaster
75 Integrated Public Safety Commission (SAFE-T Admins/Techs)
76 State Capitol Police
83 Hoosier Helpers Indianapolis
84 Hoosier Helpers NW Indiana (ISP Mechanics in Versailles district)
85 Hoosier Helpers Southern Indiana (Chaplains in some districts)
88 Operations
89 CSI/Lab Personnel
91
92 Special Investigations
93 Investigators
95 Commercial Vehicle Enforcement Division (3 digits are Motor Carrier Inspectors, 1&2 digits are Troopers assigned to CVED)
96 Drug Enforcement Division
97 State Fire Marshals
K K9 Units (e.g., 45-14K)
Unit Numbers (e.g., 45-1)
-1 District Commander (Lieutenant)
-2 District First Sergeant
-3 - -6 Squad Sergeants
-7 - -10 Squad Sergeants, Corporals or PIO (varies by District)
-11 - -79 Road Troopers
-80 District Investigative Coordinator (First Sergeant)
-81 - -89 Criminal Investigators (Troopers and Sergeants)
-90 Varies by District
ISP District County Assignments
Lowell (13) -
Units in the 100-600 series denote zones 1 through 6:
Zone 1 - Northern Lake Co. North of US-30 and West of Portage
Zone 2 - Porter / Laporte Co North of US-6
Zone 3 - Southern Lake Co South of US-30 and East of Portage
Zone 4 - Porter / Laporte Co South of US-6
Zone 5 - Newton / Jasper Co
Zone 6 - Starke / Pulaski Co
Lafayette (14)
Peru (16) -
Toll Road (21)
Fort Wayne (22) -
22-teen's - Zone 1, LaGrange / Noble
22-20's - Zone 2, Steuben / Dekalb
22-30's - Zone 3, Huntington / Whitley
22-50's - Zone 5, Adams / Wells / Blackford / Jay
Bremen (24) -
Bloomington (33)
Jasper (34)
Evansville (35) -
Versailles (42) (Now includes old D43 area) -
20's - Dearborn, Ohio, Switzerland
Seymour (43)
Sellersburg (45)
10's - Clark/Floyd
20's - Clark/Floyd
30's - Harrison
40's - Scott
50's - Washington
Pendleton (51)
Indianapolis (52)
Putnamville (53)
20's - Parke/Vermillion Counties
SAFE-T Mutual Aid Areas
Region A - Lowell Jasper, Lake, Laporte, Newton, Porter, Pulaski, Starke
Region B - Bremen Elkhart, Kosciusko, Marshall, St Joseph
Region C - Fort Wayne Allen, Dekalb, Lagrange, Noble, Steuben, Whitley
Region D - Lafayette Benton, Carroll, Clinton, Fountain, Montgomery, Tippecanoe, Warren
Region E - Peru Cass, Fulton, Grant, Howard, Miami, Tipton, Wabash
Region F - Redkey Adams, Blackford, Huntington, Jay, Wells
Region G - Terre Haute Clay, Parke, Putnam, Sullivan, Vermillion, Vigo
Region H - Indianapolis Boone, Hamilton, Hancock, Hendricks, Johnson, Marion, Shelby
Region I - Pendleton Delaware, Fayette, Henry, Madison, Randolph, Rush, Union, Wayne
Region J - Bloomington Brown, Greene, Lawrence, Monroe, Morgan, Owen
Region K - Seymour Bartholomew, Jackson, Jennings
Region L - Versailles Dearborn, Decatur, Franklin, Jefferson, Ohio, Ripley, Switzerland
Region M - Evansville Gibson, Knox, Pike, Posey, Vanderburgh, Warrick
Region N - Jasper Crawford, Daviess, Dubois, Martin, Orange, Perry, Spencer
Region O - Sellersburg Clark, Floyd, Harrison, Scott, Washington
A Brief History Of ISP Communications
While gangsters such as John Dillinger plagued the country back in the late 1920's and early '30's, their exploits did prompt some "progress" in Indiana State Police communications. Even though Dillinger had been killed by the FBI in July of 1934, Indiana still ranked fourth in the nation in bank robberies. That same year the Indiana Banker's Association and the Governor's Contingency Fund set out to raise money to create a statewide short wave radio network. The goal was for this network to develop a communications link between law enforcement agencies. The pursuit of Dillinger and other criminals was greatly hampered by the lack of an effective statewide communications system.
The original method of communication between trooper and district headquarters amounted to the trooper having regular stops on his patrol route where he called in by telephone at designated intervals to receive dispatch information. Fortunately, by the end of 1934 nearly $50,000 in necessary funding had been raised to implement the new communications system. In 1935, five Western Electric AM transmitters were put in place in Indianapolis, Columbia City, the Culver Military Academy, Seymour, and Jasper. The first message was sent out on May 6, 1935 reporting a stolen vehicle in Ligonier. These new stations were given call letters similar to what radio stations use today. While this new system was a vast improvement over the previous method, this system was still a one-way communications system. The trooper could only "receive" dispatches; he couldn't respond back via radio to confirm receipt of the message. The dispatches were communicated three times to ensure a trooper received the message. The trooper would then have to find a telephone and call in to confirm he had received the dispatch and was able to get further details if necessary.
In 1937 a Continuous Wave (CW) network using Morse Code for communications between state and local law enforcement was in place. A good CW operator could send and receive anywhere from 40 to 50 words per minute. This helped relieve some of the load on voice transmissions. Unfortunately, skilled CW operators were hard to find. Despite the lack of skilled CW operators, the CW system soon provided an effective communications link between not only ISP and local law enforcement; it provided an interstate law enforcement communications link as well. Because CW transmissions were monitored by numerous stations simultaneously, information could be disseminated more quickly and with less expense than making numerous telephone calls.
It was around World War II when the Indiana State Police began installing two way radios in its patrol cars so troopers were able to respond to radio dispatches directly from their cars. Also, by 1947 the Amplitude Modulation (AM) radios in use at the time became obsolete and ISP replaced those radios with a more reliable system known as Frequency Modulation (FM). The "new" FM system was a "noise free" transmission system while the AM system was not.
In February of 1957 the Indiana State Police implemented the microwave system of communication. The microwave system provided rapid, reliable, multichannel communication. Originally the installation linked General Headquarters in Indianapolis with the Pendleton Post. By the end of 1960 all Indiana State Police districts and General Headquarters were linked together by the microwave system providing both telephone and teletype communication.
Shortly thereafter CW stations began to fade away as new communications networks were being established nationwide using telephone circuits as transmission media. Included among these "new" networks was the National Law Enforcement Telecommunications System (NLETS). The Indiana State Police became affiliated with this network in 1966 which increased the speed of handling messages at a rate of over 100 words per minute. In addition, the new system left less of a chance for error than the CW system.
In 1968 the National Crime Information Center (NCIC) was developed. A computer located in Washington, D.C. served as a central repository to store information on wanted persons and stolen vehicles from law enforcement agencies all over the country. This new technology enabled law enforcement agencies nationwide to enter wanted persons or stolen vehicles into the database, thus increasing the chances of apprehension even if the suspect traveled out-of-state.
In 1977 engineers from the Indiana State Police Communications Division developed a portable radio repeater system. In addition to this new communications technology, they developed a mutual aid communications system known as the Indiana Law Enforcement Emergency Network (ILEEN). Now for the first time there was a system in place where troopers could have direct radio communication with officers from local police and sheriff departments. Not only did this system enhance the effectiveness of inter-department communications, it provided the public with more efficient law enforcement service and improved officer safety.
This communication system stayed in place for many years without any great advances in communication technology. Then in 1990 the Indiana State Police began testing an 800 MHz radio system which provided a much clearer, more efficient, and more advanced means of communication. The Lafayette District was selected as a testing district for the new system. By the end of April, 1992 Indianapolis, Pendleton, Terre Haute, and Putnamville Districts were also brought on line with the 800 MHz system. While those five districts were able to communicate via 800 MHz it was still necessary for those districts and their troopers to continue to monitor the low band frequencies to ensure communications between troopers and districts not yet equipped with the 800 MHz system.
In 1999 the Indiana General Assembly created the Integrated Public Safety Commission (IPSC) to coordinate voice and data communications as well as other multi-agency public safety issues. In 2000 a Statewide Trunked Radio project known as Hoosier SAFE-T (Safety Acting for Everyone Together) came to the forefront as a result of the creation of the IPSC. While this system was in the developmental stages in the late 1990's, the importance of such a communications system with interoperability between police, fire, EMS, public utilities, and other governmental agencies became ever greater after the terrorist attacks of September 11, 2001. Work on the new system was given top priority and was phased in to each ISP district over the last several years with the last districts and enforcement personnel being upgraded to 800 MHz by March of 2007.
The 800 MHz system is now operational statewide and frequencies and talk groups are available to all law enforcement agencies, fire departments, EMS, local public utilities, as well as other governmental agencies. This system allows for direct communication between all agencies and their personnel in case of an emergency that requires multi-agency response. It also allows for multi-agency communication across state lines in case there is an incident or emergency occurring near a state line involving emergency responders from different states. It is because of the vision of the Indiana State Police back in the 1990's that the state of Indiana is so advanced in statewide communication interoperability.
From 2016, thru the present, the Statewide Trunked Radio System (Indiana Project Hoosier SAFE-T) has been upgraded to the APCO Project 25 Digital Standards using the Motorola ASTRO-25 Platform, and plans to also implement the Nationwide FirstNET LTE Platform as an data transmission system in addition to an future upgrade of the SAFE-T TRS to P25 Phase II are in the works.
Over the last 75 years the Indiana State Police has come a long way from the trooper having to make stops along his patrol route to call the post for assignments. With the technology available today a trooper not only transmits and receives dispatch information via 800 MHz radio, information can even be transmitted and received between dispatch and a laptop computer installed in the trooper's car. Keeping up with continued advances in communication technology makes the Indiana State Trooper more efficient but more importantly, they can provide better service to the public.
NOTE-The sources for portions of the above historical information:
Gangsters, Gunfire, and Political Intrigue: The History of the Indiana State Police by Marilyn Olsen Indiana State Police 1933-1983 by Esther Kellner
Images
Related Links