Kitsap County (WA)
From The RadioReference Wiki
Kitsap County, Washington State, United States
---
General County Info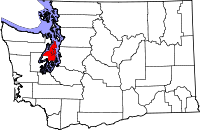 Kitsap County is a county located in the U.S. state of Washington, named after Chief Kitsap of the Suquamish tribe.
As of the 2012 estimate, its population is 254,991. Its county seat is at Port Orchard, and its largest city is Bremerton.
Kitsap County was formed out of King County, Washington, and Jefferson County, Washington on January 16, 1857. Originally named Slaughter County, it was soon renamed.
The United States Navy is of great importance to the county because it is the largest employer in the county, with installations at Puget Sound Naval Shipyard, Naval Undersea Warfare Center Keyport, and Naval Base Kitsap (which comprises former NSB Bangor, and NS Bremerton).
Kitsap County is connected to the eastern shore of Puget Sound by Washington State Ferries runs from Bremerton to Downtown Seattle , Southworth to West Seattle via Vashon Island, Bainbridge Island to Downtown Seattle, and from Kingston to Edmonds.
CENCOM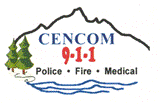 Kitsap County CENCOM is the dispatch agency for the county. CENCOM dispatches for 7 law enforcement agencies, 6 different fire agencies and handles around 250,000 911 calls per year. More information can be obtained at Kitsap County CENCOM.
Law Enforcement
Frequencies
North LE1 (155.68500)
Used for the following agencies in the north area of Kitsap County:
South LE2 (155.43000)
Used for the following agencies in the south area of Kitsap County:
Bremerton PD LE3 (154.99500)
Used for Bremerton Police:
LE4 (154.96500) Car to car/Tactical
Used for car to car, and it also used as a tactical channel. Is a repeated channel throughout the county.
LE5 (154.98000) Car to Car
Used for car to car communications, is a non-repeated channel.
Law Enforcement Unit Designators
Here is a breakdown of the LE unit designators used in by the Kitsap County agencies. Some of these your will hear on a daily basis, some you will rarely or even never hear.
A - Admin Staff

Used by admin staff, as well as most of the high ranking officers.
C - Central Area

Central area of the city of Bremerton. This designator is only used by Bremerton PD.
E - East Area

East area of the city of Bremerton, also the East-Central area for county units.
F - Silverdale/East Central

East-Central area of the city of Bremerton, also the Silverdale area of the county.
G - South West area

West part of the South area of the county. Is a county only designator.
H - Natural Resources

Used primarily by Port Gamble and Suquamish PD, these designators are used for natural resource officers.
I - South East area

East part of the South area of the county. Is a county only designator.
L - Northwest Area

East part of the South area of the county. Is a county only designator now. Is the only West Park designator for Bremerton PD.
M - Motorcycle Patrols

Used by any agency to designate a unit on a motorcycle.
N - Northeast County / West Central Bremerton

West central area of the city of Bremerton, also the Northeast part of the county.
O - No Stats

Used by units signing in to that do not want stats, or are attending training.
P - Patrol

Used by all agencies. Bremerton PD and Kitsap County Sheriff's use this for units without a defined beat area. All agencies that do not have beats use this for all units that do not fall under a different designator.
R - School Resource Officer

Used by all school resource officers.
S - Sergeant

used by any unit that ranks sergeant, or that will be an OIC.
T - Traffic

Used by designated traffic units. Used only by Kitsap County Sheriff and Bremerton PD.
U - Emphasis

Used by any units doing a scheduled emphasis for speed, DUI or other traffic related crimes.
V - Reserves/Non-commissioned

Reserve units, as well as all non-commissioned units use this designator. Bremerton PD uses this for their designated warrants officers.
W - West Central/ West Area Bremerton

West area of the city of Bremerton, and West Central area of the county.
X - Overtime

Units in on overtime patrols for various places use this designator.
Y - Daily Emphasis

Used by units on daily patrols for speed, DUI or other traffic related crimes.
Z - Desk Staff

used by the desk staff of all the agencies.
Badge Numbers by Department (Used as radio designators also)
Kitsap County Sheriff: 001-299 Bremerton Police: 400-599 Poulsbo Police: 600-699 Port Orchard Police: 700-799 Bainbridge Island Police: 800-899 Suquamish Police: 900-999 Port Gamble Police: 1100-1199 Port Gamble Natural Resources: 1800-1899 Henry Animal Control: 1900-1999
Fire Dispatch
Fire1 (154.37000)
Fire1 is a simplex channel used for toning and initial dispatch. This is the primary frequency used for toning all 6 fire agencies services by CENCOM.
Fire2 (155.02500)
Fire2 is a repeated channel in the county. Its is the main response frequency for all of the fire agencies. Fire2 is considered the working channel, and is where all of the information is passed between dispatch and the fire units that are responding to calls, on scene or transporting a patient.
Fire3 (155.77500)
Fire3 is a simplex channel used as a tactical channel. The frequency is most often used for for structure fires, where there will be a large volume of radio traffic that would inturrupt the normal operations that are on Fire2. There is no reason that any other event that becomes large enough to disrupt normal operations cannot be moved to Fire3 as a means to alleviate traffic on the operations channel.
Fire4 (154.41500)
Fire4 is the same as fire3, and used in the same capacity.
Others Transmitters
Kitsap/Bremerton Police codes/disposition
1 In Service
2 Out Of Service
3 At Station
14 Outsiders May Be Listening/Scanner
20 Phone
45 Wants/Warrants Check
A UTL
B Report Taken
C Call cleared
D
F
G
I Cancelled before arrival
G
J Assitance Given
"Pick" - DWS, warren, ect.
Amateur Radio