Latah County (ID)
From The RadioReference Wiki
Amateur Radio Repeaters
Description                     Callsign        Frequency       Shift   Tone   (CTCSS)
Kamiak Butte Repeater (KBARA)   W7HFI           146.740         - 	
Moscow Mtn Tri-State ARO                        146.820         - 	
Pullman repeater & remote base  KC7AUI          444.300         +       103.5
Pullman 6m                      K7MM            53.750          -1.7Mhz 100.0
Moscow Local repeater                           146.700         +       103.5
Moscow Mtn                      W7NGI           442.800         +       103.5
K7EI System, Moscow Mtn         K7EI            444.975         +       100.0
Lewiston (linked to 6m)         K7EI            146.92	        -       110.9
Lewiston (linked to 2m)         K7EI            53.350	        -1.7Mhz 100.0

Fire Services Information
Fire protection is provided by nine local level agencies: Moscow Volunteer Fire Department, Moscow Rural Fire District, Kendrick Volunteer Fire Department, Juliaetta Volunteer Fire Department, Deary Rural Fire District, Bovill Rural Fire District, Genesee City and Rural Fire Department, Potlatch Rural Fire District and, Troy Rural Fire Protection District.
Additionally, State level, Federal level and private fire protection agencies include: Idaho Department of Lands: Ponderosa Area Office, Clearwater-Potlatch Timber Protective Association, Bennett Lumber Fire Department and, the Clearwater National Forest: Palouse Ranger District.
Moscow Fire
Moscow City and Rural Fire and Ambulance are dispatched and respond on MFD RPT 1 (freq. 153.80). Large scale operations are typically transferred to MFD RPT 2 (freq. 153.74) to clear MFD RPT 1 for smaller incidents. The departments also utilize a Line of Sight tactical channel MFD TAC for tactical operations, typically intra-unit on wildfires (freq. 153.98). All Moscow public safety agencies are dispatched by WHITCOM in Pullman, Washington. WHITCOM signals are sent to the main repeater located on Moscow Mountain and ping off of 3 towers located within city limits. Responses follow Emergency Medical Dispatch and Emergency Fire Dispatch protocol, on an Alpha through Echo scale; with Alpha being non-emergency, Bravo being low priority emergent, Charlie being mid priority emergent, Delta being high priority emergent and Echo being an emergency with immediate threat to life. There is also an Omega response, however it is being phased out and Omega classified calls are often dispatched as an Alpha response; however both ambulance and fire respond for about 5 Omega responses per year each. Dispatch does not designate which unit will respond as members will go the the station that they are nearest to. Command staff can request specific apparatus respond, for instance the ladder ruck, or a rescue truck with the HAZMAT trailer or air trailer in tow.
Ambulance services include BLS and ALS with 4 transport capable ambulances and one non-transport medic unit (Medic 40). EMT's respond from work or home and call in on the radio with their individually assigned numbers, beginning at 501 spanning through 599; ambulance tones are low-high. EMT Advanced and Paramedic personnel add the suffix advanced or medic to their call number, EMT trainees have the same protocol, adding the suffix trainee to their call number. An example of typical traffic would be "Moscow, 509-Advanced to Station 1 for Ambulance." Tones cease for ambulance calls when a member calls a full crew, and example of this would be "Moscow, Ambulance 41 has a full crew."
Fire services are dispatched on repeater 1, using high-low tones. During the academic session at the University of Idaho all three fire stations are staffed by student resident firefighters who are on shift from 4:30 pm to 7:30 am weekdays and 7:30 am to 7:30 am weekends on a 5 shift revolving schedule; these shifts cease for university academic breaks. Engine 20 and Engine 26 respond with a crew of five, while Engine 27 responds with a crew of four. The two rescue trucks and the ladder truck are not staffed by resident firefighters. Rural fire is non-staffed year round, while city fire is non-staffed during academic breaks, including summer. There are four paid command staff, FIRE1, FIRE2, FIRE3, and CAPT4, who are on shift from 9 am Monday through Friday. FIRE1 is the Chief of Department, FIRE2 is the Fire Marshall/Operations Chief, FIRE3 is the EMS Division Chief, and CAPT4 is the Training/Safety Captain.
There are three other Captain positions, voted by the department members, CAPT1, CAPT2 and, CAPT3, who are fire command from 5 pm to 7:30 pm weeknights. Four Battalion Chiefs cover fire command for the weekend, these positions are also voted by the members and are BATT1, BATT2, BATT3 and, BATT4. Fire command is universal for City/Rural Fire. Responding members typically go to scene via Private Owned Vehicle (POV) during the academic session, and will go to the stations for apparatus during academic breaks or to retrieve the rescue trucks or the ladder truck. Rural members typically respond to the Rural Station or Station 3 for apparatus, and do not take their POV's to scene. Fire personnel with radios are assigned individual numbers from 601 through 699 and will designate which unit they are calling in for; an example being: "Moscow, 603 to Station 1 for Engine 26." Similarly to the ambulance, tones cease when apparatus are en route or when a member calls a full crew; command staff can also request additional tones for more members and apparatus or a cease of tones.
Moscow City Fire Apparatus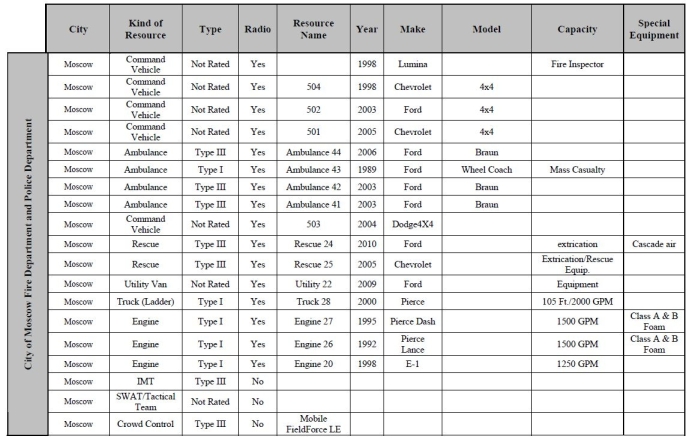 Moscow Rural Fire Apparatus

Moscow Rural Fire Tender 38 was replaced with a Type 1 2012 Kenworth 1000 GPM 2500 Gal; the unit designation remains "Tender 38."
Releated Links