Maricopa City (AZ) Police Department
From The RadioReference Wiki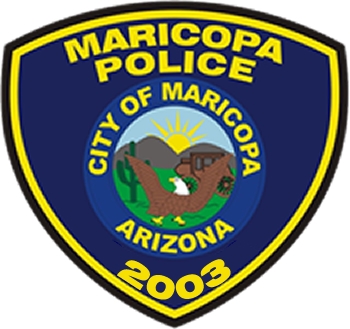 The City of Maricopa Police Department's sworn and civilian personnel are proud to boast one of the lowest crime rates in the State of Arizona, at 21 Part 1 Crimes per thousand residents. The staff of fifty-seven sworn officers, seven civilian employees, three reserve officers and seventy-seven volunteers serve more than 43,000 residents in one of the fastest growing communities in the United States.
The Maricopa Police Department is committed to working in partnership with our community to improve the quality of life in our city. We are dedicated to solving community problems, the reduction of crime, the protection of life and property, and upholding the laws, ordinances, and the constitutional rights of all persons. We strive to accomplish these objectives without prejudice, with the highest of integrity, and with the support of the citizens we serve. To accomplish this mission, Maricopa PD has begun co-implementing the Compstat and Community Policing philosophies. This co-implementation emphasizes data-driven directed missions, innovative problem solving tactics, internal and external accountability, de-centralization of decision making and organizational flexibility.
Our police department is separated into two major divisions, the Operations Division and the Support Services Division. The Operations Division consists of the following details:
•Patrol
•Criminal Investigations
•K-9
•Traffic
•Bicycle
•School Resource
•Honor Guard


The Support Services Division consists of the following details:
•Records
•Property/Evidence
•Training
•Hiring
•Volunteers: including but not limited to Citizens on Patrol, Victim Advocacy and Crime Prevention
•Crime Intelligence & Analysis
•Explorers
•Reserves


The department is focused on the future of policing by implementing software programs to communicate internally as well as externally with our residents and partners. If you are energetic, enthusiastic, service oriented and want to join one of the most rewarding professions in the country, we challenge you to call or visit and find out more!
All Maricopa police operations are headquartered at the Interim City Hall complex, located at 45147 W. Madison Ave. in the city of Maricopa.
Radio Codes
Coming Soon