Metropolitan Police Department, Washington (DC)
From The RadioReference Wiki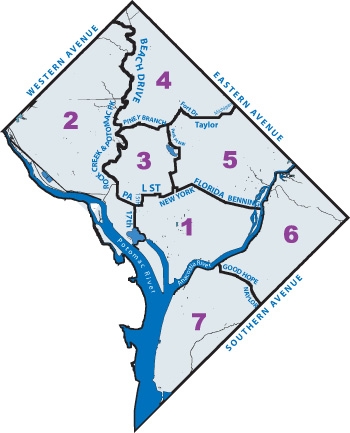 Ten Codes
10-1 unable to copy radio transmission
10-4 two officer unit
10-4+ three or more officer unit
10-7 out of service
10-8 in service
10-22 disregard call/assignment
10-27 request for information on license
10-28 request vehicle registration information
10-29 request criminal record check on subject
10-30 subject has current/outstanding warrants
10-30-T subject has suspended license, no license, or other traffic related issue
10-33 emergency - officer needs assistance
10-50 motor vehicle accident
10-50-I motor vehicle accident with injuries
10-89 bomb-threat
10-99 one officer unit
Response Codes
Code 1: Emergency lights/sirens activated
Code 2: Proceed directly to scene w/lights only, no sirens
Terms/Abbreviations
The Board: Fire Department/EMS
The Block: Central Cell Block
The General: DC General Hospital
No Permit: no drivers license
Apparent Natural: person apparently dead of natural causes
CCB: Central Cell-Block
MO: Mental Observation, subject mentally ill
EPRD: Emergency Psychiatric Response Division, MO holding facility
POCA: Possession of Open Container of Alcohol
APO: Assault on a Police Officer
AWIK: Assault With Intent to Kill
CPWL: Carrying a Pistol Without a License
ADW: Assault with Dangerous/Deadly Weapon
FTA: Failed To Appear (in court)
UUV: Unauthorized Use of a Vehicle
UCSA: Uniform Controlled Substance Act
PWID: Possession With Intent to Distribute
CDU: Civil Disturbance Unit, riot squad
SOD: Special Operations Division
JOCC: Joint Operations Command Center
SOCC: Synchronized Operations Command Center
WALES: Washington Area Law Enforcement System
NCIC: National Crime Information Center
ERT: Emergency Response Team, SWAT team.
CSOSA: Court Services and Offender Supervision Agency
MDT: Mobile Data Terminal, in-car computers, often not functional
CCN: Complaint Control Number, six digit report number
GOA: Gone On Arrival
SOW: Sent On Way
Unit Identifiers
Patrol officers use 4-digit unit IDs. The first number is the district (1-7), the second two digits along with the first digit designate the Police Service Area (PSA) and the last digit is a unique identifier. For example, 2021 is 2nd District, PSA 202, 1st unit.
1-7 unit numbers with three following numbers (the PSA cars) 1011-707X. Any PSA car ending in "9" is a Master Patrol Officer. Any Cruiser number (1010-7070) is a PSA Sergeant. Lieutenants have three digit cruiser numbers corresponding to their PSA (101-707). Captains and Commanders of districts utilize a two digit system. Cruiser 11 is the 1st district Commander. 52 and 53 are 5th district Captains. A watch Commander is Cruiser 100-700. The Nighthawk (Chief of the District at night) is for some reason Cruiser 28.
Cruiser 9xxx can be anything from Crime Scene to Communications. 9239 is a Crime Scene cruiser. These cruisers are also Administrative cruisers like the SOMB (Security Officers Management Branch) or Office of Organizational Development.
8600 series and 8800 series cruisers are SOD. This can be anything from K-9 to ERT or EOD. Cruiser 1 is of course the chief. 2, 3 and 4 are various assistant Chiefs and ROC Chiefs.
Any Cruiser identified as 1-David-11 through 7-David-99 is a detective cruiser.
The various Power Shift, Focus Mission and Street Crime cruisers identify using their title with a number following. Station Radios (District Station Personnel) identify as a multiple of 1000 (Station 1000 through 7000).