Nebraska State Patrol (NE)
From The RadioReference Wiki
The state of Nebraska, has signed a contract with Motorola, Inc. of Schaumburg, Illinois, to construct a statewide Project 25 IP trunked radio system. Known as the "Nebraska Land Mobile Radio System," this new statewide network will allows all federal, state, county, and local public safety first responders to intercommunicate on a common interoperable platform. The first phase of this system is expected to be completed in late 2009, or the spring of 2010. When finished, the Nebraska Land Mobile Radio System, will allow end-to-end, mission-critical communications across the state, which is essential during any crisis or large-scale disaster.
Nebraska Statewide 10-Code List
10-Codes used by State Patrol and most Nebraska law enforcement agencies.
10-1 Unable To Copy J1 Signal Breaking Up J2 Signal Weak J3 Signal Noisy
10-2 Signal Good
10-3 Stop Transmitting
10-4 Message Received
10-5 Relay
10-6 Busy Stand By
10-7 Out of Service
10-8 In Service
10-9 Repeat
10-10 On Minor Detail, Subject To Call
10-11 Talking Too Fast
10-12 Visitors Or Officials Present OR Unit Referring to Subject
10-13 Weather and Road Conditions
10-14 Convoy Or Escort
10-15 Have Prisoner In Custody
10-16 Pick Up Prisoner At ____
10-17 Pick Up Papers At _____
10-18 Urgent- Rush Present Detail
10-19 Return To Your Station
10-20 Location
10-21 Call This Station by Phone
10-22 Disregard Last Information
10-23 Having Interference
10-24 Trouble At Station, Help Needed
10-25 Do You Have Contact With ___?
10-26 Holding Subject, Rush Reply
10-27 Any Answer Our Number___?
10-28 Full Registration Information
10-29 Check Records For Wanted
10-30 Does Not Conform to Rules
10-31 Is Lie Detector Available?
10-33 Emergency Traffic This Station
10-34 Disturbance __ (location)
10-35 Confidential Information---Have Hit NIC/NIS (can you copy?)
10-36 Correct Time
10-37 Operator Or Officer On Duty
10-38 Potentially Dangerous Offender
10-39 Registration Information W/VIN
10-40 Drug Violation (location)
10-41 Beginning Tour of Duty
10-42 Officer Number __ At This Home
10-43 Return To This Station
10-44 Accident (place) Property Damage (if hit & run, state)
10-45 Accident (place) Personal injury (if hit & run, state)
10-46 Dispatch Wrecker
10-47 Driving While Intoxicated
10-48 Speeder
10-49 Cover Traffic At ____
10-50 Use Caution
10-51 School Bus Inspection At ___ (location)
10-52 Out Of Unit---Vehicle Check At (location)
10-53 Phone (location) Near ___ Contact ___
10-54 Meet ___ At (location, time)
10-55 Dispatch Ambulance
10-56 Dispatch Fire Department
10-57 Work Aircraft
10-58 Advise Operator's License Number, Date Issued (name, birthdate, address)
10-59 Attention All Units
10-60 Check Suspension Of Operator's License
10-61 Officer Number ___ Taking Sick Leave Date
10-62 Motorist Assist At ___?
10-63 Out Of Unit--Serving Warrant At ____
10-65 Probable Death J1 Accident J2 Suicide J3 Felonious Possibility
10-66 Equipment ___ In Unit, Keys Available
10-70 Message For You
10-71 Burglar Alarm Activated At__
10-72 Place Road Block At ___
10-73 Pedestrian (drunk)
10-74 Watch For
10-75 Stolen Motor Vehicle
10-76 Ending Tour Of Duty
10-77 No Contact With ____
10-78 For Your Information
10-79 Use Emergency Frequency
10-80 Bomb Threat At ___ (location)
10-81 Stand By On 30 Minute Alert Until (date) Or Further Notice
10-82 Traffic Stop
10-83 Have Officer Number ___ Call ___ Or Contact ___ OR Firearm-Related Call
10-84 Advise Phone Number ___ Your City That Officer Number ___ Will Not Arrive Until (time)
10-85 Message For Delivery By Mobile Unit
10-86 Obtain Fuel Commercially Unless Emergency
10-87 Pay Checks Out
10-88 Advise Present Phone Number Of ___ For Station To Station Call Being Made By ___ From
10-89 Request Assistance
10-90 Tower Lights Burning Properly J1 Out All Levels J2 Out Top Level J3 Out Middle Level
10-94 Give Test Without Voice
10-95 Give Test With Voice
10-97 Arrived At Scene
10-98 Finished With Last Assignment
10-99 Unable To Receive Your Signal
Old Troop Area Map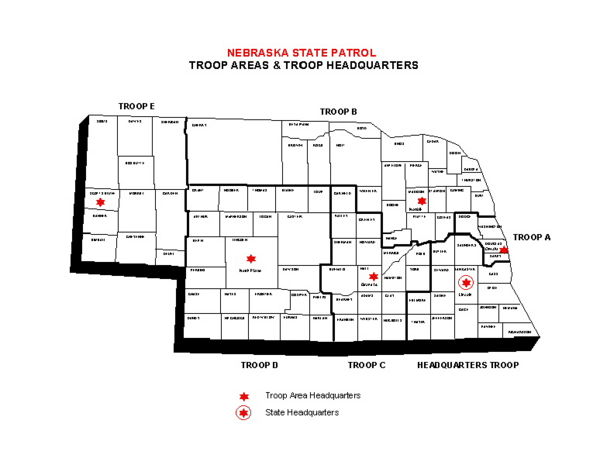 New Troop Area Map

Related Wiki Articles

Return to DB page: NE State Patrol
Return to Wiki page: Nebraska (US)