Otter Tail County (MN)
From The RadioReference Wiki
Welcome to the Otter Tail County, Minnesota collaboration article. This is where you, the user, may index any articles you develop for scanning related topics for your area.
Law Enforcement Agencies
Otter Tail County Sheriffs Office
Battle Lake Police Department
Fergus Falls Police Department
Henning Police Department
New York Mills Police Department
Parkers Prairie Police Department
Pelican Rapids Police Department
Perham Police Department
Wilkin County Sheriffs Office

WCSO Covers all of Rothsay
Fire Departments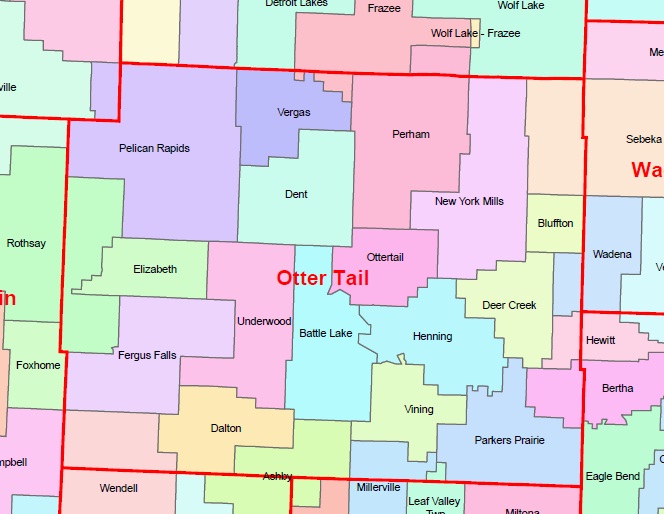 Pelican Rapids Fire
Vergas Fire
Frazee Fire
Dent Fire
Perham Fire
New York Mills Fire
Sebeka Fire
Bluffton Fire
Deer Creek Fire
Wadena Fire
Hewitt Fire
Bertha Fire
Parkers Prairie Fire
Henning Fire
Leaf Valley Twsp. Fire
Millersville Fire
Vining Fire
Ottertail Fire
Battle Lake Fire
Ashby Fire
Underwood Fire
Elizabeth Fire
Fergus Falls Fire
Wendell Fire
Dalton Fire
Rothsay Fire
County Pager Tones:
Battle Lake FD 832.5 788.5
Battle Lake Rescue 746.8 1433.4
Bluffton FD 584.8 928.1
Dalton FD 1217.8 634.5
Deer Creek FD 617.4 903.2
Dent FD 1153.4 1185.2
Elizabeth FD 879.0 584.0
Fergus Falls FD 584.8 617.4
Fergus FD Duty Crew 584.8 688.3
Henning FD 349.0 433.7
Henning EMS 584.8 726.7
NY Mills FD 584.8 524.6
Ottertail FD 569.1 788.5
Parkers EMS 707.3 855.5
Parkers FD 707.3 669.9
Pelican FD 330.5 349.0
Perham FD & EMS 339.6 358.6
Perham EMS Call 470.5 358.6 (On Call Transfer Tone)
Ringdahl EMS 669.9 1433.4
Rothsay FD 539.0 767.4
Underwood FD 767.4 855.5
Vergas FD 669.9 855.5
Vining FD 810.2 669.9
Tones are listed with A & B Tone out for Dispatch. All tones are paged on 158.8050 with a PL tone of 123.0 PL.
Emergency Medical Services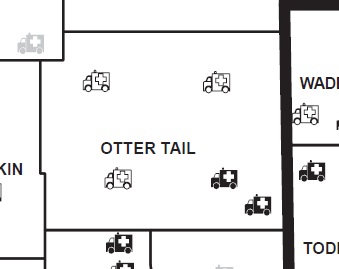 Perham Area E.M.S. (ALS)
Ringdahl Ambulance

Pelican Rapids (ALS)
Fergus Falls (ALS)

Parkers Prairie Community Ambulance (BLS)
Henning Ambulance (BLS)
Rescue Squads
ARMER Migration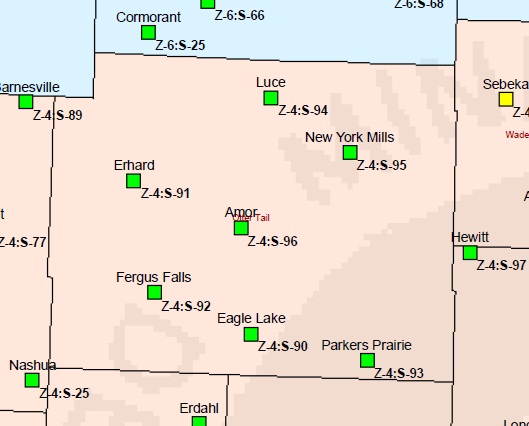 Status - Planning to Migrate to ARMER
Sites and Status:

4-090 - Eagle Lake - On Air
4-091 - Erhard - On Air
4-092 - Fergus Falls - On Air
4-093 - Parkers Prairie - Final Review
4-094 - Luce - On Air
4-095 - New York Mills - Final Review
4-096 - Amor - Identified