Passaic County (NJ)
From The RadioReference Wiki
Passaic County
Passaic County has an area of 197.1 square miles and is segmented into a densely populated southeastern section and a more rural northwestern section.
Passaic County consists of 16 municipalities:
West Milford
Ringwood
Bloomingdale
Wanaque
Pompton Lakes
Wayne
North Haledon
Haledon
Totowa
Little Falls
Woodland Park (formerly West Paterson)
Prospect Park
Hawthorne
Paterson
Clifton
Passaic
The communities of:
Macopin (Bloomingdale)
Singac (Little Falls)
Haskell (Wanaque)
Packanack Lake (Wayne)
Pines Lake (Wayne)
Preakness (Wayne)
Hewett (West Milford)
New Foundland (West Milford)
Oakridge (West Milford)
And all or part of:
Ringwood Manor State Park
Abram S. Hewitt State Forest
Norvin Green State Forest
Waywayanda State Park
Ramapo Mountain
Long Pond Iron Works
Greenwood Lake
Ramapo Lake
Wanaque Reservoir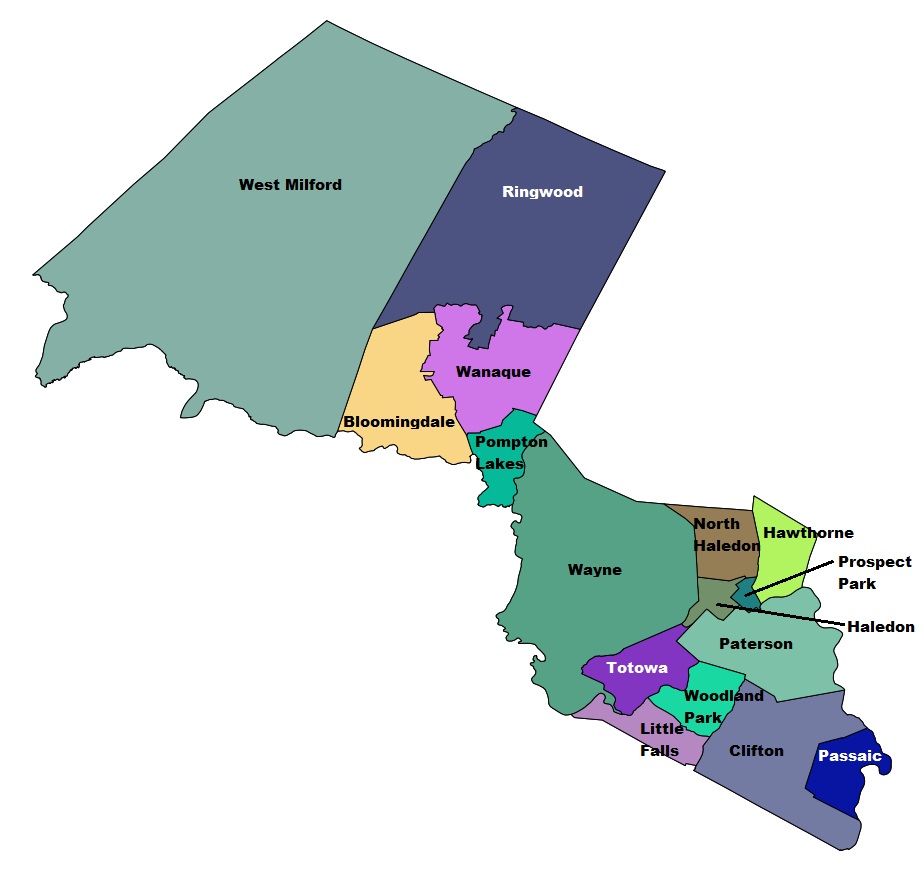 Passaic County (NJ) Fire/E.M.S.
interesting note: Wanaque FAS and Pompton Lakes-Riverdale FAS duty crews rotate coverage each weekend. Meaning, the crew responsible that weekend covers the 3 towns of Wanaque, Pompton Lakes, and Riverdale. Radio frequencies are shared between towns for ease of communications.
AlphaCare Amb. Corp. - 16-20 Madison Ave. between 1st Ave. (aka State Route 20) & 2nd Ave. (aka County Route 504),Paterson (The rear has an address of 17-19 E. 19th St.)
Bloomingdale P.D.- Patrol Car #'s are 68x
Bloomingdale V.F.D. -

Sta. #2 -

Current Sta. - 101 Hamburg Trpk. (aka County Route 694) between Second St. & Third St.
Former Sta. - 97 Hamburg Trpk. (aka County Route 694) @ Third St.

Sta. #1 -

Current Sta. - 190 Union Ave. (aka County Route 511) between Morse Lakes Rd. & Van Dam Ave.
Former Sta. - 30 Ballston St. between Union Ave. (aka County Route 511) & Wallace Ave.

Clifton F.D. (KEE968/WPOY776) -

HQ - 880 Clifton Ave. (aka County Route 611) across from Kenyon St. (HQ is technically located on Veterans Memorial Dr. between Linzenbold Dr. and at the following coordinates: 40.866981/-74.159124)
Sta. #1 - 84 First St. @ Madison Ave.
Sta. #2 - 7 Dumont Ave. between Maplewood Rd. & Belgrade Ave.
Sta. #3 - 180 Mahar Ave. across from Whitmore Pl.
Sta. #4 - 144 Main Ave. across from Allwood Rd. (aka County Route 602)
Sta. #5 -

Current Sta. - 51 Brighton Rd. between Chelsea Rd. & Mayer Dr.
Former Sta. - 11 Brighton Rd. between Market St. & Mayer Dr.

Sta. #6 - 1202 Van Houten Ave. (aka County Route 614) @ Broad St. (aka County Route 509)

Eagle Medical Services - 20 Parish Dr. @ Pal Dr.,Wayne (WQRI606)
Haledon V.F.C. (WQG809) -

Co. #1 - 21 Pompton Rd. @ W. Haledon Ave.
Co. #2 - 522 W. Broadway (aka County Route 673) @ Granite Ave.

Haledon Emer. Amb. Assoc. - 411 Morrissee Ave. between King St. & Tilt St. (KWJ255) ***(NOW DISBANDED)***
Hatzolah of Passaic/Clifton E.M.S. (WQOK928) - 290-292 Brook Ave. @ Dakota St.,Passaic (The Amb. is parked on Dakota St.)
Hawthorne V.F.D. (WPDI590) -

Co. #1 - 614-616 Lafayette Ave. (aka County Route 665) between Utter Ave. & Rea Ave.
Co. #2 - 10 Llewellyn Ave. between Grand Ave. & Lafayette Ave. (aka County Route 665)
Co. #3 - 112 Goffle Rd. (aka County Route 659) between Wagaraw Rd. (aka County Route 504) & N. 8th St. (The rear of the Sta. has an address of 83 N. 8th St. @ Mohawk Ave.)
Co. #4 - 66 Lincoln Ave. (aka County Route 69/County Route 653) between Loretto Ave. & Columbus Ave.
Co. #5 (HQ) - 828 Lafayette Ave. (aka County Route 665) @ Goffle Rd. (aka County Route 659)

Hawthorne V.A.C. (WPRG489) -

Current Sta. - 970 Goffle Rd. (aka County Route 659) between Lafayette Ave. (aka County Route 665) & Goffle Hill Rd.
Former Sta. - 445 Lafayette Ave. (aka County Route 665) @ Warburton Ave. (The Bays sit around back off of Grand Ave.)

Little Falls V.F.D. -

Eagle Hose Co. #1/Eagle Rescue Squad Co. #1 -

Current Sta. - 60 Wilmore Rd. between Third Ave. & Prospect St. (WQYC419)
Former Sta. - 35 Stevens Ave. (aka County Route 616) @ Warren St.

Enterprise Fire Co. #2 - 17 Paterson Ave. (aka County Route 639) between Main St. (aka County Route 631) & Maple St. (WQYC419)
Singac Fire Co. #3 - 517 Main St. (aka County Route 631) between Newark Pompton Trpk. (aka State Route 23) & Van Pelt Pl.
Great Notch Fire Co. #4 - 170 Long Hill Rd. (aka County Route 631) @ Houston Rd. (WQYC419)

M.O.N.O.C. E.M.S. (WQCN562) -

Passaic Sta. - 54 Grove St. between Howe Ave. & Garden St. (Formerly Passaic E.M.S.)

North Haledon V.F.D. (KNFJ314) -

Co. #1 - 813 Belmont Ave. (aka County Route 675) between Evergreen Ave. & Nassau St. (No longer in service)
Co. #2 (HQ) - 568 High Mountain Rd. between Rothesay Ave. & Terrace Ave.

North Haledon Vol. Amb. Inc. - 792 Belmont Ave. (aka County Route 675) between Nassau St. & Main Ave.
Passaic F.D. -

Current Sta.'s -

Eastside Sta. #1 (HQ) - 59-67 Jefferson St. @ (11) Hope Ave.
Westside Sta. #2 - 350-360 Paulison Ave. @ Howe Ave. (The Bays face Howe Ave.)

Former Sta.'s -

Dundee Eng. Co. #2 - 77-79 Third St. between Bergen St. & Essex St.
Linden Eng. Co. #5 - 274 Broadway (aka County Route 622) @ Linden St.

Paterson F.D. -

Current Sta.'s -

HQ (Engine 1/Ladder 1) - 852-870 Madison Ave. between Market St. & 19th Ave. (WIL636)
Hillcrest Sta. (Engine 2) - 221-229 Union Ave. (aka County Route 646) @ Sherwood Ave.
Lakeview Sta. (Engine 3) - 227-239 23rd Ave. between Trenton Ave. & E. 31st St.
Northside Sta. (Engine 4/Ladder 2/Batt. 3) - 34-48 Temple St. @ Matlock St.
Riverside Sta. (Engine 5/Ladder 3/Batt. 2) - 236-244 Lafayette St. @ E. 16th St.
Southside Sta. (Engine 6/Batt. 1) - 128-136 Getty Ave. between Hemlock St. & New Jersey Transit Railroad Tracks
Stoney Rd. Sta. (Engine 7) - 300 McBride Ave. (aka County Route 639) between Howard St. & Dayton St.

Former Sta.'s -

HQ - 113-119 Van Houten St. (aka College Blvd.) between Washington St. & Church St. (This Sta. housed Engine 1/Engine 5/Truck 2/Squad 1)
Engine 1 - 112 Van Houten St. (aka College Blvd.) between Washington St. & Church St.
Engine 2 - 77 Highland St. between Sassafras St. & Sparrow St.
Engine 3 - 176 12th Ave. between Rosa Parks Blvd. & NYS&W Railroad Tracks
Truck 3 - 39 Godwin Ave. @ Auburn St.
Engine 3/Ladder 2 - 75-77 Prospect St. between Ellison St. & Market St.
Engine 6 - 476 Market St. @ Pennington St.
Engine 7 -

76 Gould Ave. @ Pacific St.
95-97 Grand St. @ Quinn St.

Engine 8 - 71 Wayne Ave. @ Liberty St.
Engine 9 - 36-38 Circle Ave. @ N. 3rd St. & across from Clinton St.
Engine 10 - 196-198 17th Ave. @ E. 26th St.
Engine 11 -

10-12 Hamilton St. between Market St. & Smith St.
95-97 Grand St. @ Quinn St.

Engine 12 - 36-38 Circle Ave. @ N. 3rd St. & across from Clinton St.

Pompton Lakes P.D.- Patrol Car #'s are 101-11x

PLRFAS- Rig #'s are 27 and 28

Prospect Park V.F.D. -
Pulse Medical Transportation - 24 Andrews Dr. between Browertown Rd. & US-46,Woodland Park
Ringwood P.D. Patrol Car #'s are 210-22x

Ringwood P.D. Patrol Shift Supervisor car #210
Ringwood Amb. Corps. Rig #'s are 231-233
Ringwood V.F.D. -
Ringwood V.F.D. Chief Car #'s Erskine-240, Skyline-250, Stonetown- 260

Erskine Lakes V.F.C. #1 - 70 Mohawk Trl. between Kingsley Rd. & Summit Point
Ringwood V.F.C. #1 - 169 Stonetown Rd. @ Magee Rd.
Skyline Lakes Fire Co. - 67 Edgewood Rd. between Skyline Lake Dr. & Sylvan Ln.

Ringwood Amb. Corps (KNEK636) - 115 Alta Vista Dr. between Skyline Dr. (aka County Route 692) & Deer Trl. (KVN796)
Totowa V.F.D. (WPWI830) -

Fire Co. #1 - 11 Mitchell Ave. between Totowa Rd. (aka County Route 644) & Union Blvd. (aka County Route 646)
Lincoln Fire Co. #2 - 93 Lincoln Ave. @ Scrivens St.
Riverview Park Fire Co. #3 - 438-440 Riverview Dr. (aka County Route 640) @ Rosalie St.
Fire Rescue Co. #4 - 22 Mitchell Ave. between Totowa Rd. (aka County Route 644) & Union Blvd. (aka County Route 646)

Totowa First Aid Squad (KUG627) - 425 Totowa Rd. (aka County Route 644) @ Mitchell Ave. (The Bays face Mitchell Ave.)
Upper Greenwood Lake V.A.C. - 816 Warwick Trpk. between Hillcrest Dr. & Henry Rd.,Hewitt
Wanaque P.D.- Patrol Car #'s are 56x
Wanaque V.F.D. (WQWS765) -

Wanaque V.F.D. Sta.1- Chief Car #540. Asst. Chief Car #551

Sta. #1 - 626 Ringwood Ave. (aka County Route 511) between Erie Ave. & Railroad Ave.
Sta. #2 - 1 4th Ave. between Ringwood Ave. (aka County Route 511) & William Pl.,Haskell

Wanaque First Aid Squad - 5 Melrose Ave. between Laura Ave. & Dead End (The Sta. sits at the Dead End)

Wanaque First Aid Squad Rig unit #'s "Car" 67, 68

Wayne Twp. Memorial First Aid Squad (WQMH729) -
Wayne P.D.- Police Car #'s 70's-120's

HQ - 8 Rohrback Memorial Way @ Pal Dr.
Uptown Sta. - 1505 Hamburg Trpk. @ Squad Pl.

West Milford V.F.D. -
West Milford First Aid Squad -

HQ - 619 Ridge Rd. between Belleau Gateway & Charles St.,W. Milford
Newfoundland Sta. - 2940 State Route 23 @ Oak Ridge Rd. (aka County Route 699) Entrance Ramp,Newfoundland

West Paterson V.F.D. (WPSJ357) -

West Paterson Eng. Co. #1 - 15 W. 35th St. between Providence Ave. & Marcellus Ave.,Woodland Park
Passaic Valley Hose Co. #2 - 1066-1070 McBride Ave. (aka County Route 639) between Pompton Ave. & Ryle Park Ave.,Woodland Park
Rifle Camp Fire Co. #3 - 357 Rifle Camp Rd. between Weaseldrift Rd. & Overmount Ave.,Woodland Park

West Paterson First Aid Squad (WPFAS) (WPRG725) - 23 Rose Pl. @ Mt. Pleasant Ave.,Woodland Park
Return to DB page: Passaic County (NJ)
Return to Wiki page: New Jersey Counties