Pike County (OH)
From The RadioReference Wiki
Welcome to the Pike County, Ohio collaboration article. This is where you, the user, may index any articles you develop for scanning related topics for your area.
Pike County, Ohio
Pike County is located in the Appalachian foothills region of southern Ohio. It was formed from parts of Scioto, Ross and Adams counties on February 1, 1815. It is named for famed explorer and soldier, Zebulon Pike.
The Village of Waverly is the county seat. There are three villages and fourteen townships in the county along with several unincorporated areas.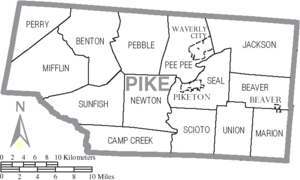 VILLAGES:

    Beaver   
    Piketon
    Waverly


TOWNSHIPS:

     Beaver		Marion		Perry
     Benton		Mifflin		Seal
     Camp Creek       Newton		Sunfish
     Jackson		Pebble		Union
                      Pee Pee

UNINCORPORATED AREAS:

     Cynthiana		Morgantown
     Jasper		Stockdale
     Latham		Wakefield


Public Safety Communications
All public safety agencies in Pike County currently utilize VHF for communications.
PIKE COUNTY CONVENTIONAL FREQUENCIES


Fire / EMS Station Numbers
PIKE COUNTY FIRE:

200:   WAVERLY
300:   BEAVER
400:   PIKETON
500:   ELM GROVE
600:   CAMP CREEK TWP
700:   PEBBLE TWP
800:   BENTON TWP
900:   JACKSON TWP
1200:  STOCKDALE

PIKE COUNTY EMS:

SQD 2:  WAVERLY
SQD 3:  BEAVER
SQD 4:  PIKETON
SQD 5:  ELM GOVE
SQD 7:  PEBBLE TWP
SQD 8:  BENTON TWP


Ohio State Highway Patrol
Pike County is served by OSP Post 71 Chillicothe. All communications use the Ohio MARCS statewide system.