Pinal County Sheriff's Office (AZ)
From The RadioReference Wiki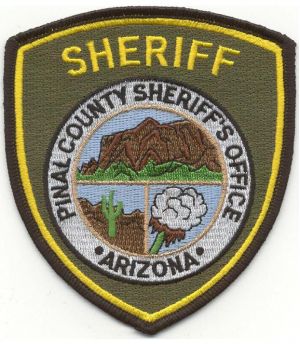 The Pinal County Sheriff's Office is comprised of 224 sworn personnel and 421 civilian employees which includes detention staff, who are responsible for the civil, criminal, and incarceration needs of the county. The Sheriff's Office main facility includes administrative offices, Patrol Services, Support Services, Communications, Personnel, Finance, Warrants, Criminal Investigations, Evidence, Volunteer Services and Detention located at 971 Jason Lopez Circle in Florence, Arizona. In addition to the main office, there are Regional offices located in Arizona City, San Manuel, Gold Canyon, and Johnson Ranch. There are several other satellite offices located throughout the county which covers and area of 5389 square miles. Primary administration functions are conducted daily at the main office in Florence in an effort to serve the needs of the 290,000 citizens of Pinal County.
Substation Loactions
Arizona City: 13970 S Sunland Gin Road
Casa Grande: 820 E Cottonwood Lane
Gold Canyon: 5750 South Kings Ranch Road
Johnson Ranch: Hunt Hwy & AZ Farms Rd
Kearny: 355 Alden Rd
Oracle: 1790 Justice Drive
Saddlebrooke: 63701 E Saddlebrooke Blvd
San Manuel: 28380 S Veterans Memorial Boulevard
Stanfield: 36697 West Papago Drive
Patrol Bureau
Pinal County has 5,386 square miles, which are divided into four patrol regions, and one Patrol Support Operation. The Patrol Bureau is broken down into 4 geographic regions within the county. Daily management of this bureau is the responsibility of a Bureau Commander at the rank of Captain. Each region has a Regional Commander who holds the rank of Lieutenant. In addition to the Regions, the Patrol Commander also manages the Sworn Training Unit and the Field Training Officer Program.
Region One - West & Southwest Pinal County
Region 1 is geographically located in the Casa Grande/Arizona City area. All of the unincorporated areas around the cities of Casa Grande, Maricopa, and Marana are covered by deputies in this region. In addition, the communities of Arizona City, Picacho, Picacho Peak, and Red Rock are serviced by Region 1. It is comprised of 6 squads each of which consists of a Sergeant, a Corporal, and 5 deputies. Demographics of this region range from rural to metropolitan but is primarily considered rural – metro combination.
Baker Beat

Eloy, Picacho, Red Rock, and Arizona City area
Edward Beat

Stanfield, Hidden Valley, Maricopa areas
Region Two - East Pinal County
Region 2 is geographically located in what is commonly referred to as "the mountains" and is the most rural of all of the patrol regions in Pinal County. The areas covered by this region include the communities of Saddlebrooke, Oracle, and San Manuel as well as the unincorporated areas surrounding Kearny, Mammoth, and Hayden. Region 2 is made up of 5 squads each of which consists of a Sergeant, a Corporal, and 4 deputies. The demographics of this region are primarily considered rural.
Ida Beat

Oracle, Saddlebrooke area
Region Three
Region 3 is located in Florence which is the county seat. The areas covered by this region are the unincorporated areas surrounding Apache Junction, Superior, Florence, and Coolidge. This region also services the communities of Gold Canyon, Queen Valley, and Top of the World. There are 5 squads assigned to Region 3 each consisting of a Sergeant, a Corporal, and 5 deputies. The demographics of this region are split fairly evenly between rural and metropolitan.
Frank Beat

Apache Junction, Gold Canyon, Superior areas
Region Four
Region 4 is located in the Queen Creek/Johnson Ranch area of Pinal County. While this region is geographically the smallest of all of the Sheriff"s regions, it is the most densely populated. Current estimates of the population of the unincorporated area in this region are somewhere between 70,000 and 80,000 residents. This region is an extension of the Southeast Phoenix/Metro area. The patrol compliment for this region is 6 squads consisting of a Sergeant, a Corporal, and 5 deputies each. This is considered primarily metropolitan/urban.
King Beat

Queen Creek, Johnson Ranch, Copper Basin areas

Patrol "saturation" occurs when all available patrol units are engaged in activities that prohibit them from responding to calls for service and they begin to stack up. When this occurs, units from other patrol regions are dispatched to take priority calls, if available. In the event this is not possible due to saturation in their own primary regions, other agencies (DPS, Maricopa County, local Police Departments, etc.) are requested to assist. Patrol saturation is occurring in 3 of the 4 regions. It is almost a daily occurrence in Region 4, several times per week in Regions 1 and 3, and occasionally in Region 2. There are basically 2 options to correct this problem; (a) reduce the types of services the Sheriff"s Office provides and/or responds to, or (b) increase the number of deputies to adequately handle the current workload. Again, it must be noted that this issue is faced by all police agencies not only in Pinal County, but, all across Arizona.
Sheriff's Radio Unit
The Sheriff"s Radio Unit is comprised of one civilian employee who is responsible for the radio inventory and technical expertise of keeping a large radio communications system functional and current. There are approximately 1,200 individual radios in use with the Pinal County Sheriff"s Office and each one requires routine maintenance and repair as well as periodic software updates. This employee works closely with Pinal County Emergency Services and various private vendors who are on contract with the county.
Ch 1 is used for dispatch unless restricted for priority traffic.
Ch 2 is usually used for vehicle stops, registration, license and warrant checks.
Ch 5 is often used for special details, e.g. DUI task force.
Patrol unit identifiers such as "4 Adam 1" refers to patrol unit 4/ Adam region/beat 1.
Region and "beat" boundaries can be found at Pinal County Beat Maps
Special Weapons and Tactics (SWAT)
The mission of the SWAT Team is to support the Pinal County Sheriff's Office, all law enforcement agencies within Pinal County and any other law enforcement agency requesting a tactical response to critical and/or high risk incidents. The presence of a highly trained, highly skilled police tactical unit has been shown to substantially reduce the risk of injury or loss of life to citizens, police officers and suspects. A well-managed team response to critical incidents helps to ensure a successful resolution.
SWAT is made up of full-time sworn Deputy Sheriff's and Police Officers from various agencies in Pinal County with highly specialized training in the areas of explosives, automatic weapons, and advanced police/military combat tactics. SWAT is a secondary assignment for all members of the team and most of them work in either the Patrol or Criminal Investigations Bureaus. The Pinal Couty Sheriff's Office SWAT team currently has 35 members, which includes 5 Snipers and 8 Hostage Negotiators. The SWAT Team is a Multi-Agency Team, with personnel assigned from:
Pinal County Sheriff's Office
Casa Grande Police Department
Coolidge Police Department
Eloy Police Department
Florence Police Department

The Pinal County SWAT Team averages 100 call-outs annually, consisting of the following incidents:
Warrant Service
Hostage/Barricades
Dignitary Protection
Surveillance
Fugitive Apprehension
Open Area Tracking