Programming Your Scanner for West Virginia Statewide Interoperability Radio Network (SIRN)
From The RadioReference Wiki
Programming a PRO-96/2096
West Virginia Statewide Interoperability Radio Network (SIRN) requires two tables including base frequency, offset and step to trunk correctly. In Win96, check Multi table bullet under MOT 9600 CC, then click Extended Tables bar. Enter data in # 00 & 01 as indicated - Identifiers 02 through 05 will be ignored by scanner.
Note: Do not check any Standard Plans Bullets.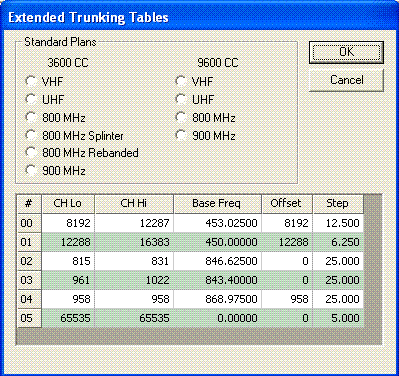 Programming a PRO-106/197 or PSR-500/600
Enter the control channels for the sites you would like to listen to, and set the TSYS to P25 Auto. The radio will automatically set the tables with data from the control channel data stream.
Return to DB page: West Virginia Statewide Interoperability Radio Network (SIRN)
Return to Wiki page: West Virginia Statewide Interoperability Radio Network (SIRN)