Royal Canadian Mounted Police (RCMP) (NB)
From The RadioReference Wiki
Districts
The RCMP in New Brunswick is J Division of the national force and is headquartered at Fredericton. The RCMP is the provincial police force for New Brunswick under a contract with the provincial government, as is the case in seven other provinces. There are 12 districts in the province, which have names as well as numbers.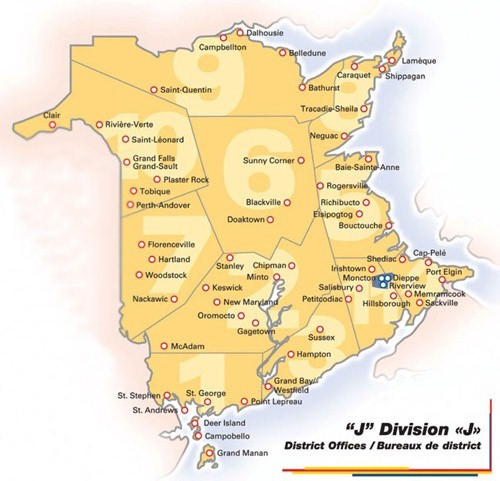 Radio Network
The RCMP in New Brunswick uses a 155 MHz conventional VHF system. The same freq is in use in differents geographical locations, however with a different tone. This allows the use of one freq more then one time. So it's important that when you program your scanner for the RCMP in NB, to program the tone with along with it's freq. For exemple, the freq 155.7000 is used by 6 different locations in the province. The following location uses the 155.7000 freq but with a different tone : Coburn has a tone of 114.8, Doakville has a tone of 141.3, Riceville of 131.8 and so on.
Freqs from the same district are sometime simulcast and/or link via a UHF freq.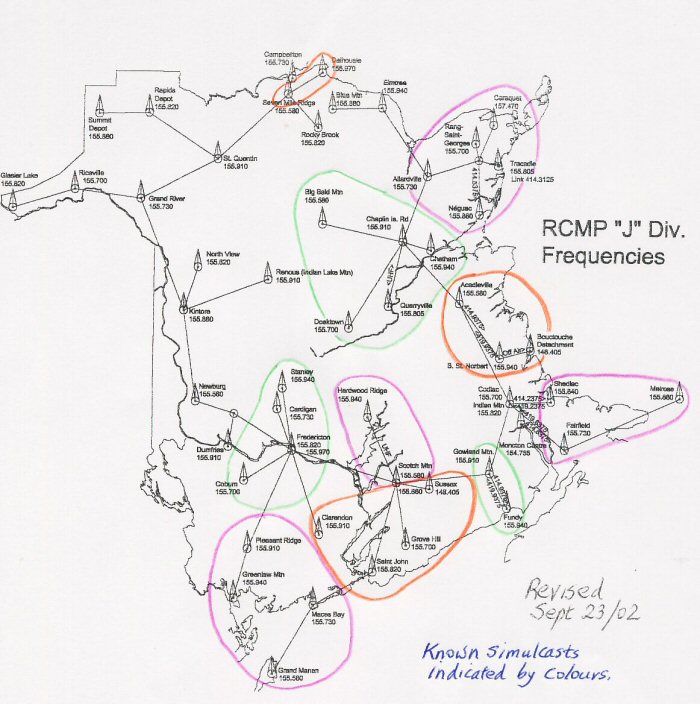 Integrated List of Districts, Offices and Frequencies
To see if freqs are simulcast or not in each district, go to : http://www.marscan.com/nbrcmp.htm, scroll halfway to the color table and look in the last column of the district.
Unit ID
Identification of vehicles follows substantially what was the normal practice across Canada in the provinces where the RCMP is the provincial police. The format is: number-letter-number
The first number represents the district or area (1 to 11 are the districts, plus 12 for Codiac Regional. 20 indicates a province-wide or headquarters-based unit - 13, 14, and 15 have also been heard and are presumed to be regional units of various types) [In April 2012 highway units with a 30 prefix were seen].
The letter indicates usage:
       A = general duties vehicle 
       B = has been rarely seen, in the past, with unknown meaning (see note below)
       C = Highway patrol  
       D = Detective unit
       E = special services such as Ident or dog unit
       P = specialized drug enforcement
       R = Reserve (First Nations) detachment [this designator may be obsolete]
       T = Technical and special support. 
       V = unknown meaning 
       Others may also be in use. 

The trailing number is the specific vehicle of that category.
Maritimes RCMP Police 10 Codes
For the 10 codes for Codiac RCMP, refer to the Westmorland County WikiPage as they may differ a bit.
10-1 SIGNAL WEAK
10-2 SIGNAL GOOD
10-3 STOP TRANSMITTING
10-4 AFFIRMATIVE
10-5 RELAY (TO)
10-6 BUSY
10-7 OUT OF SERVICE
10-8 IN SERVICE
10-9 SAY AGAIN (REPEAT)
10-10 NEGATIVE
10-11 ROAD SIDE CHECK
10-12 STAND BY
10-13 EXISTING CONDITIONS
10-14 MESSAGE / INFORMATION
10-15 MESSAGE DELIVERED
10-16 REPLY TO MESSAGE
10-17 EN ROUTE
10-18 URGENT
10-19 IN CONTACT
10-20 LOCATION
10-21 PHONE CALL
10-22 DISREGARD
10-23 ARRIVED AT SCENE
10-24 ASSIGNMENT COMPLETED
10-25 REPORT TO (MEET)
10-26 E.T.A.
10-27 LICENSE / PERMIT INFO
10-28 OWNERSHIP INFO
10-29 RECORDS CHECK
         ALPHA = ARMED & DANGEROUS
         MIKE = MENTAL
         SIERRA = SUICIDAL
         VICTOR = VIOLENCE
         ECHO = ESCAPEE
         FOXTROT = FAMILY VIOLENCE

10-31 PICK UP
10-32 UNITS NEEDED
10-33 HELP ME QUICK
10-34 TIME
10-35 OFF DUTY
10-36 ON DUTY
10-37 RETURNING TO OFFICE
10-40 POSSIBLE HIT ON PERSON /
          vehicule                                                        

10-41 POSSIBLE HIT NOW CONFIRMED
10-42 PERSON IN VEHICLE / VESSEL IN
         SURVEILLANCE CATEGORY

10-43 PERSON IN PAROLE CATEGORY
10-44 PERSON IN CHARGED CATEGORY
10-45 PERSON IN ELOPEE CATEGORY
10-46 PERSON IN PROHIBITED CATGORY
         DELTA = DRIVING
         FOXTROT = FIREARMS
         LIMA = LIQUOR
         HOTEL = HUNTING RESTRICTIONS


10-47 to 10-59 assigned through HQs for RCMP wide use
10-60 IMPAIRED DRIVER
10-61 BREATH TEST OPERATOR REQD
10-62 UNAUTHORIZED LISTENER
         PRESENT

10-65 ANYTHING FOR US
10-66 CAUTION – CONTAGIOUS
         BRAVO = BLOOD
         SERRIA = SPIT

         FOXTROT = FATAL
         INDIA = INJURIES
         PAPA = PROPERTY

10-68 REQUEST ASSISTANCE AT SCENE
         ALPHA = AMBULANCE
         CHARLIE = CORONER
         DELTA = DOG MAN
         INDIA = IDENT
         SERRIA = SUPERVISOR
         TANGO = TOW TRUCK

10-69 ILLEGAL BOARDER CROSSING
10-70 HOSTAGE TAKING
10-71 DISPATCHED FROM CIIDS TO PROS
         MOBILE

10-72 SUDDEN DEATH
10-73 ARMED ROBBERY IN PROGRESS
10-74 BARRICADED PERSON
10-75 POLICE HATER
10-76 PRISONER ESCORT
         FOXTROT = FEMALE
         MIKE = MALE
         PAPA = PSYCHIATRIC
         YANKEE PAPA = YOUNG PERSON

10-77 HOLD UP ALARM
10-78 PROPERTY ALARM
10-79 POSSIBLE DRUG INVOLVEMENT
10-80 SUBJECT ON PROBATION
10-81 VIOLENCE
         ALPHA = ASSAULT
         DELTA = DOMESTIC

10-82 ROBBERY
10-83 OFFENSIVE WEAPON
10-84 BREAK & ENTER
         BRAVO = BUSINESS
         ROMEO = RESIDENTS

         ALPHA = AUTO
          OSCAR = OVER $5000
          UNIFORM = UNDER $5000

10-86 REQUEST FOR INTERPOL CHECK
10-87 DRUGS
10-88 FRAUD
10-89 SEX OFFENSE
         FOXTROT = FEDERAL
         CHARLIE = CUSTOMS
         PAPA = PROVINCIAL

Subject Cautions
Caution A = Armed
Caution C = Contagious Disease
Caution E = Escapee
Caution FV = Family Violence
Caution I = Infectious
Caution M = Mentally Unstable
Caution S = Suicidal
Caution V = Violent
Caution W = Weapons
Prohibitions
D = Driving
F = Firearms
H = Hunting
L = Liquor
Sources