Shelby County (OH)
From The RadioReference Wiki
Welcome to the Shelby County, Ohio collaboration article. This is where you, the user, may index any articles you develop for scanning related topics for your area.
Shelby County, Ohio
Shelby County was formed in 1819 from Miami County. It is named for Isaac Shelby, the first governor of Kentucky. It is located in west central Ohio. The county seat is the City of Sidney, it is the only city in the county. There are eight villages and fourteen townships in the county.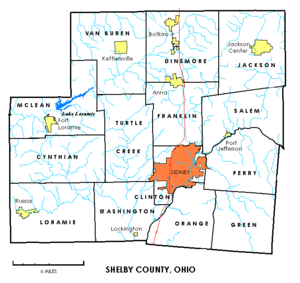 VILLAGES:

Anna             Kettlersville
Botkins          Lockington
Fort Loramie     Port Jefferson
Jackson Center   Russia


TOWNSHIPS:

Clinton          Jackson         Salem
Cynthian         Loramie         Turtlecreek
Dinsmore         McLean          Van Buren
Franklin         Orange          Washington
Green            Perry


Public Safety Communications
All public safety agencies in Shelby County use a mix of conventional frequencies.
Fire/EMS stations
Station/Agency

1      Anna
2      Botkins (no EMS)
3      Ft Loramie
4      Houston
5      Jackson Center
6      Van Buren Twp (Kettlersville) (no EMS)
7      Lockington (no EMS)
8      Maplewood (no EMS)
9      Port Jefferson
10     Russia (no EMS)
11
12     Shelby County Fire Department

Ohio State Highway Patrol
Traffic service is provided by OSP Post 55 Piqua (District 5 HQ). All communications use the Ohio MARCS statewide system.
Events
Each July the Country Concert is an event held at Fort Loramie that brings together four days of camping and outdoor concerts of major country western artists. This event attracts thousands of people to the rural area. In addition to local law enforcement, fire and EMS frequencies, GMRS and FRS radios. Here are frequencies confirmed in use for this event:


452.1000/457.1000  743 DPL     Key2 Security Ch. 1
452.4000/457.4000  516 DPL     Key3 Security 
452.6750           023 DPL     Key2 Security
452.7250           023 DPL     Key2 Security
457.7250           023 DPL     Key3 Security
452.9750           051 DPL     Radio Techs
464.5000/469.5000  506 DPL     Law Enforcement/Security
464.5500/469.5500              Shelby County Sheriff
451.8000                       Shuttle Buses
451.4000           023 DPL     Shuttle Buses
466.03750                      Video Crew
451.6750           351 DPL     Radio Techs
157.5150           141.3 PL    Meyers Garage
518.4000                       Wireless mic
519.2000                       Wireless mic
526.4500                       Wireless mic
630.1000                       Wireless mic
638.4900                       Wireless mic
644.0000                       Wireless mic
766.9750                       Wireless mic