Travel Reference (KS)
From The RadioReference Wiki
KANSAS INTERSTATE TRAVEL GUIDE
FOR THE KS STATEWIDE INTEROPERABLE COMMUNICATION SYSTEM - (KSICS)
---
The State of Kansas is currently in the build-out stage of an 800 MHz. APCO Project-25 trunked digital radio system. The system has been named the Kansas Statewide Interoperable Communications System or "KSICS". About 2/3 of the state is currently covered by the digital system. Not limited to only State Agencies, numerous County and City Law Enforcement, Emergency Management, Fire, EMS agencies, Local government, and private emergency response agencies have entered into agreements to use the system or at least have access in some part. Motobridge gateways allow controlled access from VHF, UHF, and 800 MHz nation-wide calling channels at most sites.
The system has capabilities to carry both voice and data over a wide area trunked network with microwave radio and hardened fiber-optic links to the various sites. Some "county-wide" sub-nets on the system use simulcast tower sites to theoretically give "Basement level HT" coverage over a majority of a county covering several hundred square miles. Additionally, the Interstate Highway System consisting of; I-35, I-70, I-135, the Ks Turnpike, and numerous two and four lane US Highways offer border to border coverage on this system.
Many counties have retained their original conventional systems and use those almost exclusively. The KSICS System is only used for inter-county operations or while out of range of their conventional home repeaters (i.e. prisoner or patient transfers, out of county range fire assistance, etc.) To hear the most traffic while traveling, it would be best to load the entire KSICS system AND the conventional system for the counties you are intending to travel through.
---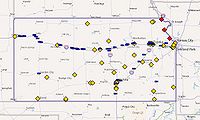 The Kansas Department of Transportation offers a interactive website and telephone based information service that give current roadway weather, construction, traffic delays and other useful and timely information for the traveler. Dial "511" from most cellular and landline phones from anywhere in Kansas to access the interactive voice system. The website also offers links to KDOT web-cams at numerous locations along the highway system around the state.
Interstate 35
Interstate 135
Interstate 235
Interstate 335 (Kansas Turnpike)
Interstate 435
Interstate 635
Interstate 70
Interstate 470
Interstate 670
Return to Kansas