Trunker
From The RadioReference Wiki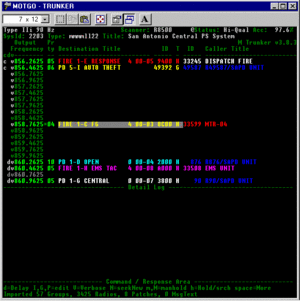 Summary
Within the past few years, numerous folks have devoted their time and energy to writing software applications that allow you to use your computer and scanner to decode trunked radio system control channels. Many of these applications are freely available from these pages for scanner listeners and hobbyists. They also allow Trunktracking for Motorola and EDACS trunked radio systems using a two scanner setup.
Please note! To implement these applications, a good bit of technical skill is required. You must have a good knowledge of electronics, computer systems, and trunked radio systems.
Steps to getting Trunker / Etrunker running
1. You need to build a Hamcom 2-Level interface or purchase one from the many vendors that sell them. Information on building or purchasing this interface can be found on the Data Slicers Page.
2. You need connect this interface to the discriminator output of your scanner, NOT the audio output. Trunker will NOT work with anything but the discriminator output from your scanner. Most scanners do not have a discriminator output jack, so you'll need to tap it yourself and provide the output.
3. Download the trunker application and READ THE DOCUMENTATION (PDF) before running.
Source Code / Compiling Yourself
You'll need the Watcom 9.0 C++ Compiler to compile the source for your own application.
Receiver Specific Notes
See also
Return to Trunked Radio Decoders