Vertex Standard VX-900
From The RadioReference Wiki
Vertex Standard VX-900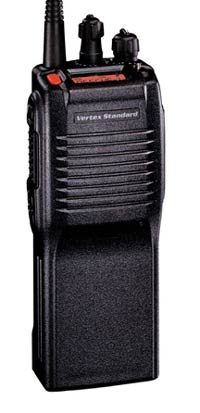 Engineered to make its advanced features easy to use, and providing the ruggedness demanded by public safety users, the VX-900 utilizes a large-capacity Lithium-Ion battery, which typically provides 14 hours of operating time (VX-900U w/FNB-V69LI). With improved scan speeds, Emergency Alert, and Invertible 8-Character LCD Display, User Selectable Tones / Codes, 512 Channel Capacity, and a host of easily programmable customization features, the VX-900 is ideal for a wide variety of public safety and commercial applications.
The VX-900 gives you the reliability and dependability you require, built to meet the punishing test procedures of MIL-STD 810 C, D, & E, as well as the highest-level Intrinsically Safe rating. With a Weather Sealed mic connector, built-in Noise Canceling Microphone, and a loud 700 mW audio output stage, this very capable and rugged package is ready to serve your communications needs.
The VX-900 is the big brother to the vx-600, adding a lcd display and the ability to program an amazing 512 channels.
This radio programs down into the ham band on 70cm without hardware or software modification.
SMA antenna connector.
Takes the same programming cable as the vx-600, vx-800, vx-4000 etc. Has a windows version of the RSS.

Return to Wiki page: Vertex Standard Radios
(No matching DB page)