Wake County (NC) Raleigh PD Monitoring Guide
From The RadioReference Wiki
Raleigh Police Department Monitoring Guide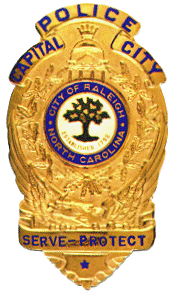 The Raleigh, North Carolina Police Department migrated from a legacy UHF 460Mhz Conventional Analog System to digital voice talkgroups on the Wake County Simulcast System a few years ago. You have to have a digital voice capable Trunking scanner to be able to monitor Raleigh PD (and many other public safety agencies in Wake County (Morrisville, Apex and Cary are on the Cary TRS system)).

Being part of the Wake Simulcast system means that the same transmission is heard over all of the Wake County Towers. Meaning that you hear the same thing no matter which tower you are located nearest to within the Simulcast Coverage Area.


If you do have a digital voice capable trunking scanner and you are located within Wake County monitoring the Wake Simulcast system is easy. All you should need to do is enter the following Control Channels and make sure the system is configured as a Motorola rebanded system to be able to follow/track the system:
853.7875MHz (Main Control Channel)
853.5375MHz (Alternate Control Channel)
853.9625MHz (Backup Control Channel)
853.4625MHz (Backup Control Channel)
853.150Mhz (Backup Control Channel)
853.925Mhz (Backup Control Channel)
NOTE: As Wake County prepares to upgrade to P25 Phase 1 many of the radios are capable of utilizing the VIPER Statewide Event Talkgroups. Recently, these VIPER channels have been in use by RPD and Wake SO for activities related to the protests in downtown Raleigh.
Raleigh Police Patrol Unit Radio Callsigns
As many of you are aware Raleigh PD divides up the city into 6 Districts...Here is a map of the 6 districts: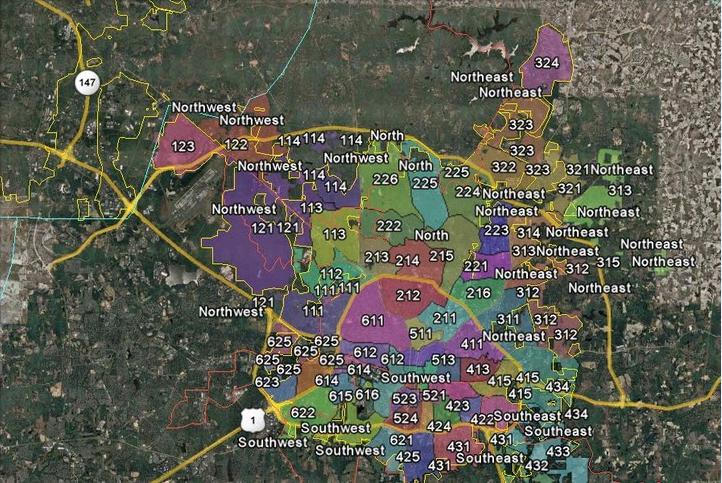 The 6 Patrol Districts are organized as follows:
Raleigh PD divides up communications based on the Districts above.

Other Unit Radio Callsigns:
8xx - Motor Units
9xxx - Detectives/Special Units
AC - Animal Control
ID - Crime scene Investigator CCBI
Ida - Impact units/Downtown or GoRaleigh Station (IE 532-Ida)
M (Mary) - Mounted Units (Horse patrols)
Ocean - Off Duty/Overtime for special assignment
SR - School Resource Officers
WC - Wake Coroner
Y (Yankee) - Family Services
Now Let's go over each set of Talkgroups used by Raleigh PD
Each of the 6 District Officer Radios should be setup in the following format:
District Specific Dispatch (Example NWD DISP)
District Specific "Tac 1" (Example NWD TAC 1)
District Specific "Tac 2" (Example NWD TAC 2)
8 Citywide "LE Ops" Talkgroups Numbered 5-12
Dispatch Talkgroups:
Recently Raleigh PD Moved to Split District Dispatching. "Split District Dispatching" allows officers to hear radio traffic more relevant to them and the officers nearby. With Split District Dispatching all Dispatch & Status traffic will occur on the Dispatch Talkgroup. NOTE: If a high priority situation is ongoing in one district the neighbor district talkgroup that is normally patched to the incident talkgroup can be temporarily "un-patched" until the situation is resolved. An example would be a foot chase in the Northwest District (NWD). While the footchase is underway the Southwest District (SWD) talkgroup would be temporarily un-patched and any NWD/SWD units not involved in the footchase would switch to the SWD Dispatch talkgroup to take routine calls while the NWD Dispatch Talkgroup is reserved for only those involved with the footchase. Once the NWD footchase is over then the NWD and SWD Talkgroups would be once again "re-patched" together. This image shows how the 6 dispatch talkgroups are patched together in groups of 2 by closest districts.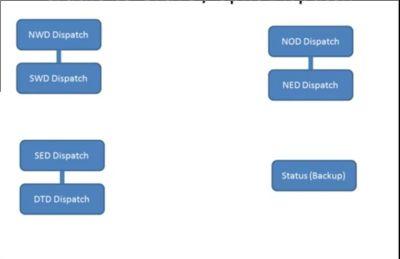 | TGID | Districts Patched Together |
| --- | --- |
| 40016 | Northwest District (NWD 1xx Units) |
| 40096 | Southwest Units (SWD 6xx Units) |
| TGID | Districts Patched Together |
| --- | --- |
| 40032 | North District (NOD 2xx Units) |
| 40048 | Northeast Units (NED 3xx Units) |
| TGID | Districts Patched Together |
| --- | --- |
| 40064 | Southeast District (SED 4xx Units) |
| 40080 | Downtown District Units (DTD 5xx Units) |
Note that RPD Officers are advised to use their MCTs (Computers) for as much off radio routine status info such as report numbers, nature change, code, status to free up the Dispatch TGs.
Also note that High Priority calls (robberies, shootings) will be dispatched citywide over all 6 dispatch TGs.
Status Talkgroups: (NO LONGER USED)
Note: With the move to Split District Dispatching the 2 status talkgroups listed below are no longer used for day to day radio traffic as all status changes are done over the district dispatch talkgroup or over mobile computer terminal. The 2 talkgroups below are only kept around for backup usage purposes.
| TGID | RPD Usage |
| --- | --- |
| 40112 | Northern Units (NWD 1xx, N 2xx, NED 3xx) Backup Status aka "Raleigh 3" |
| 40192 | Southern Units (SED 4xx, DD 5xx, SWD 6xx) Backup Status aka "Raleigh 2" |

Note: As far as RPD Status Channels/Talkgroups are concerned the 3 Districts of NWD 1xx, N 2xx, & NED 3xx are known as the "Northside Districts" and are patched together handled by one dispatcher while the SED 4xx, DD 5xx, & SWD 6xx Districts are known as the "Southside Districts" and are patched together to be handled by another dispatcher...The Northside Status Talkgroup/Channel (1xx, 2xx, 3xx units) is known by its old UHF nickname of "Raleigh 3" while the Southside Status Talkgroup/Channel (4xx, 5xx, 6xx units) is known by its old UHF nickname of "Raleigh 2"...
District Specific TAC 1 & TAC 2 Talkgroups:
| TGID | RPD Usage |
| --- | --- |
| 40208 | RPD NWD TAC1 |
| 40304 | RPD NWD TAC2 |
| 40224 | RPD ND TAC1 |
| 40320 | RPD ND TAC2 |
| 40240 | RPD NED TAC1 |
| 40336 | RPD NED TAC2 |
| 40256 | RPD SED TAC1 |
| 40352 | RPD SED TAC2 |
| 40272 | RPD DD TAC1 |
| 40368 | RPD DD TAC2 |
| 40288 | RPD SWD TAC1 |
| 40384 | RPD SWD TAC2 |
Note: about the District Specific "Tac 1" and "Tac 2": These talkgroups are designed for intra-district communication only and are NOT monitored by Raleigh/Wake 911. These are basically a "Car to Car" chit chat channel.
8 LE (Law Enforcement) OPS Talkgroups (Numbered 5-12):
| TGID | RPD Usage |
| --- | --- |
| 40432 | LE OPS 5 |
| 40448 | LE OPS 6 |
| 40464 | LE OPS 7 |
| 40480 | LE OPS 8 |
| 40496 | LE OPS 9 |
| 40512 | CITY 1 (Old LE OPS 10) |
| 40528 | CITY 2 (Old LE OPS 11) |
| 40544 | RIC 12 (Old LE OPS 12) |
Note: The 8 LE OPS Talkgroups (Numbered 5-12) are used for communication of on-scene events where a Dispatcher needs to be able to monitor what is going on...these talkgroups are also used when units from more than one District respond to a situation...most events worth monitoring end up on an LE OPS channel...As of fall 2015 LE OPS 10 has been renamed "CITY 1" and LE OPS 11 is now "CITY 2". LE OPS 12 is used to contact the RIC (Raleigh Intelligence Center).
Special Ops Status (Backup use only) & Front Desk Talkgroups:
| TGID | RPD Usage |
| --- | --- |
| 40400 | RPD SO Status NO LONGER USED |
| 40704 | RPD FRT DSK |
Note:The RPD Special Ops (SO) Status Talkgroup is a backup talkgroup for units doing speed enforcement, Animal Control and other assorted RPD Units. With the switch to Split District Dispatching it is no longer used daily. It is commonly referred to on the radio by its old UHF nickname of "Raleigh 8".
The RPD Front Desk talkgroup is used when an officer wants to look up warrant/personal records on a subject.
Investigations/Special Operations:
Note: Much of the traffic on the Investigative TAC talkgroups are encrypted and therefore cannot be monitored.
Hopefully this gives you a good starting point for monitoring Raleigh PD on the Wake Simulcast Radio System.