Washington State Patrol (WA)
From The RadioReference Wiki
Washington State Patrol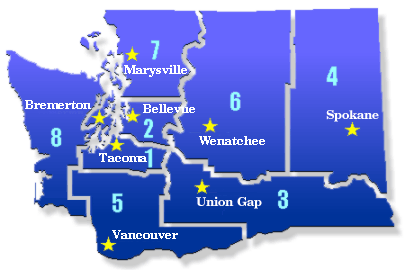 Codes
Title 10 Subject has wants or warrants
Clearing Codes
A-Notice of infraction
B-Arrest, custody or criminal citation and release
C-Warning

Locations
004 District 4 Headquarters Spokane 6430 W Rowand Rd
005 District 5 Headquarters Vancouver 11018 NE 51st Cir
007 District 7 Headquarters Marysville
012 Spokane North office US Hwy 395 @ Wandermere
060 Trooper's Residence
710 Detachment Office at Silver Lake Rest Area
711 Detachment Office in Monroe
712 Detachment Office in Mount Vernon
713 Detachment Office in Bellingham
714 Detachment Office in Oak Harbor

Scale 33 I-5 Southbound milepost 236 Bow Hill Port of Entry
Scale 38 I-5 Northbound milepost 214

Unit Designators
The unit number, the officer's badge number and the patrol vehicle's license plate are usually the same.

1 Chief
02-05 Deputy Chiefs
06-14 Majors
15-39 Captains
40-99 Lieutenants
100-299 Sergeants
300-1299 Patrol units
AIR/ SMOKEY Aircraft (Cessna fixed wing)
ECOLOGY State Ecology Department
FOREST USFS Law-Enforcement
GAMING Gaming Compliance Agents
HATCHERY State Fish Hatcheries
J Other agencies
LIQUOR Alcohol Compliance Agents
MARY Motorcycle
OCEAN Off Duty
PARKS State Park Ranger
TOM Training, Assistance Patrol, 24hr Incident Response
TRANSPORTATION DOT Tow Trucks
WILDLIFE State Fish & Wildlife Agents
X1 Governor
X2 Chief's Spouse
X8 Governor's Spouse
X 014-099 Electronic Services (Radio Techs)
X 600-x649 VIN Inspectors
X 700-999 Commercial Vehicle Enforcement
J415 US Immigration and Customs Enforcement
Area District Info
District 5 office Vancouver WA.

155.970 CSQ - Toutle repeter, Toutle WA, Cowlitz Co, covers Hwy 504 to Mt St Helens.
155.970 CSQ - Summit repeater, White Pass WA, Lewis Co, covers Hwy 12 White Pass.

External Links

Return to DB page: Washington State Patrol (WA)
Return to Wiki page: Washington (US)