Yaesu VR-500
From The RadioReference Wiki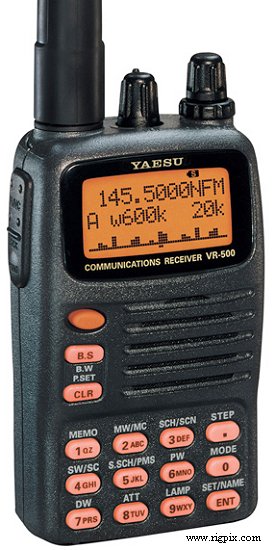 This page is devoted to the Yaesu/Vertex VR-500 handheld.
Reviews
Undocumented Features
You can enable two additional SET menu features:
33: User Port - unknown use
34: Narrow AM - enables or disables the narrow AM filter, which helps reduce adjacent HF signals

To enable these SET menu items, follow this procedure:
Power off the VR-500.
Press the 0, 3, 5, and 9 keys simultaneously, and then power on the VR-500 while still holding those keys.

When Narrow AM is enabled, you'll see NAM on the display when switching to AM mode.
Related Pages
Software Support
Yaesu VR-500 Receivers for Sale

Back to Yaesu Radios