Arapahoe County (CO)
From The RadioReference Wiki
DTRS SITES (IN COUNTY)
WESTERN
http://wiki.radioreference.com/index.php/Individual_CO_DTRS_Sites/Admin
CENTRAL-EAST
http://wiki.radioreference.com/index.php/File:Chevron.jpg
http://wiki.radioreference.com/index.php/Individual_CO_DTRS_Sites/Smokey_Hill
EASTERN
http://wiki.radioreference.com/index.php/Individual_CO_DTRS_Sites/Zap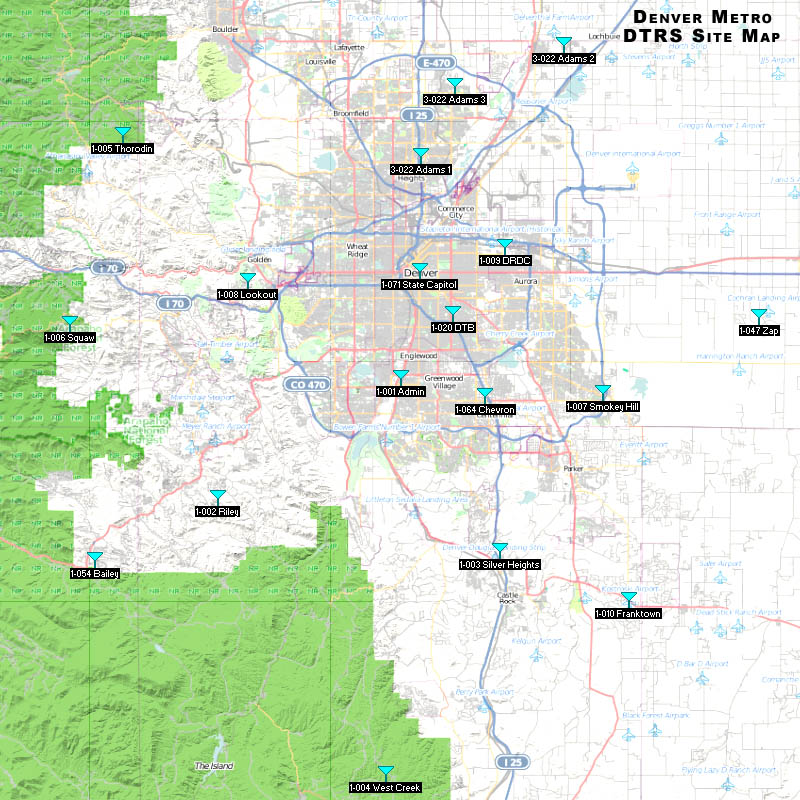 ---
TALK GROUPS IN COUNTY
3001 ARAP SO DISP Arapahoe County Sheriff Dispatch 
3002 ARAP SO DATA Arapahoe County Sheriff Data Channel-2 
3003 ARAP SP OPS1 Arapahoe Special Operations-1 Channel-3 
3004 ARAP SP OPS2 Arapahoe Special Operations-2 Channel-4 
3005 ARAP SO CH-5 Arapahoe County Sheriff Channel-5 (Car to Car-1) 
3006 ARAP SO CH-6 Arapahoe County Sheriff EOC Channel-6
3007 ARAP SO CH-7 Arapahoe County Sheriff Channel-7 (Car to Car-2)   3013 ARAP SO SPVR Arapahoe County Sheriff Supervisors 
3009 ARAP SO INV1 Arapahoe County Sheriff Investigations Channel-1 
3010 ARAP SO INV2 Arapahoe County Sheriff Investigations Channel-2 
3081 ARAP SO PIT Arapahoe County Sheriff Patrol Impact Team 
3082 ARAP SO TRN1 Arapahoe County Sheriff Training-1   3083 ARAP SO TRN2 Arapahoe County Sheriff Training-2 
3086 ARAP SO INV Arapahoe County Sheriff Investigations 
3011 ARAP SO DET1 Arapahoe County Sheriff Detentions Channel-1   3012 ARAP SO DET2 Arapahoe County Sheriff Detentions Channel-2 
3014 ARAP SO CMD Arapahoe County Sheriff Command 
3080 ARAP SO P OP Arapahoe County Sheriff Patrol Operations 
3084 ARAP SO CIVL Arapahoe County Sheriff - Civil 
3085 ARAP SO W/FG Arapahoe County Sheriff - Warrants/Fugitives 
3087 ARAP SO SWAT Arapahoe County Sheriff SWAT 
3008 ARAP RADIO Arapahoe County Sheriff Radio Technicians 
3040 LIT PD CH-1 Littleton Police Channel-1 
3041 LIT PD CH-2 Littleton Police Channel-2   3042 LIT PD CH-3 Littleton Police Channel-3 
3043 LIT SP OPS-2 Littleton Police Special Operations-2 
3044 LIT PD SUPV Littleton Police Supervisors 
1851 LIT FD CH-1 Littleton Fire Channel-1 (Control/Dispatch)   1857 LIT FD CH-2 Littleton Fire Channel-2 (Operations)   1859 LIT FD CH-4 Littleton Fire Channel-4 (Operations) 
1853 LIT FD CH-5 Littleton Fire Channel-5 (Special Assignment) 
1049 LIT FD ADMIN Littleton Fire Channel-6 (Administrative) 
1855 LIT FD CH-7 Littleton Fire Channel-7 (Special Assignment)   1046 LIT FD OPS-4 Littleton Fire Channel- OPS-4 A7 (Mutual Aid W/West Metro FD) 

1047 LIT FD OPS-9 Littleton Fire Channel OPS-9 (Training)   1048 LIT FD CH-10 Littleton Fire Channel OPS-10 (Training) 
1863 LIT FD MED Littleton Fire Medical Control   2996 CFD TAC-6 Cunningham Fire Department Tactical-6 (C-TAC-6) 
2997 CFD TAC-7 Cunningham Fire Department Tactical-7 (C-TAC-7) 
2998 CFD TRAINING Cunningham Fire Department Training (C-Train) 
1786 METCOM 1 South Metro Fire METCOM-1 (Dispatch) 
1792 METCOM OPS 2 South Metro Fire METCOM-2 (Ops-2) 
1787 METCOM OPS 3 South Metro Fire METCOM-3 (Ops-3) 
1788 METCOM OPS 5 South Metro Fire METCOM-5 (Ops-5) 
1789 METCOM OPS 7 South Metro Fire METCOM-7 (Ops-7)   1790 METCOM OPS 9 South Metro Fire METCOM-9 (Ops-9) Training 
1793 METCOM OPS15 South Metro Fire METCOM-15 (Ops-15) 
3064 CNTNIAL AP-5 Centennial Airport Ops Primary Channel-5 (Metcom C10) 
3065 CNTNIAL AP-2 Centennial Airport Channel-2 
3066 CNTNIAL AP-3 Centennial Airport Channel-3 
3075 ENGLEWD PD-1 Englewood Police Channel-1 
3076 ENGLEWD PD-2 Englewood Police Channel-2   3077 ENGLEWD FD-1 Englewood Fire Channel-1   3078 ENGLEWD FD-2 Englewood Fire Channel-2 
3027 GLENDALE PD1 Glendale Police Channel-1 
3028 GLENDALE PD2 Glendale Police Channel-2 
3034 GLENDALE SUP Glendale Supervisors 
3029 GLENDALE FD1 Glendale Fire Department Channel-1 
3030 GLENDALE FD2 Glendale Fire Department Channel-2 
3019 GWD VLG PD-1 Greenwood Village Police Channel-1   3020 GWD VLG PD-2 Greenwood Village Police Channel-2 
3025 GWD VLG PD-3 Greenwood Village Police Channel-3 
3021 GWD VLG DET Greenwood Village Detectives   3022 GWD VLG SUP Greenwood Village Supervisors 
3023 GWD VLG ADMN Greenwood Village Administration 
3059 CHRY HLS PD1 Cherry Hills Police Channel-1   3060 CHRY HLS PD2 Cherry Hills Police Channel-2 
2151 SHERIDN PD-1 Sheridan Police Channel-1 
2153 SHERIDN PD-2 Sheridan Police Channel-2 
2157 SHERIDN PD-4 Sheridan Police Channel-4   2161 SHRDN SP CH1 Sheridan Special Channel-1   2165 SHRDN SP CH2 Sheridan Special Channel-2 
2159 SHERIDN FIRE Sheridan Fire 
1001 ARAP RP ADMN Arapahoe Rescue Patrol Administration 
3063 ARAP CO YTH Arapahoe County Youth Services 
3067 ARAP RBE FLG Arapahoe County Road & Bridge East Flaggers 
3071 ARAP VF E-1 Arapahoe County Volunteer Fire - East-1 
3072 ARAP VF E-2 Arapahoe County Volunteer Fire - East-2 
1003 ARAP SAR OPS Arapahoe County Search and Rescue Ops 
3015 ARAP ASSESOR Arapahoe County Clerk and Recorder   3016 ARAP BLD MNT Arapahoe County Building Maintenance   3017 ARAP RB WEST Arapahoe County Road & Bridge West 
3018 ARAP HWY ENG Arapahoe County Highway Engineering 
3032 ARAP SO ANC Arapahoe County Sheriff Animal Control 
3033 ARAP RB EAST Arapahoe County Road & Bridge East 
3045 ARAP CO CLRK Arapahoe County Clerk / Elections 
3046 ARAP CO BLDG Arapahoe Building Department   3048 ARAP CO CC-1 Arapahoe County Community College-1 
3049 ARAP CO CC-2 Arapahoe County Community College-2 
3062 ARAP RES PTL Arapahoe Rescue Patrol 
3074 ARAP RBW FLG Arapahoe County Road & Bridge West Flaggers 
3054 BYERS SCHOLS Byers Schools 
3073 BYER FIRE Byers Fire Rescue 
3061 CHRY HLS PW Cherry Hills Public Works 
3050 LIT SCH BUS Littleton Schools - Buses 
3051 LIT SCH SEC Littleton Schools - Security 
3052 LIT SCH ADM Littleton Schools - Administration 
3053 LIT SCH PRNC Littleton Schools - Principals 
3055 LIT SCH ENGR Littleton Schools - Engineering 
3056 LIT SCH AC Littleton Schools - Technicians 
3057 LIT SCH DIS Littleton Schools 
3088 LIT PUB WRKS Littleton Public Works 
3031 GLENDALE CTY Glendale City Administration 
3024 GWD VLG PW Greenwood Village Public Works 
3035 GWD VLG FLET Greenwood Village Fleet 
3036 GWD VLG PRKS Greenwood Village Parks 
3037 GWD VLG SPOP Greenwood Village Special Operations   3038 GWD VLG ENG Greenwood Village Engineering 
3039 GWD VLG BLDG Greenwood Village Building Department   2163 SHERIDN SCH1 Sheridan Schools   3047 S SUB PARKS South Surburban Parks 
3089 CENT ACO Centennial Animal Control 
3090 CC SCH SEC Cherry Creek Schools - Maintenance/Security 
3091 CC SCH W TRN Cherry Creek Schools - West Transportation 
3092 CC SCH BUS Cherry Creek Schools - Buses   3093 CC SCH E TRN Cherry Creek Schools - East Transportation 
3094 CC SCH SEC Cherry Creek Schools - Security   3095 CC SCH EM OP Cherry Creek Schools - Emergency Operations 
---
STATE AGENCIES
Department of Public Safety
COLORADO STATE PATROL
http://csp.state.co.us/District1.html
Colorado Bureau of Investigation
---
ARAPAHOE COUNTY LAW AGENCIES
Arapahoe County Sheriff's Office
Unit List

A partial list of Unit ID schemes :
Tom = Traffic
Alpha, Baker, Charlie = shift
Sheriff's Communications Center: Code 5 Traffic Stop Code 1 At Your Convenience Code 6 Wanted Or Hit(6M-Misd. 6F-Felony) Code 2 Right Away (non-emergency) Code 7 Break (indicate short or long) Code 3 Emergency (red light & siren) Code 4 No Further Assistance Needed
F-1 Police Dispatch (north) F-1 Fire Dispatch F-2 Police Dispatch (south) F-2 Fire Talkaround F-3 Police Car To Car/Tactical F-3 Fire Car To Car/Fireground F-4 Police Inquiries/Phone Patch F-4 Fire Mutual Aid Network
(adding a 1 before the ID (I.E. "1 Baker 11") means they are in a district in the City of Centennial).
List of precincts (denoted by the first digit in the call sign)

1 - all areas west of University Blvd.
2 - areas between University Blvd. & Holly St.
3 - areas between Holly St. & I-25
4 - areas between I-25 & Parker Rd. and south of I-225
5 - unincoporated area between Aurora & Denver north of I-225
6 - area between Parker Rd. & Tower Rd.
7 - area between Tower Rd. & Gun Club/Smoky Hill Rds.
8 - areas east of Gun Club Rd.
City of Aurora Police Unit List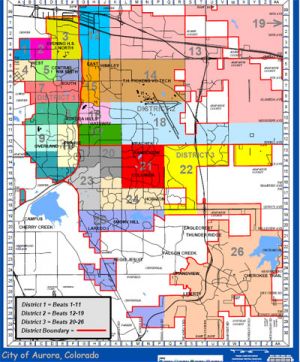 A more detailed version of the beat map can be found here (PDF)
Unit IDs follow the convention of SBB, where S is the one digit shift that the officer is working (1=days, 2=swings, 3=graves, 4=school resource officer, 5=traffic units, 6,8=special operations) and BB is the two digit beat area where the officer is working. For example, unit 112 would be an officer working shift 1 (days) in beat area 12.
Others include:

Adam = Second car in that beat area
Motor = Motorcycle traffic units
Cruiser = Sergeants
Tom = Detectives (a suffix of Tom, as in 112T, is a 2-man car)
Lincoln = Lieutenants
Ocean = Officer working off-duty (Ocean 1 is TMCA South Hospital in E.R.)
King = K-9
Victor = Vice
Yankee = Crime Scene Investigator
---
ARAPAHOE COUNTY FIRE DISTRICTS AND DEPARTMENTS
Aurora Fire Department
15151 E. Alameda Parkway Aurora, CO 80012
STATIONS MAP
https://www.auroragov.org/AuroraGov/Departments/Fire/Department_Facilities/Fire_Stations/index.htm

Cunningham Fire Protection District Station 61
Station 62
Station 63
Station 64
LITTLETON FIRE RESCUE
2255 W. Berry Ave. Littleton, CO 80120
DISTRICT MAP
http://www.littletongov.org/fire/pdfs/FireDistMap.pdf

South Metro Fire Rescue Authority

Station 31 - 5901 South Havana Street 80111
Station 32 - 5945 South Quebec Street 80111
Station 33 - 7281 East Dry Creek Road 80112
Station 34 - 8871 Maximus Drive 80124
Station 35 - 12080 East Briarwood Avenue 80112
Station 36 - 421 East Castle Pines Parkway 80108
Station 37 - 5701 South University Boulevard 80121
Station 38 - 120 Meade Lane 80113
Station 39 - 475 West Happy Canyon Road 80108
Station 40 - 10297 North Chatfield Drive 80125
Station 41 - 10795 S. Pine Drive 80138
Station 42 - 7320 S. Parker Road 80016
Station 43 - 8165 N Pinery Parkway 80134
Station 44 - 12625 E. Lincoln Ave 80134
Station 45 - 16801 Northgate Dr. 80134
Station 46 - 19310 Stroh Road 80134
Station 47 - 11685 Tomahawk Road 80138

WEST METRO FIRE DISTRICT
West Metro Fire Stations
Golden
Station 5 14055 W. 20th Ave. Golden, CO 80401
Station 6 15100 W. 6th Ave. Golden, CO 80401
Lakewood
Station 1  6401 W. 14th Ave. Lakewood, CO 80226 

Station 2 1545 Robb St. Lakewood, CO 80226
Station 3 95 Garrison St. Lakewood, CO 80226
Station 4 13155 W. Alameda Pkwy. Lakewood, CO 80226
Station 7 6315 Mississippi Ave. Lakewood, CO 80226
Station 8 9095 W. Jewell Ave. Lakewood, CO 80226
Station 10 3535 S. Kipling St. Lakewood, CO 80226
Littleton / Unincorporated Jefferson County

Station 12 9990 W. Alamo Place Littleton, CO 80125
Station 13 12613 W. Indore Place Littleton, CO 80125
Station 14 10305 W. Chatfield Ave. Littleton, CO 80125
Morrison
Station 9 101 Red Rocks Business Dr. Morrison, CO 80465
Station 11 15629 W. Belleview Ave. Morrison, CO 80465
Roxborough / Littleton
Station 15 6220 N. Roxborough Park Rd. Littleton, CO 80125
DISTICT MAP
http://www.westmetrofire.org/DocumentView.aspx?DID=234
AIRPORT INFORMATION=
Centennial Airport
http://www.centennialairport.com/

KAPA UNICOM: 122.95 ATIS: 120.3(303-799-6722) WX ASOS: PHONE 303-706-9098 CENTENNIAL GROUND: 121.8 CENTENNIAL TOWER: 118.9 DENVER APPROACH: 132.75 DENVER DEPARTURE: 132.75 CLEARANCE DELIVERY: 128.6 WX AWOS-3 at FTG (19 nm NE): 119.025 (303-261-9104) WX ASOS at DEN (19 nm NE): PHONE 303-342-0838
http://www.airnav.com/airport/KAPA

Buckley Air Force Base

http://www.airnav.com/airport/KBKF

Private use. Permission required prior to landing
ATIS: 119.675 259.3 BUCKLEY GROUND: 121.6 275.8 [OPR 1330-0530Z++ TUE-SAT, 1500-2300Z++ SUN-MON.] BUCKLEY TOWER: 121.0 291.675 [OPR 1330-0530Z++ TUE-SAT, 1500-2300Z++ SUN-MON.] DENVER APPROACH: 128.45 DENVER DEPARTURE: 128.45 EMERG: 121.5 243.0 OUTLAW: 149.1 308.1 32.5 PMSV METRO: 228.45 PTD: 372.2

Front Range Airport

http://www.airnav.com/airport/KFTG
CTAF: 120.2 UNICOM: 122.95 ATIS: 119.025 WX AWOS-3: 119.025 (303-261-9104) FRONT RANGE GROUND: 124.7 [0700-2100] FRONT RANGE TOWER: 120.2 [0700-2100] DENVER APPROACH: 128.25 DENVER DEPARTURE: 128.25 CLEARANCE DELIVERY: 121.75(2100-0700) 124.7 CON: 124.7