Camp McCain Training Center (Army National Guard) Grenada County (MS)
From The RadioReference Wiki
Welcome to the Camp McCain Training Center , Mississippi collaboration article. This is where you, the user, may index any articles you develop for scanning related topics for your area.
Camp McCain Training Center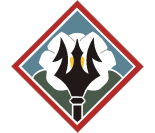 Camp McCain, is a Mississippi National Guard training site that covers 13,000 acres. Training at the facility includes tank maneuvers, artillery training and general training for National Guard troops.

Radio Comunications
Most field training radio communications are on the VHF lowband (25-76 MHz)

Field radio frequencies are usually changed every 24 hours
Support for field operations stay on the same Frequencies (ie: Range Control, Medevac)
Newer military field radio equipment may operate on other bands (ie: squad radios)

Post Support Operations use the VHF lowband.

Units at Camp McCain
Training Site HQ
Det 2 STARC (State Area Command)
Det 7 STARC (State Area Command)
CO C 2/20TH Special Forces Group
DET 2 CO B 106TH Support BN (FWD)

Links for more information on Camp McCain