New Jersey Interoperability Communications System (NJICS)
From The RadioReference Wiki
Forum Discussion
New Jersey Interoperability Communication System (NJICS)
Site Locations
Site-101 (West Orange Simulcast)
6 site simulcast zone - Rikers Hill, Essex County Courthouse, Garrett Mtn, Jersey City, Johnson Dr, West Orange
Site-102 (Hunterdon Simulcast)
4 site simulcast zone - Hunterdon, Kingwood, Montana Mountain, Princeton
Site-103 (Bordentown Simulcast)
4 site simulcast zone - Bordentown, Millstone, Toms River,Warren Grove
Site-104 (Berlin Simulcast)
4 site simulcast zone - Berlin, Bridgeton, Camden City, Woodstown
Site-105 (Hammonton Simulcast)
3 site simulcast zone - Atlantic City, Hammonton, Woodbine
Site-106 (Wildwood)
Site-107 (Union County Simulcast)
3 site simulcast zone - Elizabeth, Mountainside, Plainfield
Site-122 (Ramapo)
Site-123 (Telegraph Hill)
Site-124 (Netcong)
Site-125 (Meadowlands)
Site-126 (High Point)
Site-127 (Walpack)
Site-130 (Bowling Green)
Site-131 (Cranbury)
Site-132 (Washington)
Site-133 (Randolph)
Site-134 (Wall)
Site-136 (West Trenton)
DOT Radio Zone Channel Assignments
| Zone 1 | North | P25 Channels | Special Notes Or Comments |
| --- | --- | --- | --- |
| Channel 1 | Maintenance | Maint North | Mobile to Dispatch Only |
| Channel 2 | Maint Area 24 | Crew 24 Area | |
| Channel 3 | Maint Area 25 | Crew 25 Area | |
| Channel 4 | Maint Area 26 | Crew 26 Area | |
| Channel 5 | Maint Area 27 | Crew 27 Area | |
| Channel 6 | Maint Area 28 | Crew 28 Area | |
| Channel 7 | Maint Area 270 | Crew 270 Area | |
| Channel 8 | Electrical | North Electric | Mobile To Dispatch Only |
| Channel 9 | Electrical Newark | Newark Electric | |
| Channel 10 | Electric Totowa | Totowa Electric | |
| Channel 11 | Electric Stanhope | Stanhope Electric | |
| Channel 12 | IMRT | Incident Management Response Team | |
| Channel 13 | TOC | Traffic Operations North | |
| Channel 14 | Seas Contr Nor | Seasonal Private Contractors North | |
| Channel 15 | C&M | Construction & Maintenance Engineer | |
| Channel 16 | Statewide | Statewide Channel | Entire State |
| Zone 2 | Central | P25 Channels | Special Notes Or Comments |
| --- | --- | --- | --- |
| Channel 1 | Maintenance | Maint Central | Mobile to Dispatch Only |
| Channel 2 | Maint Area 33 | Crew 33 Area | |
| Channel 3 | Maint Area 34 | Crew 34 Area | |
| Channel 4 | Maint Area 35 | Crew 35 Area | |
| Channel 5 | Maint Area 36 | Crew 36 Area | |
| Channel 6 | Maint Area 38 | Crew 38 Area | |
| Channel 7 | Maint Area 370 | Crew 370 Area | |
| Channel 8 | Electrical | Central Electric | Mobile To Dispatch Only |
| Channel 9 | Electrical Trenton | Trenton Electric | |
| Channel 10 | Electric Wall | Wall Electric | |
| Channel 11 | Seas Contr Cen | Seasonal Private Contractor Central | |
| Channel 12 | IMRT | Incident Management Response Team | |
| Channel 13 | TOC | Traffic Operations North | |
| Channel 14 | TOC | Traffic Operations South | |
| Channel 15 | C&M | Construction & Maintenance Engineer | |
| Channel 16 | Statewide | Statewide Channel | Entire State |
| Zone 3 | South | P25 Channels | Special Notes Or Comments |
| --- | --- | --- | --- |
| Channel 1 | Maintenance | Maint South | Mobile to Dispatch Only |
| Channel 2 | Maint Area 43 | Crew 43 Area | |
| Channel 3 | Maint Area 44 | Crew 44 Area | |
| Channel 4 | Maint Area 45 | Crew 45 Area | |
| Channel 5 | Maint Area 46 | Crew 46 Area | |
| Channel 6 | Maint Area 47 | Crew 47 Area | |
| Channel 7 | Maint Area 470 | Crew 470 Area | |
| Channel 8 | Electrical | South Electric | Mobile To Dispatch Only |
| Channel 9 | Electrical CH | Cherry Hill Electric | |
| Channel 10 | Electric Hamm | Hammonton Electric | |
| Channel 11 | Electric Ptrsbrg | Petersburg Electric | |
| Channel 12 | IMRT | Incident Management Response Team | |
| Channel 13 | Seas Contr So | Seasonal Private Contractors South | |
| Channel 14 | TOC | Traffic Operations South | |
| Channel 15 | C&M | Construction & Maintenance Engineer | |
| Channel 16 | Statewide | Statewide Channel | Entire State |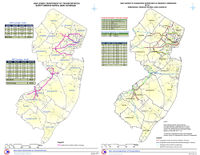 Radio IDs
http://www.warrenskywarn.org/scanner/RadioIDs.xlsx
Radio ID Ranges
1-7999 NJ State Dispatch Consoles (Includes NJSP, DOT, DEP
1000-10700 NJSP Portables (Other Portables exist outside this range as well)
43500-48599 NJ DOT Radios
714xxx Newark Fire Dept.
120xxxx Middlesex County
160xxxx Passaic County
180xxxx Somerset County
Note: These are general ranges. ID's above 65000 are specific to the NJICS System and at this time have a specific pattern. Many ID's from the legacy 800 System have smaller patterns, and some don't have any pattern at all. The Radio ID spreadsheet is generally updated several times a week to reflect changes.
Unidentified/Unconfirmed Talkgroups
The following talkgroups are not listed in the database. If you can confirm any of them please submit the information and remove them from this list.
TGID'S
Monitoring Notes
1
3
5
10
11
1051
1055
Somerset County Recycling/Solid Waste? (TDMA)
1683
NJSP B2-15 2-COMM Parkway North
1685
NJSP A1-15 1-COMM Parkway South
1687
NJSP A1-14 2-COMM Turnpike South
1689
NJSP B2-14 3-COMM Turnpike North
1701
DOC Special Operations Group - South
1703
DOC Parole 2 - Statewide Delta (D)
1705
DOC Transport Operations - Statewide Echo (E)
1707
DOC Statewide Operations/Special Operations Group Units (Foxtrot) (F)
1747
1751
Atlantic City International Airport Patrol Units 1
1769
Hospital Emergency Radio Network Statewide Alerting
1771
Hospital Emergency Radio Network Statewide Ops and County Health Departments
1773
Hospital Emergency Radio Network Tactical 1 South
1775
Hospital Emergency Radio Network Tactical 2 South
1777
Hospital Emergency Radio Network Tactical 1 North
1779
Hospital Emergency Radio Network Tactical 2 North
1781
Hospital Emergency Radio Network Tactical 1 Central
1783
Hospital Emergency Radio Network Tactical 2 Central
1785
1787
Attorney General Task Force
1791
Attorney General Calling
1793
New Jersey National Guard Channel 4
1795
New Jersey National Guard Channel 5
1797
New Jersey National Guard
1805
New Jersey National Guard Channel 6
1807
New Jersey National Guard Channel 7
1809
New Jersey National Guard
1811
New Jersey National Guard Channel 9
1813
New Jersey National Guard Channel 8 Air Operations
1815
Metro South – Camden Task Force Ch. 1
1817
Metro South – Camden Task Force Ch. 2
1819
Metro South – Camden Task Force Ch. 3
1821
Metro South – Camden Task Force Ch. 4
1823
Metro South – Camden Group Call
1825
Metro South – Camden Patch to Patrol
1827
Metro South – Camden Patch to Vice
1839
1841
1843
1845
1847
1849
1851
2197
Executive Protection Unit
2201
A1-13 NJSP/PASP Bridge Details
2207
Atlantic City International Airport Patrol Units 2
2209
Atlantic City International Airport Fire Operations
2213
A1-20 Intelligence Bureau - South
2249
2253
B2-13 NJSP/PASP Bridge Detail
2255
2259
2261
2263
2265
B2-20 Intelligence Bureau - North
2275
HSP-2 North Police
2277
2301
C3-13 NJSP/PASP Bridge Detail
2305
2307
2309
2311
2313
2315
2317
2319
2321
2563
BPU Units – Board of Public Utilities
2565
2567
Department of Children and Familes
2569
Patched to the District 1 Primary channel for a few seconds
2571
DRJTBC District 1 Spec Ops
2573
DRJTBC District 1 Ops
2575
DRJTBC District 2 Main
2577
DRJTBC District 2 Spec Ops
2579
DRJTBC District 2 Ops
2581
DRJTBC District 3 Main
2583
DRJTBC District 3 Spec Ops
2585
DRJTBC District 3 Ops
2587
DRJTBC Common Ops
2591
DRJTBC Fleetwide
2593
2595
2597
Fish & Wild Life Channel 12 Statewide
2599
2601
2603
Homeland Security Details
2605
Fish & Wild Life Channel 13 North Operations
2607
Fish & Wild Life Channel 14 Central Operations
2609
Fish & Wild Life Channel 15 South Operations
2611
Fish & Wild Life Channel 16 Marine Operations
2613
2615
2617
2619
2621
2623
2625
2627
2629
2631
2633
2635
2637
2639
2641
2643
3137
3139
3141
3143
3145
3147
3149
3151
3153
3155
3157
3159
3161
3163
3165
3167
3169
3305
3307
3329
NJSP C3-14 1-COMM Turnpike Central
3331
NJSP C3-15 3-COMM Parkway Central
3351
HSP-3 Central Police
3353
3355
3357
3359
3361
DOC Operations Golf (G)
3363
DOC Operations Hotel (H)
3365
3367
3369
3371
3373
3375
3377
3379
DOC Central Transport – North (1A)
3381
DOC Parole 1 – North (1B)
3383
DOC Special Operations Group - North (1C)
3385
3387
3389
3391
3393
3395
3397
3399
DOC Central Transport – Central (2A)
3401
DOC Parole 1 – Central (2B)
3403
DOC Special Operations Group - Central (2C)
3405
3407
3409
3411
3413
3415
3417
3419
3421
3423
3425
3427
3429
Solid Hazardous Waste Unit
3431
3433
3611
NJ State Medical Examiner
3615
Marine & Coast Guard Coordination (NY Harbor)
3619
Gaming Enforcement/Casino Operability
3621
2B GUARD (EOC-NET)
3637
DMV Field Units & Motor Vehicle Agencies
3639
DOT "95" Channel
3659
3661
State Fire Coordinators to Mercer County Central
3663
State Fire Coordinator Operations
3673
3675
3677
3679
3681
3683
3685
3687
3689
3691
3725
4097
TDMA Usage,Park Police?
4099
4101
4103
4105
4107
4109
4111
4113
4117
4121
4123
4125
4127
4129
4135
3/8/12 Two Radios doing test counts. One(48248) was previously logged on the Fairfield PD testing channel(TG 4139) REMU Radio(43312) dropped in as well. Radio IDs: 43312, 48248, 48249.
4137
Unit "21" contacting "Headquarters" doing radio checks in different areas "1","19." Talking about the State radio guys listening and confirming some areas with coverage problems in "the County." Radio IDs in the 4234X range.
4139
Fairfield units (PD?) 02/24/12 testing on 46 and Clinton, Fairfield Ave. Confirmed Fairfield when Bellville came on this channel to do a test with Fairfield calling this "Channel 5." Radio IDs: 42384, 42385, 42387, 43248.
4143

4-11-13 - FDMA Usage, Sounded like REMU?? --- Fire Department (Elizabeth? talked about seeing if a site could be added in Elizabeth) units doing testing in different areas and buildings. References to the Fire House, Dispatch putting out a signal 407 when they wanted to try to have them record a signal report. Calling each other Chief, Deputy, Dispatch, Signal 11 (Working Fire), etc. Having reception issues indoors at many locations. Referred to as Test Talkgroup 7 with portable range testing from Trenton to Brooklyn on 10/2/12. Radio IDs in the 4332x range.

4149
Key up at 11:00 2/22/2012, short conversation late that night. Talked about testing and how one of the participants was in downtown Berkeley Heights. Back on 2/23, talking about hitting the West Orange site. 2/28 mentioned being near the Warren border, so more weight to this being Berkeley Heights testing. Radio IDs: 43333,43334,43335
4151
Belleville Testing on "Channel 11" on 2/25/2012, Unit "10" ID was heard. Radio IDs: 43327, 43328, 43332. Unit 10 might be a REMU radio. Unit from this TG switched up to "Channel 5" the Fairfield TG 4139 and tested with them as well. Also conversation confirmed that Newark FD had been testing this week. Sounded like a FD unit talking now, talking about giving 2 radios to the PD for the desk and unit in the south "in the valley" to test this evening/overnight.
3/1/12 definite FD units testing, Battalion 3 and Engine 5 testing the radios with a fire alarm and PASS alarm sounding in the background.

Interestingly they seem to be using it more to test P25 and digital than testing with the intent of moving onto this system.
4153
4155
4157
4159
TG first logged on 8/17/12. Testing on 8/20,8/21, two radios 66011,66012 testing various buildings and street locations in Montclair.
4161
Conversation at 15:12 on 02/29/12 between a radio(43312) that's previously appeared on REMU TGs and a radio(43092) first logged on this TG on 02/14. Radio IDs: 43092, 43095, 43312. The REMU radio then moved over to 4145 and keyed up there. Testing between two radios (66005,66006) on 4/9/13 starting at 12:34 PM and ending at 1:03 PM.
4163
4165
4167
4213
4215
4444
---
Return to New Jersey Interoperability Communication System (NJICS)