Hawkins Field Airport (HKS) Hinds County (MS)
Welcome to the Hawkins Field , Mississippi collaboration article. This is where you, the user, may index any articles you develop for scanning related topics for your area.
Hawkins Field Airport
Hawkins Field (HKS) is a city-owned public-use airport located three miles (5 km) northwest of the central business district of Jackson, a city in Hinds County, Mississippi, United States. Hawkins Field covers an area of 602 acres (244 ha) which contains two runways: 16/34 with an asphalt surface measuring 5,387 x 150 ft (1,642 x 46 m) and 11/29 with a concrete surface measuring 3,431 x 150 ft (1,046 x 46 m).
Army National Guard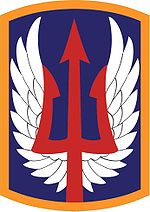 Hawkins Field is home to the Mississippi Army National Guard's 1-185th Aviation Brigade (Theater).
They use and maintain UH-60 Black Hawk & OH-58 Kiowa helicopters.
Radio Comunications
VHF & UHF Aircraft Bands
MilAir Frequencies, VHF low and high bands may be used for air operations
Civil Air Patrol Frequencies
Support Frequencies are unknown
Please submit any additional frequencies to the Hawkins Field page at RR
Units at Hawkins Field
Det 1, HHC 1-185th
Company C - 1-185th (MH/UH-60)
Company D - 1-185th (MH/UH-60)
Det 2, Company E, 131st AVN, OH-58D Intermediate Maintenance Co
Civil Air Patrol: Maj James McKinnie Composite Squadron
Related Links