Bexar County (TX) San Antonio City
From The RadioReference Wiki
For information about Bexar County outside of San Antonio, please see the Bexar County (TX) page.
Overview
Most agencies that are part of the City of San Antonio use the San Antonio / Bexar County EDACS ProVoice system. However, there are a number of smaller agencies in the area that use conventional frequencies for public safety or other services.
City of San Antonio
All San Antonio Police, Fire, EMS, and City services uses the San Antonio / Bexar County EDACS ProVoice trunked system. See this article for the TRS listing and additional links.
San Antonio Police Department
SAPD uses the following site frequencies exclusively on the system, which is the site called "BLUE" - however ALL SAPD communications are in EDACS ProVoice mode. There have been some noted communications in analog mode by dispatchers only, usually by a mistake by the dispatchers. You will need a Uniden newer generation Trunktracker V scanner with ProVoice upgrade activated to be able to monitor any SAPD communications.
SAPD "BLUE" Simulcast Site Frequencies:
| Site | Name |   |   |   |   |   |   |   |
| --- | --- | --- | --- | --- | --- | --- | --- | --- |
| 021 (15) | BLUE Simulcast | 01 856.437500  | 03 856.762500  | 04 856.987500  | 05 857.437500  | 06 857.762500  | 07 857.987500  | 08 858.212500  |
|   |   | 10 858.762500  | 14 859.762500  | 16 854.212500  |   |   |   |   |

All SAPD Patrol Related Talkgroups - these are the most active talkgroups on the system:
| DEC | AFS | Mode | Alpha Tag | Description |
| --- | --- | --- | --- | --- |
| 256  | 02-000  | M  | SAPD Fleetwide  | SAPD Fleetwide Emergency  |
| 273  | 02-021  | D  | 1-A North Disp  | SAPD 1-A North Dispatch  |
| 274  | 02-022  | D  | 1-B North Open  | SAPD 1-B North Open  |
| 275  | 02-023  | D  | 1-C West Disp  | SAPD 1-C West Dispatch  |
| 276  | 02-024  | D  | 1-D West Open  | SAPD 1-D West Open  |
| 277  | 02-025  | D  | 1-E South Disp  | SAPD 1-E South Dispatch  |
| 278  | 02-026  | D  | 1-F South Open  | SAPD 1-F South Open  |
| 279  | 02-027  | D  | 1-G Central Disp  | SAPD 1-G Central Dispatch  |
| 280  | 02-030  | D  | 1-H Central Open  | SAPD 1-H Central Open  |
| 281  | 02-031  | D  | 1-I East Disp  | SAPD 1-I East Dispatch  |
| 282  | 02-032  | D  | 1-J East Open  | SAPD 1-J East Open  |
| 283  | 02-033  | D  | 1-K Prue Disp  | SAPD 1-K Prue Dispatch  |
| 284  | 02-034  | D  | 1-L Prue Open  | SAPD 1-L Prue Open  |
| 285  | 02-035  | D  | 1-M Information  | SAPD 1-M Information  |
| 286  | 02-036  | D  | 1-N Gang Unit  | SAPD 1-N TRU Gang Unit  |
| 287  | 02-037  | D  | 1-P RAU  | SAPD 1-P RAU  |
| 333  | 02-095  | D  | 1-O Open  | SAPD 1-O Open  |
These SAPD Talkgroups are used for the Traffic division and special events/operations:
| DEC | AFS | Mode | Alpha Tag | Description |
| --- | --- | --- | --- | --- |
| 289  | 02-041  | D  | 2-A Traffic 1   | SAPD 2-A Traffic 1 Dispatch  |
| 290  | 02-042  | D  | 2-B Traffic 2  | SAPD 2-B Traffic 2 - Open/Events  |
| 291  | 02-043  | D  | 2-C DFU Bikes  | SAPD 2-C DFU/Bike Units  |
| 292  | 02-044  | D  | 2-D Traffic Open  | SAPD 2-D Traffic Open  |
| 293  | 02-045  | D  | 2-E Tactical 1  | SAPD 2-E Tactical 1  |
| 294  | 02-046  | D  | 2-F Tactical 2  | SAPD 2-F Tactical 2  |
| 295  | 02-047  | D  | 2-G Metro  | SAPD 2-G Metro (Gangs Tactical)  |
| 296  | 02-050  | D  | 2-H Sp Events 1  | SAPD 2-H Special Events 1  |
| 297  | 02-051  | D  | 2-I Sp Events 2  | SAPD 2-I Special Events 2  |
| 298  | 02-052  | D  | 2-J Sp Events 3  | SAPD 2-J Special Events 3  |
| 299  | 02-053  | D  | 2-K RAU Robbery  | SAPD 2-K RAU Bank Robbery FBI/ProNet Tracking  |
| 300  | 02-054  | D  | 2-L Training  | SAPD 2-L Training and Mass Casualty Exercises  |
| 301  | 02-055  | D  | 2-M Open CID  | SAPD 2-M Open (CID Units)  |
| 302  | 02-056  | D  | 2-N Fleet  | SAPD 2-N Fleet Management  |
| 303  | 02-057  | D  | 2-O MentalHealth  | SAPD 2-O Mental Health Unit  |
| 334  | 02-096  | D  | 2-P Blank  | SAPD Blank  |
SAPD Patrol Zones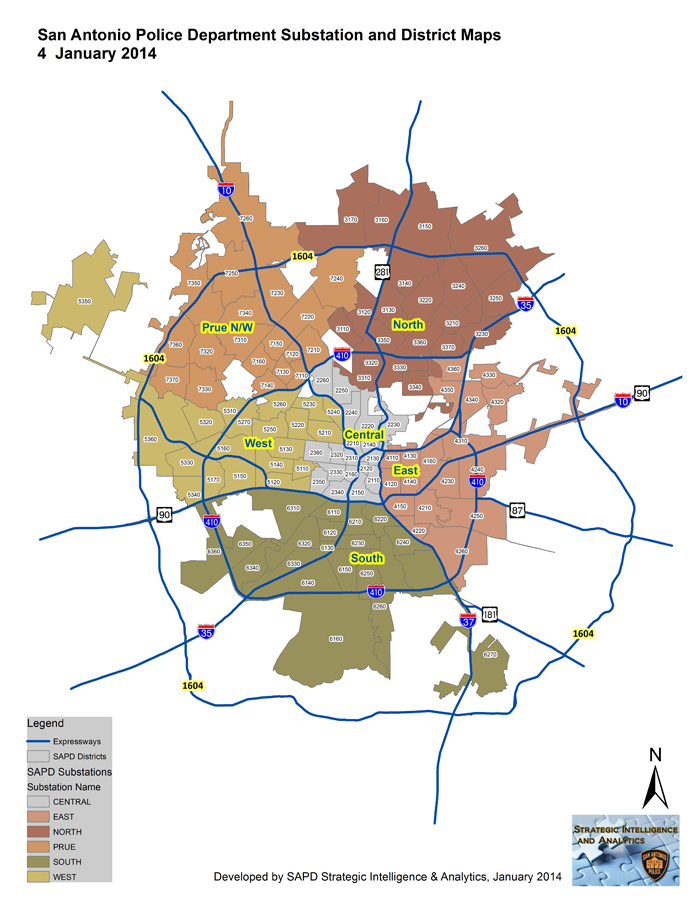 SAPD 10-Codes
10-1   Receiving  Poorly
10-2   Receiving Well
10-3   SAPD Assignment Number
10-4   Acknowledgement / Understood
10-5 	Return to (Location/Office/Jail/Etc)
10-6 	Arrived at Location
10-7 	Out of Service
10-8 	In Service
10-9 	Repeat Transmission
10-10 	Cancel Call
10-11	Request Cover Officer
10-12 	Request Detective/Investigator
10-13 	Request Sergeant
10-14 	Request SWAT Team
10-15 	Request Bomb Squad
10-16 	Request Prisoner Transport
10-17 	Request Traffic Assistance
10-18 	Request Ambulance (EMS)
10-19 	Request Wrecker
10-20 	Location
10-21 	Request PR Break
10-22 	Request Meal
10-25 	Switch to Other Channel
10-27 	Switch to Info Channel
10-28 	Check Registration
10-29 	Check Stolen/Wanted
10-30 	Officer-in-Trouble
10-31 	Shooting/Cutting (In Progress)
10-32 	Robbery-Business/Individual (In Progress)
10-33 	Robbery-Alarm
10-34 	Rape (In Progress)
10-35 	Burglary (In Progress)
10-36 	Theft (In Progress)
10-37 	Theft of Vehicle (In Progress)
10-38 	Forgery (In Progress)
10-39 	Theft-Shoplifter
10-40 	Active Wanted/Stolen
10-41 	Criminal Mischief
10-42  Sex Offenses
10-43 	Lost/Found Property
10-44 	Missing Person
10-45 	Wanted Person
10-46 	Contact the Party
10-47 	Contact the Officer
10-48 	Call Station
10-49 	Call Home
10-50 	Disturbance - Weapons Involved
10-51 	Fight/Assault
10-52 	Demented Person
10-53 	Bomb Threat
10-54 	Prowler
10-55 	Disturbance (Family/Neighbors/Gang)
10-56 	Threats
10-57 	Drunk/Drug Suspect
10-58 	Burglary Alarm (Silent/Audible)
10-59 	Suspicious Person/Vehicle
10-60 	DOA
10-61 	Sick/Injured Party
10-62 	Suicide/Attempted Suicide
10-63 	Fire/Arson
10-64 	Abandoned Children
10-65 	Abandoned Vehicle
10-66 	Recovered Stolen Vehicle
10-68 	Narcotic Offenses
10-69 	Vice Offenses
10-70 	Major Accident w/EMS on the Way
10-71 	Minor Accident (Public/Private Property)
10-72 	Traffic Hazard
10-73 	DWI
10-74 	Request Intoxilyzer Operator
10-75 	Traffic Assignment
10-76	Traffic Stop
10-80 	Assist the Public
10-81 	Animal Bite
10-82 	Fireworks Disturbance

San Antonio Fire Department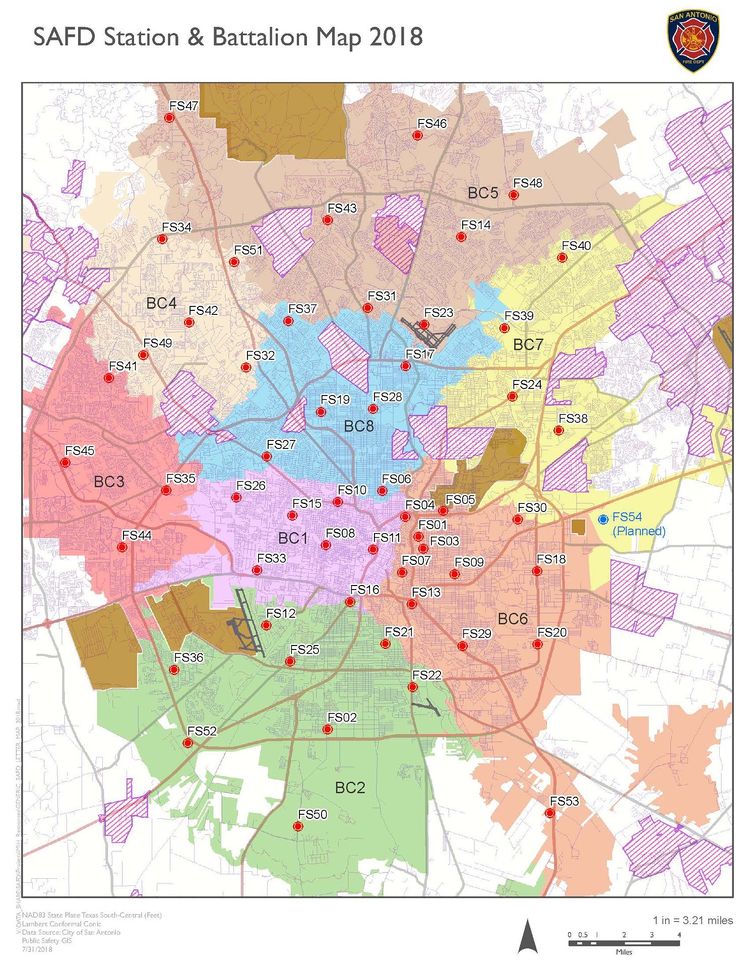 Businesses
Refresh this page from the latest database entry