Brown County (WI)
From The RadioReference Wiki
Welcome to the Brown County Wisconsin collaboration article. This is where you, the user, may index any articles you develop for scanning related topics for your area.
Unit Numbering
Brown County Sheriffs Department (BRSO)
The Brown County Sheriff's Department (BRSO) is divided into regular Sheriff Patrol which patrols the county, and Direct Enforcement Units (DEU's) which are deputies contracted to municipalities. Currently 4 Villages contract with BRSO.
SHERIFF PATROL:
1   Sheriff / Chief Deputy
2   Capt
3   Shift Lt
4   Sgt
5   Patrol Deputy
6   K9 Unit
7   Direct Enforcement Car
8   Probationary/Officer in Training
followed by a letter which indicates the assigned area. 
(Examples: "1-ADAM", "5-EDWARD")

DIRECT ENFORCEMENT UNITS (DEU's):
LINCOLN XXX's Village of Howard DEU's
MARY XXX's Village of Suamico DEU's
NORA XXX's Village of Bellevue DEU's
PAUL XXX's Village of Allouez DEU's
Phonetic word (indicating village), followed by deputy's badge number. 
(Examples: "LINCOLN-100", "MARY-200")

BRSO BADGE NUMBERS:
1XX's
2XX's
13XX's

Green Bay Fire Unit List
Station 1: 501 s washington st. Engine 411 Batallion 411
Station 2: 929 University Ave. Engine 421 Ladder 421 Ambulance 421 Mini-pump 422. Water Rescue 422
Station 3: 885 Shawano Ave. Engine 431 Ambulance 431 Batallion 431
station 4: 2560 West Point Rd. Engine 441
Station 5: 2310 Finger Rd Engine 451 Ladder 451 Ambulance 451 Tech Rescue 451
Station 6: 1701 West Mason St Engine 461 Ladder 461 Ambulance 461
Station 7: 3849 Humboldt Rd Engine 471 Tender 471

Green Bay Police Department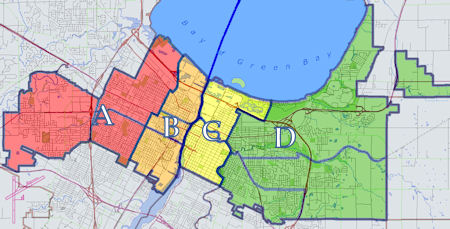 Patrol officers are assigned to patrol 1 of 4 districts (A, B, C, & D).
They identify on the radio by Shift number (1-Day Shift, 2-Afternoon Shift,
3-Evening Shift, 4-Night Shift), followed by a phonetic word for their
district (A-ADAM, B-BRAVO, C-CHARLES, D-DAVID), and then a unit number.  

Examples: "1-ADAM-1" and "1-ADAM-2" are day shift district A, "2-CHARLES-3"
and "2-CHARLES-4" are afternoon shift district C.

Other Police Departments
3XX's Wrightstown PD
4XX's De Pere PD/Pulaski PD
  40X's Pulaski PD
5XX's Lawrence PD
6XX's-7XX's Ashwaubenon PD
8XX's Oneida Nation PD
9XX's Denmark PD
C-XXX's Wisconsin DNR
State Car 3XX's and 33XX's Wisconsin State Patrol

Fire and EMS
Numbering format is Department / Station / Unit
Example: Engine 2-1-1 or Ladder 4-2-1
1   De Pere
2   Howard
3   Ashwaubenon
4   Green Bay
5   Bellevue
6   Lawrence
7   Wayside
8   Morrison
9   Greenleaf
10  Hollandtown
11  Pulaski / Tri County
12  Suamico
13  Wrightstown
14  Denmark
15  New Franken
16  Allouez
17  Hobart
18  Ledgeview
19  Airport
38  Oneida (uses Outagamie County format)
60  County Rescue

Pager Tones
EMS Pager Tones
| | | |
| --- | --- | --- |
| County Rescue - East | 667.5 | 539.0 |
| County Rescue - West | 398.1 | 435.3 |
| Hobart First Responders | 742.5 | 489.8 |
| Howard First Responders | 668.3 | 543.3 |
| Little Suamico First Responders | 703.2 | 817.5 |
| New Franken First Responders | 912.0 | 543.3 |
| N.E.W. Para-Medic Rescue | 912.0 | 602.6 |
| Suamico First Responders | 368.5 | 543.3 |
| Tri-County First Responders | 907.5 | 817.5 |
| Wrightstown First Responders | 339.6 | 358.6 |
Fire Pager Tones
| | | |
| --- | --- | --- |
| Allouez Fire & Rescue) | 822.2 | 398.1 |
| Allouez (paid - on call) | 399.2 | 668.3 |
| Ashwaubenon Fire | 712.5 | 712.5 |
| Ashwaubenon Public Safety | 441.6 | 543.3 |
| Bellevue Fire | 398.1 | 912.0 |
| Bellevue Special Ops | 822.2 | 912.0 |
| Denmark Fire | 399.2 | 602.6 |
| De Pere Fire & Rescue | 668.3 | 634.5 |
| Greenleaf Fire | 602.6 | 489.8 |
| Hobart Fire | 441.6 | 398.1 |
| Hollandtown Fire | 855.5 | 489.8 |
| Howard Fire | 524.8 | 399.2 |
| Lawrence Fire | 742.5 | 862.5 |
| New Franken Fire | 489.8 | 398.1 |
| Pulaski | 426.1 | 288.5 |
| Pulaski Tri-County Fire | 668.8 | 822.2 |
| Suamico Fire | 602.6 | 399.2 |
| Wayside Fire | 668.3 | 742.5 |
| Wrightstown Fire | 489.8 | 742.5 |
Related Links