Federal Bureau of Prisons
From The RadioReference Wiki
Legacy Radio Plan
| Output | Ch # | Description |
| --- | --- | --- |
| 170.8750 | 1 | Operations / USMS Ch 9 |
| 170.9250 | 2 | Operations / USMS Ch 10 |
| 170.6500 | 3 | Tactical/Emergency |
| 170.8500 | 4 | Tactical |
| 170.9000 | 5 | Operations / USMS Ch 11 |
Monitoring Notes
Institutions marked CONFIRMED next to prison name have been verified through monitoring since April 2020
Many of these systems seem to change control channels daily, and as such, the base frequency also changes, making these systems difficult to monitor.
Many of the BOP facilities are in the process of changing to P25, frequencies and TGIDs, in most cases, are changing. However, the control channel frequencies remain in the 406-410mhz range.
Individual Facilities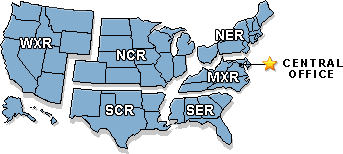 CCM - Community Corrections Management
FCI - Federal Correctional Institution
FCC - Federal Corrections Complex
FPC - Federal Prison Camp
USP - United States Penitentiary
FDC - Federal Detention Center
CI - Corrections Institution with Private Operator
MDC - Metropolitan Detention Center
FMC - Federal Medical Center
MCC - Metropolitan Correctional Center
CCA - Corrections Corporation of America
MCFP - Medical Center for Federal Prisoners
Northeast Region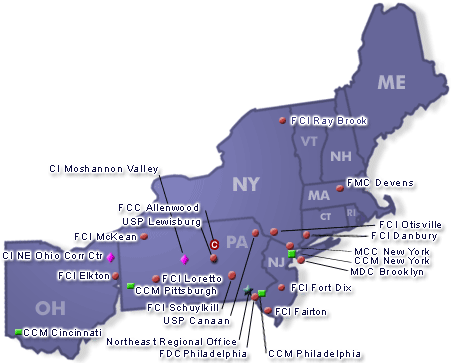 Connecticut
Massachusetts
New Hampshire
New Jersey
New York
MDC Brooklyn
MCC New York
CCM New York
FCI Otisville
FCI Ray Brook
Ohio
CCM Cincinnati
FCI Elkton
CI NE Ohio Correctional Center (CCA)
| Output | Input | Tone | Usage |
| --- | --- | --- | --- |
| 461.82500 | 466.82500 | | Ch. 1 |
| 463.95000 | 468.95000 | | Ch. 2 |
| 464.90000 | 469.90000 | | Ch. 3 |
Pennsylvania
FCC Allenwood (Low, Medium and High Complexes)
USP Canaan
USP Lewisburg
FCI Loretto
FCI McKean
CI Moshannon Valley (Cornell Companies)
CCM Philapelphia
FDC Philadelphia
CCM Pittsburgh
FCI Schuylkill
Mid-Atlantic Region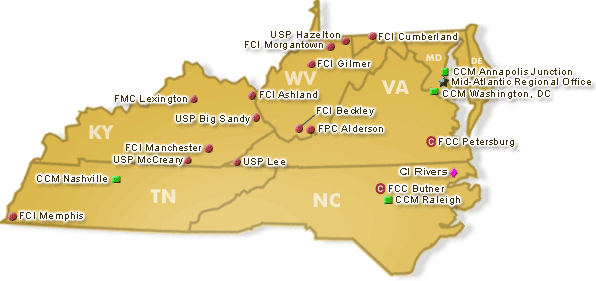 Kentucky
FCI Ashland
USP Big Sandy
FMC Lexington
FCI Manchester
USP McCreary
Maryland
CCM Annapolis Junction
FCI Cumberland
CCM Washington D.C.
North Carolina
FCC Butner (Confirmed)
CCM Raleigh
Rivers CI, Geo Group
Tennessee
FCI Memphis
CCM Nashville
Virginia
USP Lee
FCC Petersburg (Camp, Low, & Medium Facilities) (Confirmed)
West Virginia
FPC Alderson
FCI Beckley
FCI Gilmer
USP Hazelton
FCI McDowell
FCI Morgantown
Southeast Region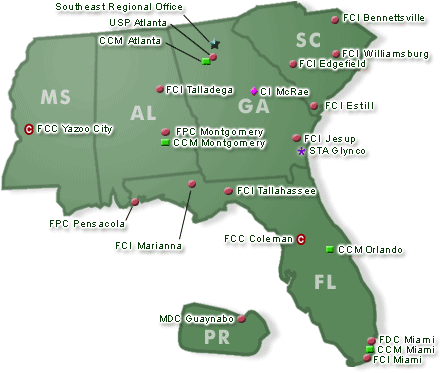 Alabama
FCI Aliceville
CCM Montgomery
FPC Montgomery
FCI Talladega
Florida
FCC Coleman (Low, Medium and 2 High Facilities) (Confirmed)
FCI Marianna
CCM Miami
FCI Miami (Confirmed)
FDC Miami (Confirmed)
CCM Orlando
FPC Pensacola
FCI Tallahassee
Georgia
CCM Atlanta
USP Atlanta
FCI Jesup
McRae Correctional Institution
D. Ray James Correctional Facility, Folkston GA
Mississippi
CI Adams County (CCA)
FCC Yazoo City (Low and Medium Facilities)
Puerto Rico
South Carolina
FCI Bennettsville- Confirmed
FCI Edgefield - Confirmed
FCI Estill - Confirmed
FCI Williamsburg - Confirmed
North Central Region
Colorado
CCM Denver
FCI Englewood
FCC Florence (Medium, High and AdMax Facilities)
Illinois
MCC Chicago
CCM Chicago
FCI Greenville
USP Marion
FCI Pekin
USP Thomson
Indiana
FCC Terre Haute (Medium and High Facilities)
Kansas
CCM Kansas City
USP Leavenworth
Michigan
Minnesota
FPC Duluth
CCM Minneapolis
FMC Rochester
FCI Sandstone
FCI Waseca
Missouri
MCFP Springfield - Confirmed
CCM St. Louis
South Dakota
FPC Yankton (Minimum Security)
Wisconsin
South Central Region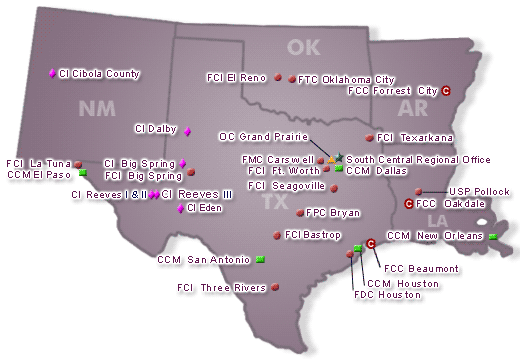 Arkansas
FCC Forrest City (Low and Medium Facilities)
Louisiana
CCM New Orleans
FCI Oakdale
FDC Oakdale
FCC Pollock (Medium and High Facilities)
New Mexico
| Output | Input | Tone | Usage |
| --- | --- | --- | --- |
| 460.27500 | 465.27500 | 151.4 PL | Ch. 1 |
| 462.12500 | | 151.4 PL | Ch. 2 |
Oklahoma
FCI El Reno
FTC Oklahoma City
Texas
FCI Bastrop
FCC Beaumont (Low, Medium and High Facilities)
FCI Big Spring - CONFIRMED
CI Big Spring (Cornell Companies)
FPC Bryan - CONFIRMED
FMC Carswell (Confirmed)
CI Dalby (Management & Training Corporation)
| Output | Input | Tone | Usage |
| --- | --- | --- | --- |
| 155.79000 | 153.98000 | | Primary |
| 155.31000 | | | Ch. 2 |
| 158.77500 | | | Ch. 3 |
CCM Dallas
CCM El Paso
FMC Fort Worth (Confirmed)
CCM Houston
FDC Houston
FCI La Tuna
CI Reeves I, II & III (Private Operator)
CCM San Antonio
FCI Seagoville
FCI Texarkana
FCI Three Rivers
Western Region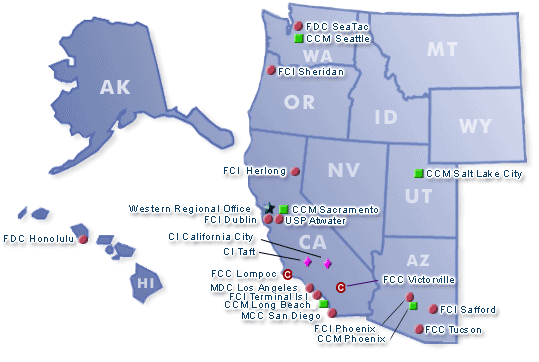 Arizona
CCM Phoenix
FCI Phoenix

Reports of hits on 410.5250 MHz, NAC 058 in Anthem, near FCI Phoenix, unconfirmed.

FCI Safford
FCC Tucson (Medium and High Facilities)
California
USP Atwater
CI California City (Private Operator)
FCI Dublin
FCI Herlong
FCC Lompoc (Low and Medium Facilities)
CCM Long Beach
MDC Los Angeles
FCI Mendota
CCM Sacramento
MCC San Diego
CI Taft (Management & Training Corporation)
FCI Terminal Island (Confirmed)
FCC Victorville (2 Medium and 1 High Facilities)
Hawaii
Oregon
Utah
Washington
FDC SeaTac (Confirmed)
CCM Seattle
Return to Wiki page: US Federal Agencies, Common Frequencies
(No matching DB page)