PSR-200
From The RadioReference Wiki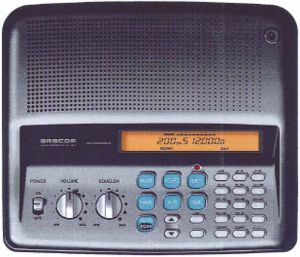 The PSR-200 is manufactured by GRE in China
The PSR-200 follows analog conventional systems.
Also see the PSR-100 page. All utilities and links listed there also apply to the PSR-200.
General Specifications
Frequency Coverage
Frequency (MHz)        Step Size Value
---------------------------------------------
25-54                  5 kHz
108-136.9875           12.5 kHz
137-174                5, 6.25, or 7.5 kHz
380-512                6.25 kHz

---
Scans analog conventional systems
200 channels, 10 banks
25-54, 108-174, 406-512MHz range
Scan rate 40 cps, Search rate 75 cps
5, 6.25, 7.5, 12.5kHz steps
7 segment display
L/O
Easy-to-read back lit control and display with back lit keypad
6 one touch search ranges/ 1 user definable search range
Search 'seek' feature
Tunes virtually all important bands—local marine, fire/police, Ham, CB, VHF-air, racing, weather and more
Weather band, no SAME
1 Priority channel
Zeromatic search tuning
Computer interface and Programming with computer control
Base design
A cloning cable may be fabricated using 2 1/8 inch stereo jacks and shielded cable
Verifying the firmware version
You can verify the firmware version in the PSR-200 by pressing the 3 key during the "Welcome" screen.
Future firmware upgrades can be installed by downloading and running an upgrade program (TBD).
Programming Software
FCC Type Acceptance
PSR-200 Scanners for Sale

Return to the GRE Scanners page