Philadelphia County (PA)
From The RadioReference Wiki
Police Unit Numbers
Philadelphia Police Unit Numbers

Patrol Units: ("X" = one or two digit district #)
CO "X" = District Captain (ex: "C.O. Twenty-two')
"X" Command = Lieutenant (ex: "Five Command"
"X" A, B, C, D = Sergeants (ex: "Fifteen Andy" or "thirty-nine Charlie")
"X" E, F = Operations Room Supervisors (Corporals)
"X" Operations or "Ops" is the district operations room
"X" 0 _ = Prisoner Wagons <two person units> (ex: "Fourteen 0 one")
"X" 1_ = Patrol Units in PSA (Police Service Area) 1 (ex: "nineteen eleven")
"X" 2_ = Patrol Units in PSA 2 (ex: "two twenty two")
"X" 3_ = Patrol Units in PSA 3
"X" 4_ = Patrol Units in PSA 4
"X" S_ = Safe Streets Units (ex: "19 Sam One")

"X" Tom _ = District Tactical Units (ex: "Eight Tom Two")


Detective Units: ("X" Division number)
D"X"_ _ (D, Division number + two digits)
For example D200 units are North West Detective Division, so "Dan two ten" would be a NWDD detective.


Other Units:
A= Accident Investigation (AID)
C, Car, CI, & I = Command Staff ("Car One" = Police Commissioner)
G= Garage (tow trucks)
H= Highway Patrol
K= K-9
L= Crime Lab
N= Narcotics
NS= Neighborhood Services
S1_ _= SWAT
T= Traffic
Tac Air = Aviation (helicopter)
X= Expressway Patrol


A letter + number + A, B, C or D is a unit supervisor (Ex: "Sam One Andy" = SWAT Sergeant & "Highway Two Barney" = Highway Patrol Sergeant)
Philadelphia Police Districts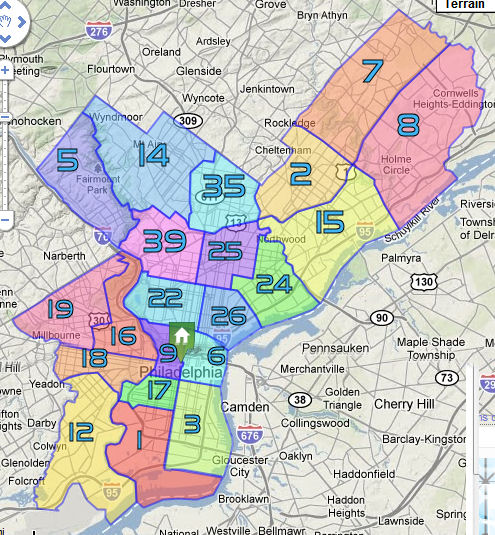 Current as of 22JAN2011
This is a map of the current Philadelphia Police districts.
A few districts have been absorbed by others.
The old 23rd is now part of the 22nd. The old 4th is now part of the 3rd. The old 92nd is now part of the 16th.
Common Police Codes
1037 = DUI
1038 = Incident report
5292 = Deceased person
NAT = necessary action taken
RTF = Report to follow
UNF = Unfounded
Philadelphia Prison System Facilities
Alternative and Special Detention (ASD)
Cannery - Work Release (Cannery)
Curran Fromhold Correctional Facility (CFCF)
Detention Center - Intake (DC)
Holmesburg Prison (Holmesburg) (Closed except for overflow use)
House of Correction (HOC)
Philadelphia Industrial Correction Center - Female Unit (PICC)
Riverside Correctional Facility (RCF)

Related Links