Pro-137
From The RadioReference Wiki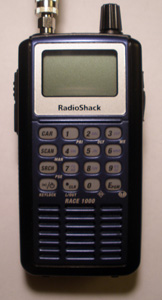 Radio Shack's analog-only portable Race scanner with 1000 channels.
Includes all bands and frequencies excluding only the cellular frequencies. This includes CB (AM mode only), amateur radio (AM, FM, NFM), all TV broadcast channels.
Specifications
Limits
Channels: 1000
Banks: 10/100 channels per bank
Scan Rate: 90 channels per second
Custom Search Ranges: 10
Preprogrammed Service Search Bands: 13
Frequency Coverage
25 mHz - 1.3 GHz (cellular blocked in US)
Actually, there are gaps in the coverage other than the cellular frequencies. Here is what the Pro-137 can receive:
25.0000 - 27.9950 MHz (5khz)
28.0000 - 54.0000 MHz (5khz)
108.0000 - 136.9875 MHz (12.5khz)
137.0000 - 174.0000 MHz (5khz)
216.0000 - 224.9950 MHz (5khz)
400.0000 - 512.0000 MHz (6.25khz)
806.0000 - 823.9875 MHz (12.5khz)
846.0125 - 868.9875 MHz (12.5khz)
894.0125 - 956.0000 MHz (12.5khz)
1240.0000 - 1300.0000 MHz (12.5khz)
Be aware that that the Pro-137 can not receive the milair frequencies (225 - 400 MHz) nor broadcast FM (87.8 - 108.0 MHz).
Power Requirements
Power requirements: 3 AA batteries, 6V DC, or 800mA AC adapter
Features
Signal stalker I allows you to "Stalk" and "Scan" simultaneously
Supported step sizes: 5, 6.25, 7.5, 8.33, 9, 10, 12.5,15, 20, 25, 50 or 100 kHz
Scan and Search
12 character text tagging for each bank and channel.
Quick Search
Service Searches
Custom Search — lets you program a custom search range with chain search
Signal Strength display
Battery level display
LCD and Keypad with auto backlight settings
Broadcast signal ignore while searching (TV and radio station frequencies, pagers, etc) all the popular public safety, business, racing, and general use frequencies.
Duplicate Channel Alert
Key Lock
PC Programming
Wired Cloning
Battery saver
Antenna Connector: SMA
Skywarn function with 10 channels
Weather Alert
Included Accessories
antenna : Long (1), Short (1) Racing Stubby
belt clip
user's guide
quick start guide
preprogrammed frequency guide
RR System Compatibility
Reference
To reset the scanner (wipe ALL programming), press (and hold) SCAN, 2, and 9 and then power the scanner up. You will know it's doing it by the phrase 'Intializing...' being displayed.
To display the firmware version: press (and hold) 2,4, and 9 and then power the scanner up. You will know if it worked by the model, version, and checksums (in hexadecimal) being displayed. Note: the scanner seems to still function while displaying this information, and you have to power cycle to get out of this screen.
To place the scanner is firmware receive mode: With the scanner powered down, press (and hold) the 2 and the 6 and plug in the AC adapter. You will know you are successful by the backlight coming on (similar to other Uniden models) with the phrase 'VERSION UPDATE' being displayed. I have not been able to go beyond this, with the exception of seeing the phrase 'RECEIVING..' flashing on the screen, during one attempt.
FCC Certification
Programming Cables and Supporting Software
Programming Cables
Supporting Software
Message Boards/Forums
Pro-137 Scanners for Sale

Return to Radio Shack Scanners