Pro-2035 Pro-2042
From The RadioReference Wiki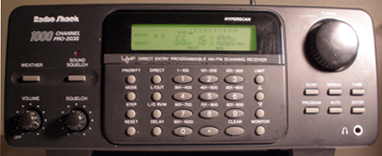 General Specifications
Features
Note: The Pro-2042 is VERY similar to the Pro-2035, but not exactly the same internally.
Made by GRE for Radio Shack/Realistic
Pro-2035
Radio Shack PRO-2035 1000-Channel Programmable Home Scanner.
The scanner has the following special features:
Hyperscan - lets you scan and search up to 50 channels or steps per second.
Weather Band Key - scans ten pre-programmed weather frequencies to keep informed about current weather conditions.
Ten Channel-Storage Banks - you can store 100 channels in each bank to group channels so calls are easier to identify.
Monitor Memory - temporarily saves up to 100 frequencies located during a frequency search, letting you move selected frequencies to permanent channel storage later.
Priority Channel - you can set the scanner to check every 2 seconds so you do not miss important calls.
Auto Store - quickly finds and automatically stores active frequencies in channels, then searches for additional active frequencies while skipping previously stored channels.
TAPE OUT Jack - lets you connect an optional tape recorder to the scanner to record transmissions.
Rotary Tuner - lets you manually tune and select desired frequencies or channels.
Two-Second Channel Scan Delay - delays scanning for 2 seconds before moving to another channel so you can hear more replies.
Memory Backup - keeps channel frequencies stored in memory for up to 3 months during a power loss.
Lock-Out Function - keeps selected channels from being scanned,so you can skip over busy channels.
Direct Frequency Search - lets you scan for new and unlisted frequencies.
Sound Squelch - keeps the scanner from stopping on frequencies with only a carrier signal and no voice or other sound, so you can hear calls instead of static.
Backlit Display - makes it easy to view and change programming information.
Two Power Options - let you power the scanner from standard AC power (with the supplied AC power cord), or your vehicle's battery (with an optional DC cigarette lighter power cord).
This scanner is capable of Triple Conversion.
Supported bands:

25-28 MHz (HF Hi)
28-29.7 MHz (10-Meter Amateur Radio)
29.7-50 MHz (VHF Lo)
50-54 MHz (6-Meter Amateur Radio)
54-72 MHz (FM-TV Audio Broadcast, Wide Band)
72-76 MHz (Land Mobile Service Band)
76-88 MHz (FM-TV Audio Broadcast, Wide Band)
88-108 MHz (FM Radio Broadcast, Wide Band)
108-136.975 MHz (Aircraft)
137-144 MHz (Government)
144-148 MHz (2-Meter Amateur Radio)
148-174 MHz (VHF Hi)
174-216 MHz (FM-TV Audio Broadcast, VHF Wide Band)
216-224.9875 MHz (VHF Hi, 1 1/4-Meter Amateur Radio)
225-399.9875 MHz (Military Aircraft)
400-450 MHz (UHF Lo, 70-Centimeter Amateur Radio, Government)
450-470 MHz (UHF Lo)
470-520 (UHF "T" Band)
760-823.9875 MHz (UHF Public Service)
849.0125-868-9875 MHz (UHF Hi)
894.0125-956 MHz (UHF Hi, 33-Centimeter Amateur Radio)
956-1300 MHz (Private Fixed Services, Paging, Aircraft Navigation, Experimental, 23-Centimeter Amateur Radio)
Pre-programmed weather channels: 161.650 MHz, 161.775 MHz, 162.400 MHz, 162.425 MHz, 162.450 MHz, 162.475 MHz, 162.500 MHz, 162.525 MHz, 162.550 MHz, 163.275 MHz
Above data courtesy of Radio Shack.
Modifications
Supporting Software
Message Boards/Forums
Pro-2035 Pro-2042 Scanners for Sale

Return to Radio Shack Scanners