Pro-84
From The RadioReference Wiki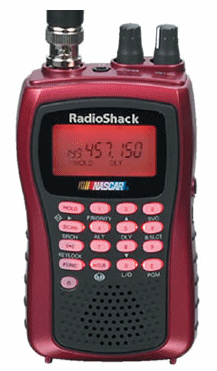 200-channel scanner.
Production Notes
Pro-84 manufactured by Uniden.
Pro-84 has the "Nascar logo" and a red case
Pro-84 has been programmed with frequencies used by Nascar events
General Specifications
Rebanding supported? N/A
200 channels with 10 banks of 20 channels
Frequency Coverage: 25-54, 108-136.9875, 137-174, 406-512, 806-823.9375, 851-868.9875, and 896.1125-956 MHz (excluding cellular)
5, 6.25, 12.5kHz steps
Scan rate 40cps
Signal stalker I allows you to "Stalk" and "Scan" simultaneously
1 programmable Skywarn channel (#200)
Weather alert
10 search banks
Service search makes it easy to explore preset frequencies for police, fire, weather, aircraft, marine and amateur radio
1 priority channel for each bank
Backlit display and keypad
PC interface
2 AA alkaline/Ni-Cad/Ni-MH batteries
Other:
Earphone jack
Antenna connection: BNC
Antenna: Flexible detachable
Dimensions: Length 2.7 x Height 4.5 x Width 1.3"
Skywarn Programming
You can quickly access your local Skywarn repeater by programming that frequency into channel 200, and then pressing the FUNC + ./CLR key combination.
However, the scanning of bank 10 now becomes somewhat ineffective if your Skywarn repeater is busy with non-Skywarn traffic (i.e. regular ham radio activity).
The solution is to lock out channel 200. The Skywarn repeater will not be scanned, but it will still be accessible via the FUNC + ./CLR key combination.
Modifications
Reviews and User Opinions
Related Pages
Mailing Lists / Forums
Pro-84 Scanners for Sale

Return to Radio Shack Scanners