U.S. Government (AZ)
From The RadioReference Wiki
Welcome to the Wiki Page for US Government Assets in the state of Arizona.
National Interagency Fire Center
These are confirmed frequencies that were for wildland use in 2007/2008 season.
For the NIFC Freq there are only 7 actual COMMAND Channels, after those 7 are used up and there is a possibility of another fire interfering with another, they issue more command channels, 8-19 come out of the Federal Interoperability Frequency Pool, once assigned as a fire freq they will remain a fire freq for the remainder of the season.
If still more command channels are needed, They will issue 20-?? (However many are needed) these freqs come from "Borrowed" freqs from unused federal freqs from other agencies, such as Customs, VA, DEA, etc etc., again they will remain a fire freq through the end of the season at which time they are "returned" to the owning agency , (VA etc etc)
The same goes for Tactical channels there are only 7 actual tactical channel, then they do the same thing pull them from Fed interop pool or from unused fed freqs, same with air to ground.
Ch.) RX / TX
) 168.700/170.975
) 168.100/170.425
) 168.075/170.425
) 166.6125/168.400
) 167.100/169.750
) 168.475/173.8125 (Cant be used in most of AZ due to interference w/ Phx Dist BLM)
) 162.9625/171.7875
) 169.5375/164.7125
) 170.0125/165.250 (VHF 5 in Fed Interop Pool)
) 170.4125/165.9625 (VHF 6 in Fed Interop Pool)
) 170.6875/166.575 (VHF 7 in Fed Interop Pool)
) 173.0375/167.325 (VHF 8 in Fed Interop Pool)
) 166.3125/ ???? (Borrowed Freq)
) 164.7125/169.5375 (VHF Calling in Fed Interop Pool)
) 165.250/170.0125 (VHF 1 in Fed Interop Pool)
) 165.9625/170.4125 (VHF 2 in Fed Interop Pool)
) 166.575/170.6875 (VHF 3 in Fed Interop Pool)
) 167.325/173.0375 (VHF 4 in Fed Interop Pool)
) 169.3625/173.675
) 167.9875
) 169.540
) 166.3625
) 164.0125
) 166.9625
) 170.5125/168.475
) 165.450
) 165.0125
) 166.6125
) 166.5625
Federal Wildland Fire - Air
These are Federal Wildland Fire air frequencies used in the past for wildland fires. They can be used by USFS, BLM, NPS, BIA , State Land, anyone using federal air assets to fight wildfires. Frequencies that do not list a ZONE are USA wide use. CWZ = Central West Zone - Arizona FLZ = Flagstaff Zone - Arizona GCZ = Grand Canyon Zone -Arizona SEZ = Southeast Zone - Arizona WMZ = White Mountain Zone - Arizona ABZ = Albuquerque Zone - New Mexico GLZ = Gila/Las Cruces Zone -New Mexico LNZ = Lincoln Zone - New Mexico SNZ = Santa Fe Zone - New Mexico TAZ = Taos Zone -New Mexico AA = Air to Air FW = Fixed Wing RW = Rotor Wing AG = Air to Ground
| | | |
| --- | --- | --- |
| Frequency | Alpha Tag | Description |
| 120.02500 | FW A2A - 01 | AA FW |
| 120.07500 | FW A2A - 02 | AA FW |
| 120.12500 | FW A2A - NM5 | NM 05 Primary AA FW |
| 120.75000 | FW A2A - NM3 | GLZ Initial Attack Primary Freq/ NM03 AA FW RW AG |
| 120.82500 | FW A2A - 03 | AA FW |
| 120.87500 | FW A2A - 04 | AA FW |
| 121.17500 | A2A FW/RW | Air to Air Fixed & Rotor Wing |
| 121.30000 | FW A2A - 05 | AA FW |
| 121.37500 | LNZ INIT AA | LNZ (East-TEXAS AREA)Initial Attack Primary AA FW RW AG |
| 122.12500 | FW A2A - 06 | AA FW |
| 122.17500 | FW A2A - 07 | AA FW |
| 122.22000 | FW A2A - 08 | AA FW RW AG |
| 122.22500 | FW A2A - 09 | AA FW |
| 122.42000 | FW A2A - 10 | AA FW |
| 122.42500 | WMZ INIT AA | WMZ Initial Attack Primary Freq AA FW RW AG |
| 122.47500 | FW A2A - 11 | AA FW |
| 122.52500 | FW A2A - 12 | AA FW |
| 122.57500 | FLZ INIT AA | FLZ Initial Attack Primary Freq AA FW RW AG |
| 122.67500 | FW A2A - 13 | AA FW |
| 122.70000 | FW A2A - 14 | AA FW |
| 122.75000 | SEZ INIT AA | SEZ Initial Attack Primary Freq AA FW RW AG |
| 122.85000 | FW A2A - 15 | AA |
| 122.90000 | FW A2A - 16 | AA FW |
| 122.92500 | Old TnkrBase | Old Air Tanker Base Freq/Backup (3rd)AZ Strip AA FW RW AG |
| 122.95000 | FW A2A - 17 | AA FW |
| 122.97500 | FW A2A - 18 | Sometimes Airtanker to other Fire AC Coms AA |
| 123.02500 | Media/AA | Media Contact Freq AA |
| 123.05000 | FW A2A - 19 | UNK |
| 123.07500 | FW A2A - 20 | AA |
| 123.10000 | FW A2A - 21 | AA FW |
| 123.45000 | FW A2A - 22 | AA FW |
| 123.72500 | A2G - 01 | AA AG |
| 123.77500 | FW A2A - 23 | AA FW |
| 123.82500 | FW A2A - 24 | AA FW |
| 123.92500 | FW A2A - 25 | AA FW |
| 123.97500 | Air Tanker Base | Air Tanker Base AA FW RW AG |
| 124.22500 | FW A2A - 26 | AA FW |
| 124.55000 | FW A2A - 27 | AA FW |
| 124.97500 | FW A2A - 28 | AA FW |
| 125.07500 | FW A2A - 29 | AA FW |
| 125.17500 | FW A2A - 30 | AA FW |
| 125.60000 | FW A2A - 31 | AA FW |
| 126.07500 | FW A2A - 32 | AA FW |
| 126.32500 | FW A2A - 33 | AA FW |
| 126.32500 | CWZ Init AA | CWZ Initial Attack Secondary Freq AA FW RW AG |
| 126.47500 | FW A2A - 34 | AA FW |
| 126.82500 | FW A2A - 35 | AA FW RW AG |
| 126.90000 | FW A2A - 36 | AA FW |
| 126.92500 | FW A2A - 37 | AA FW |
| 127.10000 | FW A2A - 38 | AA FW |
| 127.17500 | FW A2A - 39 | AA FW |
| 127.27000 | FW A2A - 40 | AA FW |
| 127.72500 | FW A2A - 41 | AA FW |
| 127.92500 | FW A2A - 42 | AA FW |
| 127.95000 | FW A2A - 43 | AA FW |
| 127.97500 | FW A2A - 44 | AA FW |
| 128.57500 | FW A2A - 45 | AA FW |
| 129.85000 | FW A2A - 46 | AA FW |
| 131.42500 | FW A2A - 47 | AA FW |
| 132.22500 | FW A2A - 48 | AA FW |
| 132.47500 | FW A2A - 49 | AA FW |
| 132.52500 | FW A2A - 50 | AA FW |
| 132.62500 | FW A2A - 51 | AA FW |
| 132.67500 | FW A2A - 52 | AA FW |
| 132.77500 | FW A2A - 53 | AA FW |
| 133.47500 | FW A2A - 54 | AA FW |
| 133.82500 | FW A2A - 55 | AA FW |
| 135.55000 | AA FW NM02 | NM 02 Primary AA FW |
| 135.60000 | AA FW AZ05 | AZ05 Zone Primary AA FW |
| 135.62500 | CWZ INIT AA | CWZ Initial Attack Primary Freq/ AZ 03 Prim AA FW RW AG |
| 135.65000 | GCA INIT AA | GCZ Init At Prim/ AZ01 /SEZ Secondary AA FW RW AG |
| 135.67500 | AA FW AZ04 | AZ 04 Primary AA FW |
| 135.95000 | FW A2A - 56 | AA FW RW AG |
| 135.97500 | NATL ATB | National Air Tanker Base Freq AA FW RW AG |
| 136.00000 | FW A2A - 57 | AA FW RW |
| 163.10000 | ATB R3P | Air Tanker Base R3p Freq / All Call |
| 164.13750 | TAC 4 | NIFC Ground Tactical 4 |
| 168.62500 | AIR GUARD | Air Guard |
| 168.65000 | NATL FLT FLW | National Flight Follow |
| 169.35000 | FAA | FAA |
| 170.02500 | BLM A2G | BLM A-G |
Arizona USFS Air-to-Air and Air-to-Ground Primary Frequency Map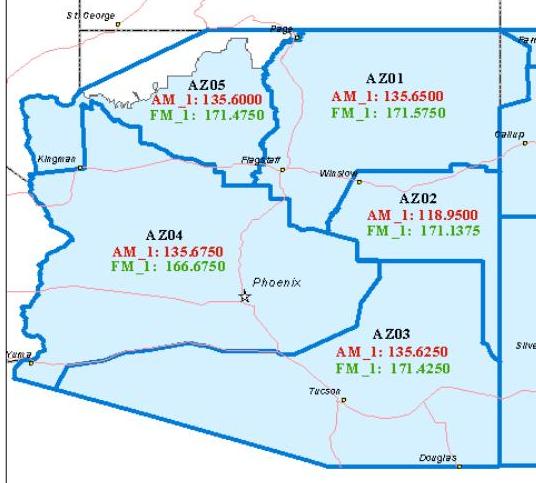 BLM Colorado River District
Input tones for 173.825 repeater:
TELEGRAPH 131.8
CUNINGHAM 103.5
BLACK MOUNTAIN 114.8
BLACK METAL 146.2
SMITH PEAK 136.5
CHRISTMAS TREE 110.9
Input tones for 170.5125 repeater:
Greenwood 156.7
Hayden 127.3
Perkins 141.3
Arizona Wing Civil Air Patrol
AZ WING FREQS

| DESIGNATOR | MOD | FREQ | CTCSS/NAC | LOCATION |
| --- | --- | --- | --- | --- |
| Romeo 46 | NFM | 148.1500 | 151.4 | Mt Elden (Flagstaff) |
| Romeo 46 | P25 | 148.1500 | | Mt Elden (Flagstaff) |
| Romeo 46 | NFM | 148.1500 | 107.2 | Mt Lemon (Tucson) |
| Romeo 46 | P25 | 148.1500 | | Mt Lemon (Tucson) |
Return to DB page: U.S. Government (AZ)
Return to Wiki page: Arizona (US), Civil Air Patrol