Union County (IL)
From The RadioReference Wiki
Tri-County Detention Center (Ullin) - Holds prisoners for Pulaski, Alexander and Union Counties, along with US Marshal Service and US Immigration Services
Union County Sheriff / 911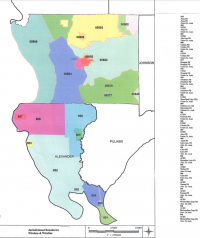 Digital System Bid from July 2019 PDF LINK
Bid Proposal Summary: The Authority is soliciting proposals from qualified
professional vendors to design a Digital Radio System for Union County Sheriff and 9-1-1 and purchase a Digital VHF Radio System to include Repeater Equipment, Digital Base Station Equipment, and Digital Portable Radios Digital Mobile Radios & Installation Labor where applicable. The Authority requests TWO (2) bids: 1st bid- to build the Digital Radio System in phases (i.e. (2) Repeater Locations) 2nd bid- to build the remainder of the Digital Radio System (i.e. additional repeater sites for optimal County coverage).
173.2875 Mobile Extenders (was 159.0975) for Police WQVC249
Union/Alexander County Joint ETSB/911
May include Pulaski County
Fall 2019 - Consolidation, all Alexander County calls will go to Union County.
2016: 1 repeater location on Bean Ridge Rd in Alexander; Alexander Housing Authority High rise in Cairo has antenna on the roof to aid in communications in the Cairo area. Union/Alexander rents tower space on Walkers Communications tower on Skyline Dr, Alto Pass for Union County emergency communications. Radio links are located in the Wolf Lake Fire Department and Dongola Fire Departments to communicate in low lying areas of Union County,
Emergency Warning Sirens are owned locally and the ETSB sets them off
Union County Ambulance
Receives its orders on where to take patients from Massac Memorial Hospital in Metropolis.
Municipalities and Districts
Alto Pass
Anna
Cobden
WQEZ829 for FXO/Mobiles - Water Data on 451.0265
Dongola
Jonesboro
Unit Numbers
Sheriff
UC- Union County Sheriff
AP- Anna Police
AW- Animal Welfare? (Heard AW-3)
JP- Jonesboro Police
CP- Cobden Police (Heard CP-2)
909- Dongola Police
926- ??? (Plate seen S 91-926 6/21)
Union County Ambulance
5-U-12
5-U-13
5-U-14 2017 Osage Ford F350 White box Type 1 Warrior
5-U-xx 5 125 03
1100s - Anna Fire
1101 extended cab Ford pickup M 901
1103, 1118, 1119, 1122 Firefighters
1130 older red truck
1151 white Rescue truck
1160 Pierce
1200s - Alto Pass Fire (APVFD)
1230 new tanker/heavy rescue? International WorkStar
1231 old Ford Pumper M 189 673
1300s - Cobden Fire
1330 #1? 2001 Pumper yellow
1331 #4 1985 Attack Pumper Ford yellow
1332 #3 1973 Brush/Wildland Ford pickup red
1333 #6 1973 Reserve Pumper
1340 #5 1974 Tender/Tanker
1350 #2 1982 Chevy Van manpower/equipment
1400s - Dongola Fire
1500s? - Jonesboro Fire
1600s - Ware Wolf Lake Fire Protection District (Wolf Lake)
1607
1630 International? white engine
Paging Tones
Jonesboro Fire - 159.15 D411 330.5/1092.4 (2021)
Businesses
Roy Walker Communications
KNGP329 - Rendleman Orchards - 464.1 Repeater (Alto Pass)
Roy Walker Comm 152.3525 RM WQKW356 Unknown use (10 FX1) (Alto Pass) (input 157.6175)
Agricultural
Grant Farms 154.54 Repeater with 160.02 input (Anna) WPXV526
Miscellaneous
River to River Community on Anna (Assisted Living)
WQNH286 451.875 Repeater (Low Power 11K)
451.85000  WRN901   BM  Anna Quarries  
462.30000  WQHE453  RM  Anna Quarries  
154.54000  WPXV526  RM  Grant, Larry: Farming (Anna) [was 154.54 BM]  
461.62500  WNSN357  RM  J&O Communications [Expired 8/05]  
47.46000   KNDL908  BM Meller Vet  Meller James & Associates P C: Vet Ops  
153.66500  WPMM337  RM  Roy Walker Communications (Cobden-Union;input of
158.34,159.705,159.9,159.945or173.3)  
461.07500  WNZE731  RM SI Waste Sys  SI Waste Systems (Goreville)  
152.48000  KNHZ473  BM  Transcraft Corporation (Anna)  

Return to DB page: Union County (IL)
Return to Wiki page: Illinois Counties