Wadena County (MN)
From The RadioReference Wiki
Welcome to the Wadena County, Minnesota collaboration article. This is where you, the user, may index any articles you develop for scanning related topics for your area.
Law Enforcement Agencies
Wadena County Sheriffs Office
Menahga Police Department
Sebeka Police Department
Staples Police Department
Verndale Police Department
Wadena Police Department
County Radio ID's for Law, Fire, EMS
Fire Departments
Menahga Fire
Sebeka Fire
Wadena Fire
Verndale Fire
Staples Fire

County Pager Tones:
Countywide All Call 817.7 584.3
Menahga Fire 651.9 617.4
Menahga First Response 651.9 617.4
Sebeka Fire 600.9 788.5
Tri County EMS 688.3 726.8
Verndale Fire 584.8 617.0
Wadena Fire 742.5 584.3
Pager Test is at 6pm. Paged from 154.875 at Wadena and Menahga and 155.775 in Sebeka.
Emergency Medical Services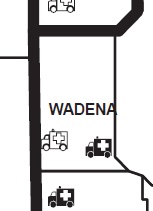 Tri-County Hospital Ambulance (ALS)
Staples Ambulance (ALS)
ARMER Migration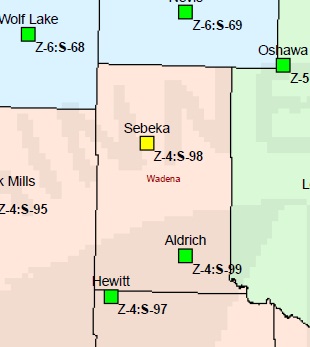 Status - Live on ARMER
Sites and Status:

4-098 - Sebeka - On Air
4-099 - Aldrich - On Air
Talkgroups
| TGID | Alias | Description |
| --- | --- | --- |
| 28100 | WD ROAM | Wadena County Roam |
| 28101 | WD CALL | Wadena County Call Law Main Dispatch |
| 28102 | WD 1 | WD 1 Multi-Ops |
| 28103 | WD EM 1 | Emergency Management 1 |
| 28104 | WD 2 | WD 2 Multi-Ops |
| 28105 | WD 3 | WD 3 Multi-Ops |
| 28106 | WD 4E | WD 4 Encrpyted Multi-Ops |
| 28107 | WD 5 | WD 5 Multi-Ops |
| 28108 | WD 6 | WD 6 Multi-Ops |
| 28109 | WD FIRE/EMS MAIN | Wadena County Fire/EMS Main Dispatch |
| 28110 | TCH EMS MAIN | Tri County Ambulance Main Dispatch |
| 28111 | WD ENC 1 | Encrypted Ops 1 |
| 28112 | WD ENC 2 | Encrypted Ops 2 |
| 28113 | WD TCH | Tri County Health Operations |
| 28114 | WD EM 2 | Emergency Management 2 |
| 28115 | WD JTF 1 | County Joint Task Force 1 |
| 28116 | WD JTF 2 | County Joint Task Force 2 |
| 28117 | WD 911 | Countywide 911 Talkgroup |
| 28118 | WDNA FIRE | Wadena Fire Tac Talkgroup |
| 28119 | MGHA FIRE | Menahga Fire Tac Talkgroup |
| 28120 | VERN FIRE | Verndale Fire Tac Talkgroup |
| 28121 | SEBK FIRE | Sebeka Fire Tac Talkgroup |
| 28122 | WD PW 1 | Public Works 1 County Hwy Dept |
| 28123 | WD PW 2 | Public Works 2 City of Wadena PW |
| 28124 | WD PW 3 | Public Works 3 Solid Waste Transfer Station |
| 28125 | WD PW 4 | Public Works 4 Friendly Rider Bus Ops |
| 28126 | WD EMERG | Countywide Emergency Distress Buttons |
| 28127 | TCHC ER | Tri County Health Patient Ambulance to ER Reports |