Whiting Field Naval Air Station-South (NDZ) Santa Rosa County (FL)
From The RadioReference Wiki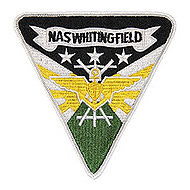 General Information
NAS Whiting South Field is utilized for United States Navy, Marine Corps, and Coast Guard students in the Advanced Helicopter pipeline, flying the TH-57 Sea Ranger. Upon completion of this syllabus students will become designated Naval Aviators and assigned to their respective Fleet Replacement Squadron.
Training Air Wing Five (TW5)
Aircraft - TH-57B/C Sea Ranger
Tail Code - E
Helicopter Training Squadron EIGHT (HT-8)
Callsign - EIGHTBALL
Nickname - Eightballers
Helicopter Training Squadron EIGHTEEN (HT-18)
Callsign - FACTORYHAND
Nickname - Vigilant Eagles
Helicopter Training Squadron TWENTY EIGHT (HT-28)
Callsign - LUCKY
Nickname - Hellions
Helicopter Instructor Training Unit (HITU)
Outlying Fields
Radio Comunications
Land Mobile Radio (LMR)
Primary land mobile communications uses site 2-14 of this system.
United States Department of Defense (BEE00-14C)
TRAWING FIVE Operations
TH-57B/C Sea Ranger Comm Card
Frequencies / Channels (as of June, 2012)
Preset
UHF
Agency
VHF
Agency
Mode
Notes
1
273.575
South Whiting ATIS
121.950
Instructor Common
AM
2
355.600
Clearance Delivery
121.400
South Whiting Tower
AM
3
346.800
South Whiting Ground
124.850
Pensacola Approach (NDZ)
AM
4
348.675
South Whiting Tower
135.150
PNS TRACON Lakes Monitor
AM
5
303.600
HT-8 (Eightball)
124.050
Eglin Approach
AM
6
255.100
HT-18 (Factoryand)
119.000
PNS Approach (East)
AM
7
365.700
HT-28 (Lucky)
118.600
PNS Approach (West)
AM
8
253.100
HITU (Bladerunner)
119.900
PNS Tower
AM
9
250.000
Pace AODO/Crash
122.000
Flight Watch
AM
10
358.800
Spencer AODO/Crash
AM
11
361.100
Santa Rosa AODO/Crash
AM
12
237.900
Harold AODO/Crash
AM
13
251.300
Site 8 AODO/Crash
AM
14
384.300
Green Route
AM
15
262.700
Orange Route
AM
16
377.100
Purple Route
AM
17
380.400
Eastern Formation Common
AM
18
277.000
East Bay/Secondary Formation CMN
AM
19
311.400
Western Area/Western Formation CMN
AM
20
389.100
Eastern Area Common
AM
Wiki Articles
External Links