BC796D
From The RadioReference Wiki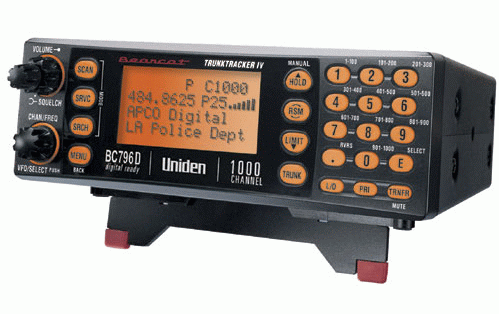 The BC796D Digital Capable Scanner is APCO 25 Capable with 1000 channels, 10 banks, 10 priority channels and continuous band coverage.
General Specifications
Rebanding supported? YES
I-Call monitoring
APCO25 Digital Audio decoding - Including 9600 Baud C4FM & CQPSK*
Automatic Digital Detect
100 cps scan rate
25-512, 806-956, 1240-1300MHz range
16-character Alpha Tagging - Bank Channel and Search Range
PC Control/Programming/cloning (Software and serial port interface included)
1000 Channels in 10 Banks
SAME Weather Alert - Specific Area Message Encoding - During a NOAA Weather or Emergency Alert, a code for your specific location will alert you to severe conditions in your immediate area.
10 Priority Channels with Priority Plus
Priority IDs
Motorola Control Channel only trunking
Motorola Status Bits
10 scan lists with 10 ID's each per bank
12 Preprogrammed Service Searches
10 Custom search ranges
Auto store
Channel alert
Backlit Keypad - Offers you added visibility for dialing at night or in low light.
Data skip
Owner's Manual
Modifications
Reviews and User Opinions
Related Pages
Supporting Software
Yahoo Groups and Mailing Lists (software and receiver support)
To Erase Memory
1) Turn radio off
2) Press and hold three keys 2,9,manual and while holding those keys in, turn on radio.
3) Display reads "ALL Memory Clear Please Wait"
eBay Listings

Return to Uniden Scanners