BCD396XT
From The RadioReference Wiki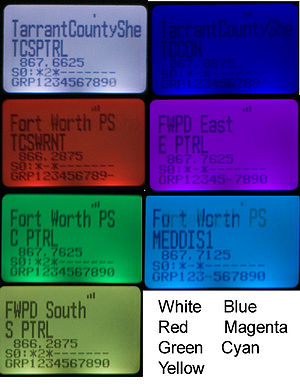 Uniden's APCO-25 Capable portable Trunktracker scanner with Dynamic Memory Architecture.
Specifications
Limits
Channels: 25,000 maximum
Systems: 500 maximum
Groups per system: 20 maximum
Talkgroups per trunked system: 500 maximum
Channels per conventional system: 1000 maximum
Scan Rate: 100 channels per second (conventional mode)
System Quick Key range: 0-99
Group Quick Key range: 0-9
Custom Search Ranges: 10
Startup Keys: 10
System Number Tagging: 999
Channel Number Tagging: 999
Preprogrammed Service Search Bands: 12
Frequency Coverage
25.0000 - 512.0000 MHz
763.0000 - 775.9875 MHz
793.0000 - 823.9875 MHz
849.0125 - 868.9875 MHz
894.0125 - 960.0000 MHz
1240.0000 - 1300.0000 MHz
Power Requirements
Power requirements: 3 AA batteries, 6V DC, or 800mA AC adapter
Features
Bold features are newly added in this model over the BCD396T.
Rebanding supported? YES
APCO25 Digital Audio decoding
Support for P25 Conventional channels that include NAC and TGID user differentiation (P25 One-Frequency Trunk)
Adaptive Digital Threshold - Automatically sets the digital decode threshold for APCO 25 systems
TrunkTracker IV with Control-Channel Only scanning and I-Call monitoring
EDACS ESK support
Control Channel Data Output – allows the analysis of control channel data without the need to perform invasive modifications to the scanner
Close Call Temporary Store
GPS Support for location-based scanning, location alerts, and crows-flight navigation
Independent GPS Control of Sites and Channel Groups
Supported step sizes: 5, 6.25, 7.5, 8.33, 10, 12.5,15, 20, 25, 50 or 100 kHz
Fire Tone Out Alert
Fire Tone Out Search - built-in frequency counter displays the received tones.
Band Scope - gives a graphic representation of signal activity.
Multi-color display backlight
Motorola Control Channel Only trunking
Multi-Site support
NAC decoding
Ability to flag a channel as Digital, Analog, or All
Temporary Lockout
Startup Configuration
System / Channel Number Tagging - provides rapid access to a specific system or channel.
Scan and (selected) Service Search simultaneously
Frequency/ID AutoStore - automatically store frequencies from a service or limit search into a conventional system or store talk group IDs into a trunked system
16 character text tagging for each system, group, channel, taklgroup, search range, and SAME group
Compatible with BC-RH96 Remote Head
Analog and Digital AGC
Quick Search
Individual channel volume offset
Intermediate Frequency Exchange - changes the IF used for a selected frequency to help avoid image and other mixer-product interference on a frequency.
Key Safe Mode - lets you hand the scanner to a novice user and prevent programming from being modified.
Private Systems - lets you flag a system so that it cannot be read out of the scanner or modified.
12 Service Searches - Public Safety, News, HAM Radio, Marine, Railroad, Air, CB Radio, FRS/GMRS, Racing, FM Broadcast, and Special (Itinerant)
Custom Search — lets you program up to 10 search ranges
SAME Weather Alert
Weather Priority
Priority Scan with Priority Plus
Priority ID Scan on trunked systems
Preemptive Priority on Motorola analog systems
Quick-Access Search Keys
Negative Channel dropout delay (forced resume)
Signal Strength display
Battery level display
LCD and Keypad Backlight
Adjustable (0-5 sec) scan delay
Adjustable Hold (scan duration 0-255 sec) per system, custom or service search
Strong signal attenuation
Upgradeadable firmware
Independent Alert Tone Volume – lets you set the volume level of the following tones: Key Beep, Emergency Alert, Channel Alert, and Close Call Alert.
Broadcast signal ignore while searching (TV and radio station frequencies, pagers, etc)
Duplicate Channel Alert
Key Lock
PC Programming and Control
Wired Cloning
Battery saver
Antenna Connector: SMA
RR System Compatibility
This scanner is compatible with the following Trunking System Types and System Voices used in the RadioReference Database, of course you must verify that the scanner will cover the appropriate frequency range:
System Types:

Motorola Type I
Motorola Type II
Motorola Type IIi Hybrid
Motorola Type II Smartnet
Motorola Type II Smartzone
Motorola Type II Smartzone Omnilink
Motorola Type II VOC
EDACS Standard (Wide)
EDACS Standard Networked
EDACS Narrowband (Narrow)
EDACS Narrowband Networked
EDACS SCAT
EDACS ESK (not ProVoice)
LTR Standard
Project 25 Standard
System Voices:

Analog
Analog and APCO-25 Common Air Interface
APCO-25 Common Air Interface Exclusive
Mods
Reviews and User Opinions
Improvements Desired
This is great! I just have one request. I need more custom search banks. With all the different bands that I want to set up with some being conventional and some being trunked, it would be great to have 20 banks. It is the only item I run across when I travel that I would really love...other than the new ones listed above. Paul O. More custom banks please!! Thanks! Bill
Hardware: A discriminator tap would be very useful, there is plenty of legal signals to receive that require a discriminator tap. An IF tap would be welcome for I/Q demod. Bluetooth audio for using a Bluetooth headset. Dimmable backlight
Firmware: Display Group Quick Key description when activating and deactivating a group for 1 second. VFO mode: Thank you, Tom

Would it be possible to:
Support the shortwave (<25 MHz) band?
Support FM SCA? (This could probably be done in the software, to make things easier, the user could program in the SCA frequency in the same portion where a D/PL would usually go and the scanner could pick up on this and tune to that location)
Allow a "Tune" function like those in some of the RS scanners so that an individual frequency could be tuned to without needing to program it in? (This would also be useful in conjunction with the control channel output function)
Support the decoding of text messaging sent across P25 channels?
I know that the SCA and the decoding of text messages could be done by ourselves if you would give us standard discriminator audio output. So you could probably scratch the both of those in place of discriminator audio.
--Thanks, Shell
Related Pages
External Links
Wiki Articles
Programming an UHF system requires at least 1 base frequency and offset. An example is shown here. This screen is from the ARC396 software, and shows how to correctly program the Washington DC Police system, which requires 2 base frequencies and offsets.
Compare the BCD396XT to other digital models
Supporting Software
Yahoo Groups and Message Boards
RadioReference
Yahoo! Groups
eBay Listings

Return to Uniden Scanners