Faribault County (MN)
From The RadioReference Wiki
Wiki Home → Collaboration Gateway → Minnesota → Minnesota Counties → Faribault County

Welcome to the Faribault County, Minnesota collaboration article. This is where you, the user, may index any articles you develop for scanning related topics for your area.
Law Enforcement Agencies in Faribault County, Minnesota
Municipal Police Departments
Some communities in Faribault County no longer employ their own Police Officer(s) and are now policed by the Faribault County Sheriff's Department. Some communities not listed here may only employ one or two Officers. The communities listed below are known to have active Police Departments consisting of several Officers, Police Vehicles, etc. It is unknown whether any of these Police Departments currently operate on their own radio systems, Faribault County's conventional system, or the ARMER system. This list may be incomplete.
Fire Departments
Emergency Medical Services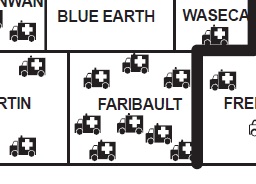 First Response Agencies
ARMER Migration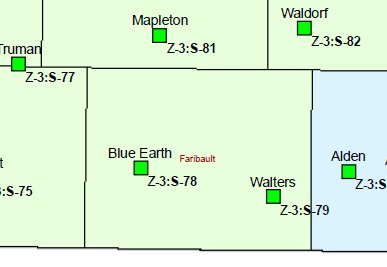 Status - Planning to migrate to ARMER
Sites and Status:
| Site ID | Site Name | Status | Lat. | Long. |
| --- | --- | --- | --- | --- |
| 5-078 | Blue Earth | | 43:39:09.6 | 94:05:57.2 |
| 5-079 | Walters | | 43:35:35.1 | 93:43:58.7 |
Trunked Radio Systems