Indiana Project Hoosier SAFE-T (Motorola)
From The RadioReference Wiki
Template:MultiState Trunking Infobox
Rebanding Info
The Indiana Project Hoosier SAFE-T system completed rebanding on 11-16-12.
Radio IDs
This is a list of RID's compiled by SAFE-T listeners. Feel free to add to this list, but please make sure to pay attention to the formatting. If you need help, please post to the following forum thread:

http://forums.radioreference.com/indiana-radio-discussion-forum/245975-safe-t-rids.html

SAFE-T Mutual Aid Areas
This list contains old ISP district numbers. While some of these are no longer utilized, the regional MA talkgroups still conform to these old district boundaries.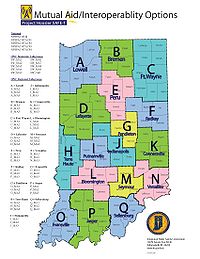 Region A District 13 (Lowell Area) - Counties: Lake/Porter/Laporte/Newton/Jasper/Starke/Pulaski


Region B District 24 (Bremen Area) - Counties: St. Joseph/Elkhart/Marshall/Kosciusko


Region C District 22 (Fort Wayne) - Counties: Lagrange/Steuben/Noble/Dekalb/Whitley/Allen/Huntington/Wells/Adams


Region D District 14 (Lafayette) - Counties: Benton/White/Carroll/Warren/Tippecanoe/Clinton/Fountain/Montgomery


Region E District 16 (Peru) - Counties: Fulton/Cass/Miami/Wabash/Howard/Tipton


Region F District 25 (Redkey) - Counties: Grant/Blackford/Jay/Delaware/Randolph


Region G District 51 (Pendleton) - Counties: Hamilton/Madison/Hancock


Region H District 54 (Terre Haute) - Counties: Clay/Sullivan/Parke/Vermillion/Vigo


Region I District 53 (Putnamville) - Counties: Putnam/Hendricks/Morgan/


Region J District 52 (Indianapolis) - Counties: Boone/Hendricks/Marion/Johnson/Shelby


Region K District 41 (Connersville) - Counties: Henry/Rush/Wayne/Fayette/Union/Franklin


Region L District 33 (Bloomington) - Counties: Owen/Greene/Monroe/Morgan/Brown/Lawrence


Region N District 42 (Versailles) - Counties: Decatur/Ripley/Dearborn/Ohio/Jefferson/Switzerland


Region M District 43 (Seymour) - Counties: Jackson/Bartholomew/Jennings


Region O District 35 (Evansville) - Counties: Knox/Gibson/Pike/Posey/Vanderburgh/Warrick


Region P District 34 (Jasper) - Counties: Daviess/Martin/Orange/Dubois/Crawford/Perry/Spencer


Region Q District 45 (Sellerburg) - Counties: Washington/Scott/Clark/Floyd/Harrison


Site NAC Codes
All tower sites in the database have corresponding NAC codes under their individual listing.
Related Links