Difference between revisions of "Pro-107"
From The RadioReference Wiki
m

Line 235:
Line 235:
 
 
 

==Related Pages==

 

==Related Pages==

 
+
 

* [[GRE/RS PC Object Oriented FAQ]]

 

* [[GRE/RS PC Object Oriented FAQ]]

 
 
---
Revision as of 12:15, 22 September 2019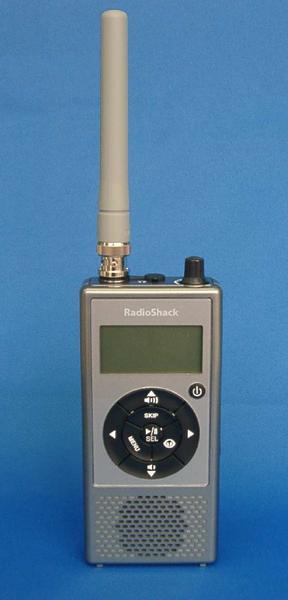 The Pro-107 iScan radio was manufactured for Radio Shack by GRE America Inc.
The Radio Shack PRO-107 iScan is a Multi-Trunking scanner which boasts the ability to track Motorola type I/II systems, LTR and EDACS trunking systems using the Radioreference database on an included 2GB Secure Digital card.
The Pro-107 uses a proprietary software package and a supplied USB/power cable. Firmware updates are possible on this radio via the PC/IF->USB port.
General Specifications
Rebanding supported? YES iScan will import tables for identified rebanded systems from the RadioReference database.
Frequency Coverage

| Frequency (MHz) | Step Size Value |
| --- | --- |
| 25-27.405 | 10 kHz |
| 27.41-29.7 | 5 kHZ |
| 29.71-49.83 | 10 kHz |
| 49.835-54 | 5 kHz |
| 108-136.9916 | 8.33 kHz |
| 137-137.995 | 5 kHz |
| 138-143.9875 | 12.5 kHz |
| 144-147.995 | 5 kHz |
| 148-150.7875 | 12.5 kHz |
| 150.8-150.845 | 5 kHz |
| 150.8525-150.845 | 5 kHz |
| 150.8525-154.4975 | 7.5 kHz |
| 154.515-154.64 | 5 kHz |
| 154.65-156.255 | 7.5 kHz |
| 156.275-157.45 | 25 kHz |
| 154.47-161.5725 | 7.5 kHz |
| 161.6-161.975 | 5 kHz |
| 162-174 | 12.5 |
| 216.0025-219.9975 | 5 kHz |
| 220-224.995 | 5 kHz |
| 225.000-379.975 | 25 kHz |
| 380-419.9875 | 12.5 kHz |
| 420-450 | 5 kHz |
| 450.00625-469.99375 | 6.25 kHz |
| 470-512 | 12.5 kHz |
| 764-805.996875 | 3.125 kHz |
| 806-823.9875 | 12.5 kHz |
| 849-868.9875 | 12.5 kHz |
| 894-901.9875 | 12.5 kHz |
| 902-928 | 5 kHz |
| 928.0125-939.9875 | 12.5 kHz |
| 940-960 | 6.25 kHz |
| 1240-1300 | 6.25 kHz |
Operating voltage

DC 2.4 Volts ("AA" cell x 2pcs. Ni-MH Batteries)
DC 3 Volts ("AA" cell x 2pcs. ALKALINE Batteries)
Ext. power and charge voltage USB Power (DC 5V 500mA)

Object oriented memory management. See the Object Oriented Scanning Described article for more information
Number of conventional channels, trunked systems, sites-per-system, and talkgroups-per-system limited only by available file space on the SD Card
Full duplex support and USB connection using the supplied USB Scanner Data Manager Cable, however it will not access the SD card in the radio.
Object programmable display alert (including multi-pattern flashing) to assign to talkgroups, frequencies, agencies, etc.
Non need for a traditional keypad, radio uses media player style buttons to navigate to user programmed playlists.
Play List; create a scan list tailored to your favorite object settings from the Radioreference database.
Navigate using the button operations to get to the play list set.
Signal Stalker II Near field frequency capture
Triple conversion
Simple display option will display object and playlist only, or disabled for more detailed display
SD Preprogrammed with entire USA Radioreference database, additionally can use High Capacity Secure Digital Cards as long as 32kB memory block clusters are used.
Programmable audible alarms
Easy-to-read back display and back lit keypad
Display and keypad backlighting can be turned on or off independently
Scan rate 75 channels per second (non trunking)
Search speed 85 channels per second
CTCSS/DCS abilities with search, however has no autosave or keypress save feature. V1.3 and later firmware allow saving of a tone via keypress in Menu.
16-character alpha-tagging with text entry can show ID code or service name
Temporary and permanent L/O of talkgroup ID or frequency
ID delay
UNSQUELCH Delay; Delay settings before the radio unmutes audio to speaker
Motorola Control Channel Only trunking
Radio ID Display
Priority Object settings (conventional and Trunked)
6 search ranges/ 1 user definable search range
Search "seek" feature
Tunes virtually all important bands—local marine, fire/police, Ham, CB, VHF-air, UHF-Air, racing, weather and more
Weather band with enhanced SAME Weather Alert functions and weather priority—access weather channels and alerts with the push of a button
Skywarn list can be programmed with any number of "objects"
"Multiple" Priority channels
Zeromatic search tuning
20db attenuator, can be set globally
Computer interface and Programming
9 navigation keys to access special modes and programming options
6 line x 16 character display with relative signal strength meter
BNC connector
Internal battery charger, with power from the supplied PC/IF->USB cable or an external USB power AC or DC converter.
PC/IF data output when enabled. Works with analog trunked systems and conventional data. See the Control and monitoring software section.
USB to serial cable has Uniden style connector for PC/IF. No access to SD card remotely. An SD card reader is not supplied.
Programmable Welcome Screen text
Browsing to objects and pausing on them is supported
Problems experienced with this scanner by purchasers:
Glitchy software. Latest updates are more stable than original release but software is still not 100% stable.
Battery indicator unreliable.
Signal meter not visible on "playing" screen. No way to indicate if trunk system is getting signal.
LCD screen goes blank in two scenarios;

when light is left on for an extended period of time.
when unit is used reguarly. Possible faulty LCD screens are being used in this scanner.

No belt clip with scanner.
No power port other than using a USB cable.
No lock out button function. On many occassions the scanner buttons will easily be pushed to stop scanning during normal carry.
Update database not updated instantly. Documented as many as 8 days between update and what was listed on Radio Reference.
Stock antenna is useless, more so than any other stock rubber-duck ever experienced. Might as well come without one.
Poor support from Radio Shack per customer experiences of picking up the telephone and calling them. No infomation for e-mail support experiences.
Memory Capacity
Conventional channels, each in two playlists: 8 million
Trunked systems, minimum 20 talkgroups per system: 6 thousand
Trunked systems, every possible talkgroup (~65,000) in every system: 151
Minimum number of total talkgroups (@ one per system, 6000 systems): 6 thousand
Maximum number of total talkgroups (@ ~65,000 per system, 151 systems): 9.8 million
Entire USA RadioReference database imported (including digital): twice
The software will NOT allow digital talkgroups including those used with NACs as well as regular tones to be imported. The update database needs to list those talkgroups and frequencies that are dual use for digital and conventional in a separate column for the software to import into the scanner. This scanner is not a digital scanner and therefore will not import any digital TGs nor frequencies listed as such.
Radio will monitor PL's or, "Icalls". Just enter the private radio ID into the talkgroup field and select "private" field in the software.
Conventional channels: limited only by SD Card space and max FAT32 file size
Trunked systems: limited only by SD Card space
Sites per system: limited only by SD Card space
Frequencies per site: fixed at 32 (yes, I know it's too many)
Talkgroups per system: limited only by SD Card space, up to maximum for system type
RR System Compatibility
This scanner is compatible with the following Trunking System Types and System Voices used in the RadioReference Database, of course you must verify that the scanner will cover the appropriate frequency range:
System Types:

Motorola Type I
Motorola Type II
Motorola Type IIi Hybrid
Motorola Type II Smartnet
Motorola Type II Smartzone
Motorola Type II Smartzone Omnilink
EDACS Standard (Wide)
EDACS Standard Networked
EDACS Narrowband (Narrow)
EDACS Narrowband Networked
EDACS SCAT
EDACS ESK (Non-ProVoice)
LTR Standard
FCC Certification
Included Accessories
Antenna
PC-USB Cable
2GB SD Card Memory (inside the scanner)
User's Guide
CD-ROM
Recommended accessories (Not included with the radio)
These items are no longer listed on the RS website under these SKUs. It's possible they may be available from places like Amazon or eBay, or under another SKU

USB power adaptor(RadioShack Catalog Number 273-114)
Car USB power adaptor (RadioShack Online Catalog Number 55026592)
Digital Concepts™ SD Memory Card Converter Drive
Related Pages
Yahoo Groups and Mailing Lists (receiver support)
Pro-107 Scanners for Sale

Return to the Radio Shack Scanners