North Carolina VIPER General Information
From The RadioReference Wiki
Introduction
VIPER stands for Voice Interoperability Plan for Emergency Responders
General Information
VIPER stands for "Voice Interoperability Plan for Emergency Responders".
VIPER is divided into 3 "Zones" (or RFSS):
Zone 1 is the piedmont area (including central NC)
Zone 2 is the western part of the state
Zone 3 is the eastern part of the state.
Here is a map created by RR member Daniel (FD5722) showing the location of the 3 Zones/RFSS: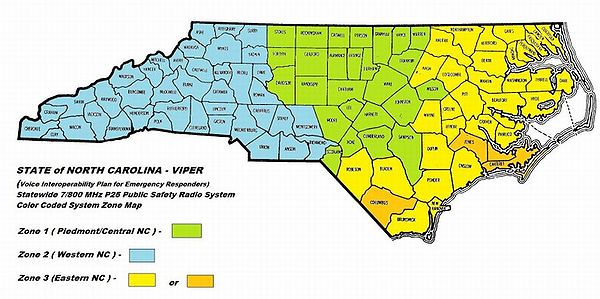 The NC Department of Public Safety has a website devoted to VIPER at the following link:
https://www.ncdps.gov/our-organization/law-enforcement/viper
A great blog devoted to VIPER can be found at the following link (Link no longer works):
http://ncviper800.blogspot.com/
VIPER Background
VIPER is managed by the North Carolina State Highway Patrol and has numerous agencies participating in this system.
VIPER Discussions On RadioReference.com
   * Alamance D-5
   * Alexander F-5
   * Alleghany
   * Anson H-3
   * Ashe F-2
   * Avery
   * Beaufort
   * Bertie
   * Bladen
   * Brunswick
   * Buncombe
   * Burke
   * Cabarrus
   * Caldwell
   * Camden
   * Carteret
   * Caswell
   * Catawba
   * Chatham
   * Cherokee
   * Chowan
   * Clay
   * Cleveland
   * Columbus
   * Craven
   * Cumberland
   * Currituck
   * Dare
   * Davidson
   * Davie
   * Duplin
   * Durham
   * Edgecombe
   * Forsyth
   * Franklin
   * Gaston
   * Gates
   * Graham
   * Granville
   * Greene
   * Guilford
   * Halifax
   * Harnett
   * Haywood
   * Henderson
   * Hertford
   * Hoke
   * Hyde
   * Iredell
   * Jackson
   * Johnston
   * Jones
   * Lee
   * Lenoir
   * Lincoln
   * Macon
   * Madison County
   * McDowell
   * Mecklenburg County
   * Mitchell
   * Montgomery
   * Moore
   * Nash
   * New Hanover
   * Northampton
   * Onslow
   * Orange
   * Pender
   * Person
   * Pitt
   * Polk
   * Randolph
   * Robeson
   * Rockingham
   * Rowan
   * Rutherford
   * Sampson
   * Stanly
   * Stokes
   * Surry
   * Swain
   * Transylvania
   * Tyrrell
   * Union
   * Vance
   * Wake
   * Warren
   * Washington
   * Watauga
   * Wayne
   * Wilkes
   * Wilson
   * Yadkin
   * Yancey

Related Pages
Return to Wiki page: North Carolina VIPER (P25), North Carolina VIPER (Type II)