Viva(York Region)
From The RadioReference Wiki

General Info
Viva is an express bus network in York Region, Ontario, Canada, with connections to northern Toronto and Toronto Transit Commission subway stations. Viva is a subsidiary of York Region Transit.
It is the brand name for the York Region Rapid Transit Plan, and was funded through a Public-Private Partnership (P3) consortium called the York Region Rapid Transit Corporation. York Region has control over all fares and service planning. Viva service is integrated with York Region Transit's conventional transit service and operated as one regional transit system that enables customers to travel across the Region.
Viva began operations on September 4, 2005 at 9 a.m. EST, and officially opened on September 6, 2005. The second phase was opened on October 16, 2005, the third phase was opened on November 20, 2005, and the first part of the fourth phase was opened on January 2, 2006 (the Cornell extension is the second part of Phase 4).
Five routes are currently in operation are Viva Blue, Viva Purple, Viva Orange, Viva Pink, and Viva Green.
System Map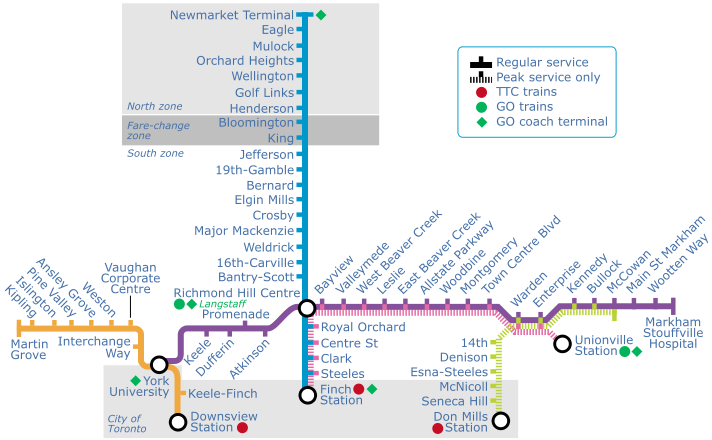 Return to Wiki page: Ontario (CA)
(No matching DB page)