York County (PA)
From The RadioReference Wiki
Police/Fire/EMS Stations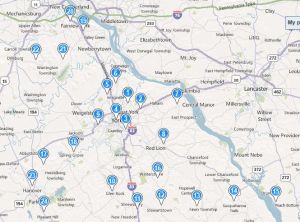 As of July 1, 2009, all of the patches to the Police zones of the Legacy system have been terminated. Police operations are now 100% on the P25.
Also as of the same date Fire and EMS dispatching on FIRE MAIN (P25 System) and the legacy patches is voice only. There are no more tones or alert sounds--although many system users are lobbying the powers that be to have an alert tone restored.

Paging
York County's legacy paging includes one low band frequency and two UHF channels to disseminate calls to public safety workers. Upon completion of the new system, a single channel UHF POCSAG alphanumeric paging system will be deployed, eventually replacing the legacy paging entirely. Operating on a frequency of 453.600, the new paging system will simulcast from 18 of the county's 22 tower sites, providing reliable service to all first responders county-wide.
Fire/EMS Tone-Outs
Future Conventional Frequency Usage
It is anticipated that York County will maintain very few conventional channels once cut-over to the new digital trunked system is complete. FMARS (Fire Mutual Aid Radio System, 154.280mhz) and NLEEF (National Law Enforcement Emergency Frequency, more often referred to simply as "National" 155.475mhz) base stations will be maintained for inter-county communications. Portable, mobile, and base station radios have been programmed with nationwide UHF interoperability frequencies (UTACs) in the simplex mode to accommodate both interoperability needs as well as the need for talk-around functions.
Live Feed
Forums & Scanner Sites
Related Links
Return to DB page: York County (PA)
Return to Wiki page: Pennsylvania Counties, Pennsylvania (US)