BC898T
From The RadioReference Wiki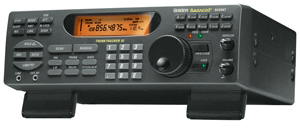 500 Channel Programmable Base Scanner with TrunkTracker III
General Specifications
Physical and Tech Specs
AC Adapters, DC Power Cable and Automotive Power Outlet Plug - More options for supplying power to your scanner at home or in your car.
Frequency Coverage

25-54 MHz
108-174 MHz
216-512 MHz
806-956 MHz (excluding cellular)

Multiple Channels (500) / Banks (10)
1000 Talk Group ID's in 10 Lists of 10 per Bank - Let's you quickly select the talk groups you want to hear when you listen to trunked systems.
100 cps scan rate
Signal strength meter
10 Programmable Searchs - Allows you to set the upper and lower limits of specific frequency range for easier searching.
Modulation Capability (AM/FM/NFM)
Frequency Steps (kHz) 5/6.25/12.5/25
200 Talk Group Skip Memories
100 Search Skip Memories
Features
Auto record
Auto store
Can be updated to support Rebanding? YES

See Section 7.1 of the Rebanding article for the firmware link

Conventional and Trunked Search Operations
I-Call monitoring
10 Priority channels with Priority Scan
Programmable Delay - When programmed on a channel, it allows time for a reply on the same channel before resuming to scan.
SAME Weather Alert - Specific Area Message Encoding - During a NOAA Weather or Emergency Alert, a code for your specific location will alert you to severe conditions in your immediate area.
RR System Compatibility
This scanner is compatible with the following Trunking System Types and System Voices used in the RadioReference Database, of course you must verify that the scanner will cover the appropriate frequency range:
System Types:

Motorola Type I
Motorola Type II
Motorola Type IIi Hybrid
Motorola Type II Smartnet
Motorola Type II Smartzone
Motorola Type II Smartzone Omnilink
EDACS Standard (Wide)
EDACS Standard Networked
EDACS Narrowband (Narrow)
EDACS Narrowband Networked
EDACS SCAT
LTR Standard
Owner's Manual
Modifications
Reviews and User Opinions
Related Pages
Supporting Software
ARC898 from BuTel (available through Scanner Master)
Message Boards / Forums
Facebook
Groups.io
BC898T Scanners for Sale

Return to Uniden Scanners