BR330T
From The RadioReference Wiki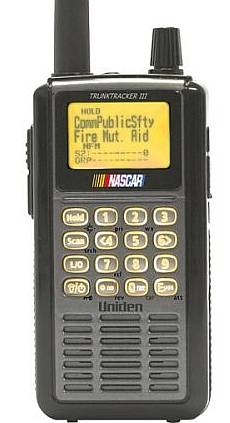 Uniden's analog-only portable Trunktracker scanner with Dynamic Memory Architecture and Race Track Operation. This is a TrunkTracker III scanner with Control Channel Only scanning and I-Call monitoring. Discontinued by Uniden in March of 2007.
Includes all bands and frequencies excluding only the cellular frequencies. This includes AM Broadcast, shortwave broadcast, CB (AM mode only), amateur radio (AM, FM, NFM), all TV broadcast channels (including the 512-800 MHz range never before covered in a trunking scanner).
Similar to the European UBC3500XLT.
Specifications
Physical
Antenna Connector: SMA (w/BNC adapter)
Battery level display
Built-in AM Ferrite antenna
Compatible with BC-RH96 Remote Head
LCD and Keypad Backlight
Keys
Group Quick Key range: 0-9
System Quick Key range: 1-99
Technical
Channels: 2500 maximum
Custom Search Ranges: 10
Groups per system: 20 maximum
PC Programming and Control
Preprogrammed Service Search Bands: 13
Scan Rate: 90 channels per second (conventional mode)
Strong signal attenuation
Supported step sizes: 5, 6.25, 7.5, 8.33, 9, 10, 12.5, 15, 20, 25, 50 or 100 kHz
Systems: 200 maximum
Talkgroups per trunked system: 200 maximum
13 Service Searches - Public Safety, News, HAM Radio, Marine, Railroad, Air, CB Radio, FRS/GMRS, Racing, AM Broadcast, TV Broadcast, FM Broadcast, and Special (Itinerant)
16 character text tagging for each system, group, channel, talkgroup, search range, Tone-out, and SAME group
Frequency Coverage
Frequency Coverage: 100 kHz - 1.3 GHz (cellular blocked in US)
Power
Features
Adjustable Hold (scan duration 0-255 sec) per system, custom or service search
Adjustable (0-5 sec) scan delay
Analog AGC
Close Call, with Close Call Do Not Disturb (with version 1.06.02 firmware), Close Call Priority (or Primary), and Close Call Temporary Store
Custom Search — lets you program up to 10 search ranges
Frequency/ID AutoStore - automatically store frequencies from a service or limit search into a conventional system or store talk group IDs into a trunked system
Fire Tone Out alert
Independent Alert Tone Volume – lets you set the volume level of the following tones: Key Beep, Emergency Alert, Channel Alert, and Close Call Alert.
Quick Recall – quickly navigates to a specific Channel by choosing the System, Group, and Channel.
Upgradeable firmware
RR System Compatibility
This scanner is compatible with the following Trunking System Types and System Voices used in the RadioReference Database, of course you must verify that the scanner will cover the appropriate frequency range:
System Types:

Motorola Type I
Motorola Type II
Motorola Type IIi Hybrid
Motorola Type II Smartnet
Motorola Type II Smartzone
Motorola Type II Smartzone Omnilink
EDACS Standard (Wide)
EDACS Standard Networked
EDACS Narrowband (Narrow)
EDACS Narrowband Networked
EDACS SCAT
LTR Standard
Reviews and User Opinions
Related Pages
Software
BuTel Software

ARC330-Basic (no recording) & ARC330-PRO (which can record audio)
Clone330

See the Uniden DMA Software Support article for other software packages that support this radio (including ProScan)
Message Boards / Forums
RadioReference
Facebook
Groups.io
BR330T Scanners for Sale

Return to Uniden Scanners