Pro-18
From The RadioReference Wiki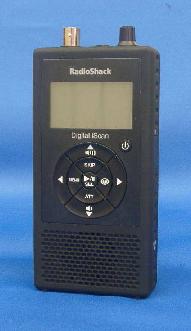 The Pro-18 iScan Digital Trunking radio is manufactured for Radio Shack by GRE America Inc.
The Radio Shack PRO-18 iScan is a Multi-Trunking scanner which boasts the ability to track Motorola type I/II systems, LTR, EDACS and P25 systems using the Radioreference database on an included 2GB Micro Secure Digital card.
The Pro-18 uses a proprietary software package and a supplied USB/power cable. Firmware updates are possible on this radio via the PC/IF->USB port.
It is nearly the same as the PSR-800 with exception to a few of the features not found here: Missing features
General Specifications
Frequency Coverage

| Frequency (MHz) | Step Size Value |
| --- | --- |
| 25-27.405 | 10 kHz |
| 27.41-29.7 | 5 kHZ |
| 29.71-49.83 | 10 kHz |
| 49.835-54 | 5 kHz |
| 108-136.9916 | 8.33 kHz |
| 137-137.995 | 5 kHz |
| 138-143.9875 | 12.5 kHz |
| 144-147.995 | 5 kHz |
| 148-150.7875 | 12.5 kHz |
| 150.8-150.845 | 5 kHz |
| 150.8525-150.845 | 5 kHz |
| 150.8525-154.4975 | 7.5 kHz |
| 154.515-154.64 | 5 kHz |
| 154.65-156.255 | 7.5 kHz |
| 156.275-157.45 | 25 kHz |
| 154.47-161.5725 | 7.5 kHz |
| 161.6-161.975 | 5 kHz |
| 162-174 | 12.5 |
| 216.0025-219.9975 | 5 kHz |
| 220-224.995 | 5 kHz |
| 225.000-379.975 | 25 kHz |
| 380-419.9875 | 12.5 kHz |
| 420-450 | 5 kHz |
| 450.00625-469.99375 | 6.25 kHz |
| 470-512 | 12.5 kHz |
| 764-805.996875 | 3.125 kHz |
| 806-823.9875 | 12.5 kHz |
| 849-868.9875 | 12.5 kHz |
| 894-901.9875 | 12.5 kHz |
| 902-928 | 5 kHz |
| 928.0125-939.9875 | 12.5 kHz |
| 940-960 | 6.25 kHz |
| 1240-1300 | 6.25 kHz |
Dimensions approximately 5 5/16 x 2 1/8" x 1 1/16" (135 x 67 x 28 mm) (HWD)
Weight approximately 7.4 oz. (210g) without accessories and batteries
Operating voltage

DC 4.8 Volts ("AA" cell x 4pcs. Ni-MH Batteries)
DC 6 Volts ("AA" cell x 4pcs. ALKALINE Batteries)
Ext. power and charge voltage USB Power (DC 5V 500mA)

Object oriented memory management. See the Object Oriented Scanning Described article for more information
Object capacity (Nominal, with 2 GB MicroSD Card): > 10 million, varies depending on user configuration
Number of conventional channels, trunked systems, sites-per-system, and talkgroups-per-system limited only by available file space on the SD Card
Full duplex support and USB device connection using the supplied USB Cable. It will access the microSD card in the radio for file manipulation.
Object programmable display alert (including multi-pattern flashing) to assign to talkgroups, frequencies, agencies, etc.
Non need for a traditional keypad, radio uses media player style buttons to navigate to user programmed playlists.
100 Play Lists; create a scan list tailored to your favorite object settings from the Radioreference database.
Navigate using the button operations to get to the play list set.
Signal Stalker II Near field frequency capture
Triple conversion
Simple display option will display object and playlist only, or disabled for more detailed display
MicroSD preprogrammed with entire USA Radioreference database, additionally can use High Capacity Micro Secure Digital Cards as long as 32kB memory block clusters are used.
Programmable audible alarms
Easy-to-read back display and back lit keypad
Display and keypad backlighting can be turned on or off independently
Scan rate 75 channels per second (non trunking)
Search speed 85 channels per second
16-character alpha-tagging with text entry can show ID code or service name
Temporary and permanent L/O of talkgroup ID or frequency
ID delay
UNSQUELCH Delay; Delay settings before the radio unmutes audio to speaker
Motorola Control Channel Only trunking
Private Call and Radio ID Alpha Display
Priority Object settings (conventional and Trunked)
6 search ranges/ 1 user definable search range
Search "seek" feature
Tunes virtually all important bands—local marine, fire/police, Ham, CB, VHF-air, UHF-Air, racing, weather and more
Weather band with enhanced SAME Weather Alert functions and weather priority—access weather channels and alerts with the push of a button
Skywarn list can be programmed with any number of "objects"
"Multiple" Priority channels
Zeromatic search tuning
20db attenuator, can be set globally
Computer interface and Programming
9 navigation keys to access special modes and programming options
6 line x 16 character display with relative signal strength meter
BNC connector
Internal battery charger, with power from the supplied PC/IF->USB cable or an external USB power AC or DC converter.
PC/IF data output when enabled. Works with analog trunked systems and conventional data. See the Control and monitoring software section.
Full USB support via PC/IF. Access to microSD card remotely. An SD card reader/adapter is not supplied.
Programmable Welcome Screen text
Browsing to objects and pausing on them is supported
Any microSD Card up to 32GB is supported, as long as it uses 512-byte blocks (I've never seen one that doesn't, though the SD spec allows it) and is formatted correctly:

2GB or smaller: FAT16, 32kB clusters
larger than 2GB: FAT32, 32kB clusters
Features found on the GRE PSR-800 Not found on the Pro-18
Recording / playback
200 scan lists (PRO-18 has 100 play lists)
Tri-color alert LED
Discriminator output
V-Scanner II
Scan Sets
Clock display while "off" (and connected to external power)
Auto power-on ("alarm clock")
"Extra" audio alert tones (PRO-18 has the 7 from PSR-500; PSR-800 has 8 more)
Power-on password
Memory Capacity
Conventional channels, each in two playlists: 8 million
Trunked systems, minimum 20 talkgroups per system: 6 thousand
Trunked systems, every possible talkgroup (~65,000) in every system: 151
Minimum number of total talkgroups (@ one per system, 6000 systems): 6 thousand
Maximum number of total talkgroups (@ ~65,000 per system, 151 systems): 9.8 million
Entire USA RadioReference database imported (including digital): twice
100 Scan Lists
In the above, each trunked system has up to 50 sites (though there's no practical limit). All talkgroup numbers presume all systems are "Motorola Type-II" - the system type that a) uses the most space per talkgroup, b) potentially wastes the most space per talkgroup, and c) has the largest number of possible talkgroups. The minimum and maximum numbers of talkgroups are absolutes; actual values depend on system types as well as how talkgroups are distributed among systems and within systems. No "RadioIDs" are included in the above.
In more general terms:
Conventional channels: limited only by microSD Card space and max FAT32 file size
Trunked systems: limited only by microSD Card space
Sites per system: limited only by microSD Card space
Frequencies per site: fixed at 32 (yes, I know it's too many)
Talkgroups per system: limited only by microSD Card space, up to maximum for system type
Database Hierarchy
The scanner has a menu-driven version of the RR DB's hierarchy:
Code: States
 Agencies
   Categories
     Subcategories
       Frequencies
 Counties / Independent Cities
   Agencies
     Categories
       Subcategories
         Frequencies
   Categories
     Subcategories
       Frequencies
   Systems
     Sites
     Talkgroup Categories
       Talkgroups
 Systems
   Sites
   Talkgroup Categories

RR System Compatibility
This scanner is compatible with the following Trunking System Types and System Voices used in the RadioReference Database, of course you must verify that the scanner will cover the appropriate frequency range:
System Types:

Motorola Type I
Motorola Type II
Motorola Type IIi Hybrid
Motorola Type II Smartnet
Motorola Type II Smartzone
Motorola Type II Smartzone Omnilink
EDACS Standard (Wide)
EDACS Standard Networked
EDACS Narrowband (Narrow)
EDACS Narrowband Networked
EDACS SCAT
EDACS ESK (Non-ProVoice)
LTR Standard
Project 25 Standard
System Voices:

Analog
Analog and APCO-25 Common Air Interface
APCO-25 Common Air Interface Exclusive
Operating Tips
Also see the Object Oriented Scanning tips article for additional information
Import System
Importing an entire system requires these steps:

1. Press MENU key to display main menu
2. Select "Browse Library". You're presented with a list of states.
3. Scroll down to and select state. You're presented with the 3-item "Agencies / Counties / Systems" menu.
4. Scroll down to and select Systems (this shows all statewide systems).
5. Press SEL key to select the system.
6. Press MENU and select "Import Selected"
7. Select target playlists for talkgroups
8. Press MENU and select "Import Now"
9. Wait while scanner parses DB files and builds its run-time data files/structures.

Note: If you only wanted a few Sites / Talkgroups, you wouldn't select the entire system in step 5. Instead, you'd drill into the system and select individual sites, categories, and/or talkgroups.
Delete Playlist/Object
In order to delete more than one object at a time, you must use the included PC software. With the radio attached to the PC via the supplied USB cable, run the PC software, and select the "Copy Configuration from microSD Card" item on the "microSD Card" menu. (You'll be prompted to select the "removable disk" that corresponds to the microSD Card). You should now see the data programmed on the microSD Card.
At this point, the data on the microSD Card has not been changed; it has been copied to the PC. After performing any edits described below, you'll need to copy the data back to the microSD Card via the "microSD Card" menu. The PC software only manipulates its local copy of the data, which should be in \My Documents\iScan.
Deleting all objects in a playlist is done on the "Playlists" tab at the bottom of the window. You first select the target playlist via the drop-down at the top, then select some/all of the objects by clicking on the row headers (the 4-digit numbers under "POS"). Normal Windows "multi-select" options work: CTRL+leftClick, SHIFT+leftClick, CTRL-A.
Do you want to actually delete the objects, or do you want to merely remove them from a playlist (in case they're in more than one)? If the former, click the Delete Channel button. If the latter, click the Remove Channel button.
Note that if you use the "remove" option and the objects are only in one playlist, the objects will still exist - you just won't ever be able to see them on the scanner; you'll have to return to the PC software to put them in at least one playlist.
If the objects you want to delete are talkgroups, and you want to delete the entire trunked system, you can (and probably should) do that via the "Trunked Radio Systems" tab, which will be available if you set the "Simple Display" item on the "General Settings" tab to OFF.
Moving Playlists
If you want to move contents of playlists around (e.g. everything in playlist X to playlist Y, everything in playlist Y to playlist Z, etc.)...
The only easy way is within the included PC software, and it's only easy if you have a playlist that is currently empty. You'd use the "Playlists" tab, selecting everything in one playlist and moving it to another, repeating as necessary.
For example, if you had objects in playlists 1, 2, and 3, playlist 10 was empty, and you wanted to move:
current playlist 3 --> playlist 2
current playlist 2 --> playlist 1
current playlist 1 --> playlist 3
you could do this within the Playlists tab:

1. select everything in playlist 1 and move it to playlist 10
2. select everything in playlist 2 and move it to playlist 1
3. select everything in playlist 3 and move it to playlist 2
4. select everything in playlist 10 and move it to playlist 3
("move it to playlist X" means "while those items are selected, click on one of the items' "Playlists" cells, un-check the box for the current playlist, and check the box for playlist X")
On the Playlists tab:

1. select the "from" playlist from the drop-down box at the top-left of the display
2. click on one of the "POS" cells in the displayed objects list
3. press CTRL-A (select all)
4. click on one of the "Playlist" cells in the displayed objects list
5. in the "Select Playlists" window that pops up, un-check the current playlist (the one you selected in #1 above), and check the target playlist (the one you want to "move to")
6. repeat steps 1-5 for every playlist whose contents you want to "move"
Note: Clicking on the "header" cell for the Playlists column will jumble your information, just left-clicking on the playlist column works fine.
Skywarn Frequencies
Can freq, be added to Skywarn without software?
If you're referring to directly entering a specific frequency, no.
However, there are other ways:
If the frequency is in the RR DB, you can import it and assign it to the Skywarn playlist
You could set up a limit search where the "Lo" and/or "Hi" frequencies are the one you want to enter, turn the Sq knob fully counterclockwise, then, when the scanner "stops on" the target frequency, press MENU and select "Store Channel".
FCC Certification
Included Accessories
5" 09080 Rubber Antenna
A standard USB A to USB Mini-B cable (No PC/IF converter cable needed)
2GB MicroSD Card (Inside The Scanner)
Rotatable Belt Clip
CD-Rom (EZ Scan Digital Software Utility Program)
Recommended accessories (Not included with the radio)
Programming and Monitoring Software
See the IScan Installation and Tips article for more information
Related Pages
RadioReference Links
Yahoo Groups and Mailing Lists (receiver support)
eBay Listings
Return to the Radio Shack Scanners