SDS100
From The RadioReference Wiki
The Uniden SDS100 is the first scanner to incorporate I/Q technology and SDR (Software Defined Radio) in a handheld scanner. This will provide performance superior to any other scanner currently offered on LSM (Linear Simulcast Modulation) systems. It uses the Uniden HomePatrol database for ease of programming
---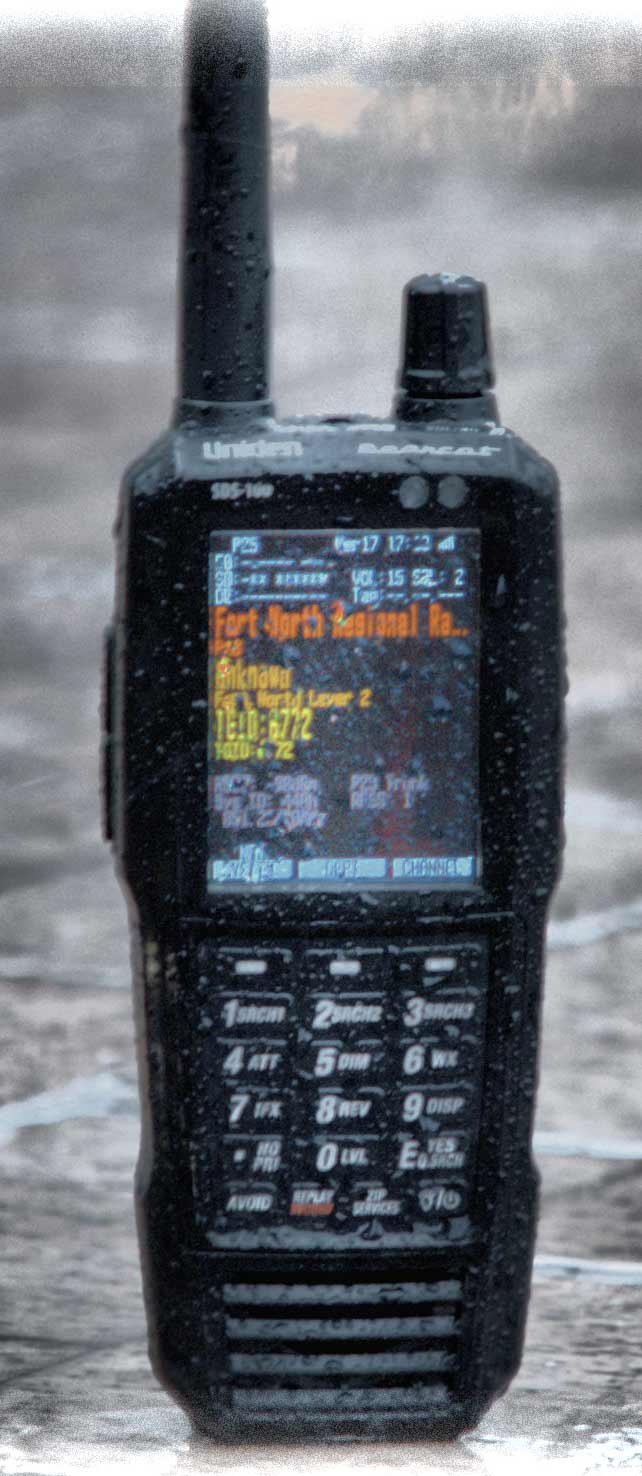 Specifications
Some specifications anticipated to be the same as the BCD436HP and all specifications subject to change)


Charges while on (first issue manual is incorrect)
Flexible Easy System or Channel Selection using Zip Code or GPS and Service Types - just pick the kinds of channels you want to hear and tell the SDS100 where you are and let it do the rest.
Range Control - Lets you set how far out from your current location the scanner will search for Channels in Favorites Lists and the Database. Location precision for Departments and Sites that allows you to define a location and range using rectangles instead just of a single circle.
Serial GPS input for location-based scanning using the Uniden GC-GPSK or other compatible GPS receiver.

Complete Front Keypad Programming ability - create custom Favorites Lists either using systems from the HPDB as a starting point by Adding Channel or program your Favorites from scratch.

Included Sentinel Software (expected) makes database and firmware updates simple. Also allows you to create, edit, and manage your Favorites Lists.
USB PC Connectivity (USB Mini-B)
USB PC Connectivity (USB Micro) - use to be determined
Discovery Modes help you find new channels on trunked systems and frequency ranges.
Analysis Modes include Trunked System Analysis of Signal, Quality and Activity, and EDACS/LTR LCN Finder.
Flexible Scanning - scan from any combination of the main database and Favorites Lists.
Instant Replay - Plays back up to 240 seconds of the most recent unsquelched transmissions without the added quite time between those transmissions..
Recording of Audio- Captures & Stores individual transmissions until squelch closes for later playback with time stamping and some metadata via Scanner or PC.
8GB microSD card holds the entire US and Canada database of radio systems, plus leaves room for hundreds of hours of audio recording.
TrunkTracker X -- Includes APCO's newest P25 Phase II, Motorola, EDACS, LTR Trunked, DMR*, Trunked DMR* (a Uniden exclusive), NXDN*, Trunked NXDN* (a Uniden exclusive), and Uniden exclusive EDACS ProVoice digital system trunk-tracking, Radio Systems. * - Some digital modes may not be available upon initial release
Multi-Site Trunking - Lets you program the scanner to share a Trunked System's TGIDs across multiple Sites without having to duplicate TGIDs.
P25 One-Frequency Trunking - The scanner can follow individual talk groups on P25 single-frequency systems that use both NAC and TGID's for squelch control and user identification.
Individual Site P25 decode Threshold, Settings: Auto, Manual, Default
Quick key (QK) capable
Channel Alert for when a call comes in

Visual Independent Alert LED w/ 7 colors and 3 patterns.
Audible Independent Alert Tone Volume – lets you set the volume level of the following tones: Key Beep, Emergency Alerts, Channel Alerts, Tone-Out hits, and Close Call Alert.

Encryption Muting - APCO P25 PI encrypted voice is muted automatically.
Number Tagging - Number tags allow you to quickly navigate to a specific Favorites List, System, and/or Channel.
Easy Scan Control using the System, Department and Channel SOFTKEY Hold buttons.
Easy navigation to Favorite List, 1st on Menu w visual On/Off for FQK listing
Easy navigation to System List 1st on Menu w visual On/Off for SQK listing.
Custom Search - lets you program up to 10 search ranges.
3 Quick-Access Search Keys
Search with Scan for Custom Searches.
Quick Search - Allows you to start searching at the displayed frequency, or enter a frequency and start searching.
Channel delay adjustable to increments of 0-2,5,10,30,
Negative Channel delay or dropout (forced resume) adjustable to -2, -5, -10 seconds.
64 character text tagging for each system, site, department, channel, talkgroup, search range, Tone-Out, and SAME group.
Date/Time indication on display with time stamping for recordings.
Key Lock prevents anything being changed but Volume and ON\OFF - lets you hand the scanner to a novice user.
AVOID via Front Keypad or Menu

Temporary Avoid lets you quickly silence unwanted Systems, Departments, Channels, or search frequencies while allowing you to restore Avoids by cycling power.
Permanent Avoid lets you lockout anything unwanted by a quick double press
Ability to Clear All Avoids quickly and easily in a few MENU presses

Conventional Channel Priority with Priority Do-Not-Disturb, w some trunk system and priority

Adjustable Priority check interval and quantity.

Uniden Close Call, with Close Call Do Not Disturb, Close Call Priority (or Primary), and Close Call Temporary Store.
Weather

Weather
NOAA Weather Alert with SAME
Weather Priority.

Receive Signal Strength Indicator displayed.
Analog and Digital AGC independently per System
Fire Tone Out alert with two-tone paging with up to 32 tone slots.

Also see the Fire Tone Out article.
Fire Tone Out Search - built-in frequency counter displays the received tones.

Channel Volume Offset individually per channel.
Broadcast signal ignore while searching (TV and radio station frequencies, pagers, etc) with 10 custom bands.
Intermediate Frequency Exchange - changes the IF used for a selected frequency to help avoid image and other mixer-product interference on a frequency.
Dot-Matrix COLOR Display (user-selectable colors for text and background)
Backlit Display and Keypad.
Backlight-on-Squelch option allows the backlight to remain on during an entire transmission.
Adjustable Band defaults Modulation and Steps
Rugged construction with Rubber Side and Bottom Impact areas to improve impact resistance.
Select/Volume/Squelch multi-control top knob.
Side-actuated Function and Menu controls.
3 front SOFTKEY buttons (functions change depending on scanner status).
Lithium Ion Battery Operation.
Built-in Battery Charger - charge the batteries in the scanner w a USB power cable
RR System Compatibility
Analog Conventional Frequencies
System Types
System Voices
Notes
Requires, optional, Paid Upgrade w/ Registration via my.uniden.com.
Firmware updates via MicroSD card or through USB port.
Frequency Coverage
(subject to change)
25-512 MHz
758-824 MHz
849-869 MHz
894-960 MHz
1240-1300 MHz
Modulation & Steps
AM, NFM, FM, WFM, or FMB.
5, 6.25, 7.5, 8.33, 10, 12.5, 15, 20, 25, 50, or 100 kHz
Included in the Box
SDS100 Scanner Radio
SMA Semi-Ridged Antenna
SMA- BNC adapter
411.com Registration card
USB to USB Mini-B programming cable >
Rotating Belt Clip.

Belt clip Plastic Attachment with 1 screw installed

Owner's manual printed copy w online pdf format available
microSD Card (8GB) installed
Packaging

External Box
Formed Cardboard packaging - molded pulp

Various plastic bags for listed components?
Included on the microSD CARD
A copy of the RadioReference Database (HPDB)
Uniden's Sentinel Software. which can also be found here
Pre-Formatted with FAT 32 Filing System

Main Folder named "TBA"

Below TBA folder contains:
(7)Sub-Folders: activity_log, alert, audio, discovery, favorite_list, firmware, HPDB
(4)Loose Files:
Configuration files: app_data.cfg, discovery.cfg1, profile.cfg
Set-Up file: scanner.inf
Power Requirements
Lithium Ion battery or use of USB 5V DC ≥300mA.
Main issues
Poor battery performance. New battery design in progress, Uniden claims they will send new battery with proper performance to everyone that registers his scanner.
Images
Videos
Related Pages
Uniden Official Support page
Frequently Asked Questions Support Pages
Groups and Message Boards
Supporting Software
Owner's Manual
Return to Uniden Scanners