UBC800XLT
From The RadioReference Wiki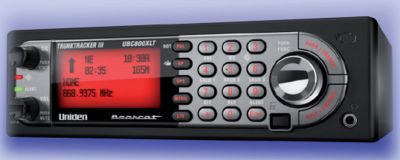 Uniden's Base/Mobile Trunktracker scanner with Dynamic Memory Architecture and GPS Support for European markets. This was a TrunkTracker III with Motorola Control Channel Only trunking and I-Call monitoring
General Specifications
Physical
Accessories included: Mounting bracket, 230 Volt Adaptor (EURO plug), RS232 cable, three-wire DC power cord, cigarette lighter adapter, and ARC800Lite software Cdrom
Antenna Connector: BNC- push on telescoping whip
Compatible with BC-RH96 Remote Head
DIN-E and ISO Vehicle Mountable sleeve (optional)
GPS Support for Location Based Scanning with independent control of Systems and Sites
LCD and Keypad Backlight
Record Out - you can connect an output jack to a VOX controlled recorder or PC sound input to record the received audio
Reversible Display - Lets you reverse the display to mount unit upside down (and hear the speaker from the top)
Signal Strength display
Strong signal attenuation
Trunking Activity Indicators
Available Accessories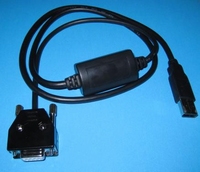 Uniden USB1 cable
Uniden USB1S cable
Keys
Custom Search Ranges: 10
Group Quick Key range: 0-9
Startup Keys: 10
System Quick Key range: 0-99
Technical
3 selectable but not definable bandplans
Channels: 6,000 maximum
Channels per conventional system: 1000 maximum
Groups per system: 20 maximum
PC Programming and Control
Preprogrammed Service Search Bands: 6
6 Quick-Access Search Keys
Scan Rate: 100 channels per second (conventional mode)
Search Rate: 300 steps per second (on 5 kHz steps)
6 Service Searches - Air, Marine, CB AM Radio, CB FM Radio, PMR, and LPD
Sites: 1000 maximum, 256 maximum per system
Supported step sizes: 5, 6.25, 8.33, 10, 12.5,15, 20, 25, 50 or 100 kHz
Systems: 500 maximum
Talkgroups per trunked system: 250 maximum
500 (250 Temporary + 250 Permanent) Search Lockouts
16 character text tagging for each system, site, group, channel, talkgroup, search range, location, and Tone-out
Frequency Coverage
25 - 512 MHz
806 - 960 MHz
1240 - 1300 MHz
Power
Voltage: 13.8 Volts DC
Current: less than 750mA (max. rating of included wall wart)
Power plug: 5.5mm outer diameter, 2.1mm inner diameter; Radio Shack size code "M"
Features
Adjustable Hold (scan duration 0-255 sec) per system, custom or service search
Adjustable (0-5 sec) scan delay
Broadcast Screen - ignore hits on 10 custom frequency ranges during Close Call or search operation.
Close Call, with Close Call Do Not Disturb, Close Call Priority (or Primary), and Close Call Temporary Store.
Custom Search — lets you program up to 10 search ranges
Duplicate Channel Alert
Fire Tone Out alert
Frequency/ID AutoStore - automatically store frequencies from a service or limit search into a conventional system or store talk group IDs into a trunked system
Independent Alert Tone Volume – lets you set the volume level of the following tones: Key Beep, Emergency Alert, Channel Alert, and Close Call Alert.
Multi-Site support
Quick Search
Rebanding supported?

No

(only vhf/uhf allow editing band plan)
Search with Scan for Service and Custom Searches with assigned Quick Keys
Temporary System, Site, Group, Channel, and Location Lockout
Wired Cloning (Will only Clone to another UBC800XLT)
Manual
GPS800 GPS receiver kit
ARC800 Basic software CDrom
ARC800 Pro software CDrom
Related Pages
Wiki Articles
Programming an UHF system requires at least 1 base frequency and offset.
Supporting Software
Windows OS
External Links
Return to Uniden Scanners